SICOT e-Newsletter
Issue No. 69 - August 2014
Fellowship News

Hiranandani Orthopaedic Medical Education (HOME) Fellowship Report
Prajyot Jagtap
SICOT Associate Member - Mumbai, India
Having worked at Hiranandani Hospital as a registrar earlier, I was well versed with the Hospital and working pattern of Dr Vijay Shetty. However, over the years the department has grown and now there are a number of young doctors working in Hiranandani Orthopaedic Medical Education (HOME), academic unit of the Department of Orthopaedics at the Dr LH Hiranandani Hospital, Powai, Mumbai, India. I was over the moon when I was selected at the interview to join this Clinical Research Fellowship.
Clinical work
On 8 February 2013, I began my one-year journey as a clinical research fellow at HOME under the guidance of Dr Vijay Shetty. He briefed me about my duties and responsibilities. He taught me the basics of research and also detailed the process from writing a manuscript to the submission of a paper. He also handed over a well organised structure of the Fellowship for the entire year. I was given several projects, of which two are now published in international journals [1,2] and three are in the final stage of submission.
Being a clinical research fellow, my responsibility was mainly in the operation theatre. Besides, I was also responsible for the supervision of registrars and resident medical officers. In the theatres, it was my responsibility to prepare the patients for surgery and make sure that the "housekeeping" was perfect. Dr Shetty would always discuss the "worst-case scenario" before any major surgery and this would make our team more comfortable working in such an atmosphere. This has given me a huge amount of confidence in handling the entire project of surgery. A major bulk of the operations included primary and revision hip and knee replacement surgeries and arthroscopic surgeries of the hip and knee. Trauma surgeries were being performed regularly as well, although they were not as common as hip and knee replacement surgeries.
Teaching, live surgeries and workshops
Apart from clinical work, I was engaged in teaching and supervising the resident doctors and postgraduate students. Dr Shetty used to be engaged in doing live surgeries for various local and national conferences. Accompanying him nationally and helping him in live surgeries was great fun. I would do sawbone workshops for conference delegates. This opportunity used to come by default as I was part of Dr Shetty's team. We would travel together and this would give me plenty of opportunities to discuss out-of-work issues with Dr Shetty.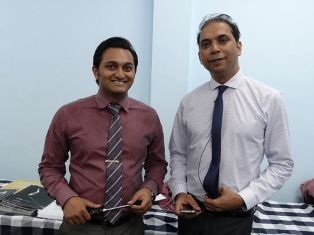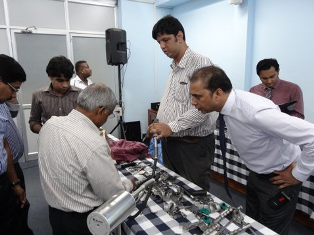 During a sawbone workshop with Dr Vijay Shetty at KIMS, Bangalore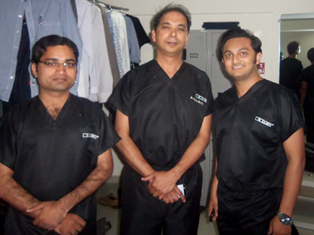 Getting ready for the live demonstration of complex primary knee replacement surgery at Pune
Organising conferences
Being a part of SICOT Young India, I was given the responsibility to be in charge of a lecture hall during the 34th SICOT Orthopaedic World Congress in Hyderabad, India, in October 2013. This opportunity gave me a platform to interact with various renowned faculty members from across the world. Dr Shetty also gave me another responsibility as a scientific committee member for the second International Biologic Orthopaedic Meet (IBOM) held in May 2014 in Mumbai.
Community lectures
This Fellowship gave me a chance to be part of community lectures. The aims of these lectures were to educate the general population and raise awareness of the consequences of osteoarthritis. This activity was useful for me and eventually I learnt to face such large numbers of people (who are not doctors), and discuss their thoughts about arthritis and to answer their non-medical queries.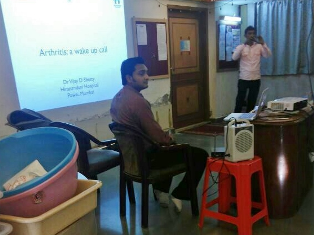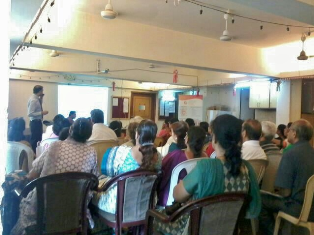 During one of the community lectures
Special event during my Fellowship
The Ministry of Health of the Republic of Seychelles invited Dr Vijay Shetty and the team to conduct a special knee surgery clinic at Victoria Hospital, Mahe, Seychelles, as a charity event in November 2013. I had the opportunity to be part of the team and we performed 23 total knee replacement surgeries in three days.
| | |
| --- | --- |
| The O.T. team at Victoria Hospital | Dr Shetty & me after the surgery |
 
23 TKRs in three days was, for me, an excellent exposure. Although it was tiring to do non-stop surgeries, it was great fun. The theatre staff was very enthusiastic. At the end of the trip, we could take a day off and enjoy ourselves at the beach. We managed a beachside party, yacht ride to another island and some recreational snorkelling too!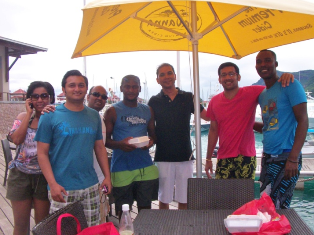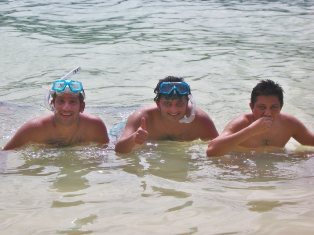 Beachside fun at an island, yacht ride and snorkelling
Finally…
To a large extent, this Fellowship helped me to improve my overall outlook towards clinical practice in particular and life in general. I sincerely thank my guide, Dr Vijay Shetty, who is a true guide indeed. I strongly recommend this Fellowship to young orthopaedic surgeons willing to make their career in research and orthopaedic practice.
Recently, Dr Vijay Shetty presented me with the Certificate of the Clinical Research Fellowship in advanced hip and knee surgery at the HOME office.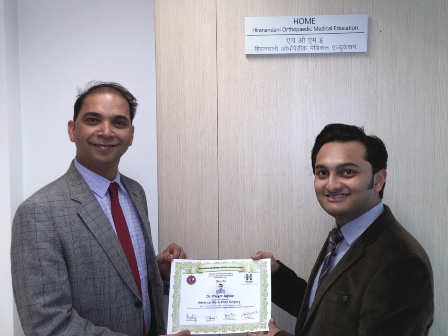 Dr Vijay Shetty presenting the Fellowship Certificate to me
References
Jagtap, Prajyot, Gautam Shetty, Prashant Mane, and Vijay Shetty. "Emerging intra-articular causes of groin pain in athletes." European Journal of Orthopaedic Surgery & Traumatology (2013): 1-9.
Shetty, Vijay D., Mandeep Dhillon, Chintan Hegde, Prajyot Jagtap, and Suvin Shetty. "A study to compare the efficacy of corticosteroid therapy with platelet-rich plasma therapy in recalcitrant plantar fasciitis: A preliminary report." Foot and Ankle Surgery 20, no. 1 (2014): 10-13.