SICOT e-Newsletter
Issue No. 68 - June 2014
Fellowship News

Report of the B. Braun Aesculap/SICOT Orthopaedic Scholarship


Pradeep Reddy
SICOT Associate Member - Hyderabad, India
I am very happy to inform you about my successful completion of the
B. Braun Aesculap/SICOT Orthopaedic Scholarship
(Image-Free Computer Navigation). I must say it was a wonderful experience all by itself, right from working with Prof Frank Lampe to attending the navigation course in Vienna also under the chairmanship of Prof Lampe.
At Hamburg, all the doctors and the whole Department of Orthopaedics were very kind to me and I have also had many worthy interactions in terms of exchange of arthroplasty knowledge. The working culture, instruments, armamentarium and, of course, the infrastructure at the hospital will definitely influence my future practice of arthroplasty.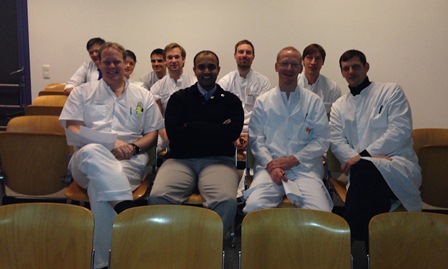 Members of the Department of Orthopaedics of the Schön Klinik, Hamburg, Germany
During the Navigation Course in Vienna, I became convinced that navigation is the better way compared to the conventional way of performing knee arthroplasty. However, I fear the availability of logistics of navigation back home in India. I must say I am going back home with an improved rather than a different perspective towards arthroplasty practice.
Prof Lampe was the perfect host to me and took care of every little detail making my stay hassle free despite the storm which took place at the end of my stay in Hamburg.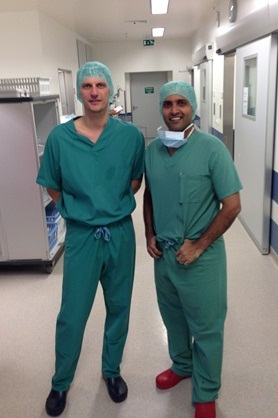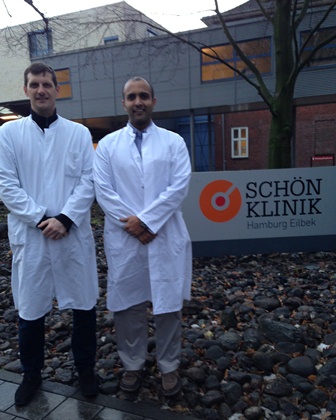 Prof Frank Lampe and Dr Pradeep Reddy
I immensely thank SICOT and B. Braun Aesculap for the experience and the opportunity bestowed upon me. It has been worthy and, as thought earlier, it is a special feather in my cap.