SICOT e-Newsletter
Issue No. 68 - June 2014
SICOT News

21st SICOT Trainees Meeting Report

Ashley Brown & Bassel El-Osta
SICOT Associate Members

-

London, United Kingdom




London was the host of the 21st SICOT Trainees' Meeting, held on 1-2 June 2014. Having been held in Egypt, Russia and Poland previously, this was London's first time hosting the Trainees' Meeting.

The Organising Committee was headed by Mr Bassel El-Osta (London), member of the SICOT Young Surgeons Committee, and Mr Ashley Brown (London), SICOT Associate Member, with five other orthopaedic trainees from around the United Kingdom, while Mr Ian Leslie, SICOT National Delegate of the United Kingdom, supervised the Committee.

Having been accredited 12 CPD points by the Royal College of Surgeons of England, the Meeting attracted a large amount of local, national and international interest. There were over 100 abstract submissions and 92 registrations, including registrations from the United Kingdom, Nigeria, Poland, France, Uzbekistan, China, Singapore and India.

The Meeting consisted of lectures from the Invited Faculty and podium presentations from the delegates, as well as four workshops throughout the two-day Meeting. We were delighted that Prof Andrzej Bohatyrewicz from Poland, SICOT Vice President of Europe, was able to attend and extremely grateful to the other international faculty, Prof Cody Bünger from Denmark and Prof Hatem Galal Said from Egypt.

The Welcome Ceremony consisted of a series of short talks by Mr Ian Leslie (Bristol Royal Infirmary, United Kingdom) and Prof Bohatyrewicz (Pomeranian Medical University, Poland) welcoming the delegates and giving a brief history of SICOT and its role in worldwide orthopaedics. Mr Bassel El-Osta spoke about the SICOT Young Surgeons Committee and the SICOT Fellowships programme.

The meeting had a series of trainee presentations throughout the two days, which were enriched by invited lectures delivered by renowned speakers:

Prof Hatem Said (Assiut University Hospital, Egypt) presented an insightful lecture on "Surgical Options for Shoulder Instability";

Prof Cody Bünger (Aarhus University Hospital, Denmark), presented an update on "Advances in Management of Spinal Metastasis";

Mr Satish Kutty (Princess Alexandra Hospital, UK) on "Dysplasia and Total Hip Replacement";


Mr Manoj Ramachandran offered his wisdom and experience on "CV Boosting Opportunities", which was particularly well received by the trainee delegates;

Mr Matthew Barry (The Royal London Hospital, UK) gave his invited lecture on "Management of Leg Length Discrepancy";

Mr Vikas Khanduja (Addenbrooke's Hospital, UK) delivered his invited talk entitled "Publish or Perish";

Mr Peter Bates (The Royal London Hospital, UK), "Damage Control Orthopaedics vs. Early Total Care";


Mr Coonoor Chandrasekar (Royal Liverpool Hospital, UK), "Sarcomas - Ten commandments";

Mr Sebastian Dawson-Bowling (Barts Health NHS Trust, UK) and Mr Iain McNamara (Norfolk and Norwich University Hospital, UK) discussed and debated "UK vs. Overseas Fellowships and How to Get a Consultant Job";


Mr Peter Bates spoke on the "Approach to Acetabular Fractures";

Prof Gareth Scott (The Royal London Hospital, UK), "Structure Related to Function in Total Knee Replacement";

Mr Derek McMinn (The McMinn Centre, UK), "Why Does Total Knee Replacement Work So Badly";

Mr Sebastian Dawson-Bowling on "Biomechanics of Hip and Knee Replacements".

The meeting also included workshops which were split throughout the two days. Orthofix held a Workshop on External Fixation while Synthes held its Workshop on the management of femoral fractures with their PFNa and LFN systems. There was a Smith & Nephew Workshop on semi-flexible intramedullary nailing and plating systems for tibial fractures, and lastly JointMedica held a Workshop on the Birmingham Total Knee Replacement.

The social event was hosted on board the Hispaniola, where a private dining room had been reserved. This restaurant boat is moored on the River Thames, opposite the London Eye.

The Meeting was drawn to a close at the Closing Ceremony, where the awards for Best Trainee Presentations were granted. Congratulations go to Mr Ali Shah ("Causes And Predictors of Perioperative Mortality in Cemented Hemiarthroplasty"), Mr Usman Ahmed ("A Simple Biochemical Algorithm for the Detection of Early-Stage Osteoarthritis"), and Mr Gary Hannant ("Total Hip Replacement for Fractured Neck of Femur).

Prof Bohatyrewicz expressed his appreciation to the Organising Committee for "bringing the Trainees Meeting back to the trainees", having been impressed by the high proportion of trainees attending and presenting at the Meeting.

On behalf of the Organising Committee, we would like to thank all delegates who attended and presented at the Meeting. A special thank you goes to the Invited Faculty who gave up their time to attend and present.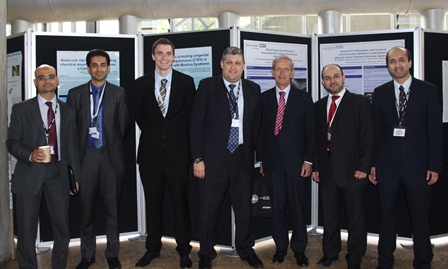 Organising Committee:
Samer Mahmoud (Website Manager),
Kapil Sugand (Head of Public Relations),
Ashley Brown (Co-Organiser and Treasurer),

Bassel El-Osta (Head of the Organising Committee), Ian Leslie (Supervisor),
Mohamed Sukeik (Programme Editor),

Junaid Sayani (General Secretary)
Not in photo: Patrick Reynolds (Administrator)