---
Editorial by
John P. Dormans & Emmanouil Grigoriou
Paediatric trauma and the role of SICOT in an ever-globalizing environment: Can SICOT influence global trauma care?
Children comprise more than 25% of the world's population. With trauma being the leading cause of both morbidity and mortality in children, it's no surprise that specialized paediatric healthcare and appropriate injury prevention continues to be on the forefront of the global medical agenda.
Read more...
---
SICOT Events
XXVI SICOT Triennial World Congress combined with 46th SBOT Annual Meeting

Rio de Janeiro TWC 2014

19-22 November 2014 * Rio de Janeiro, Brazil

Congress registration is open here for all participants not residing in Brazil.
Participants residing in Brazil should register here.

SICOT and SBOT are pleased to announce that

Andrew J. Carr

,
Nuffield Professor of Orthopaedic Surgery and Head of the Nuffield Department of Orthopaedics, Rheumatology and Musculoskeletal Sciences at the University of Oxford,

and

John P. Dormans

,
Chief of Orthopaedic Surgery at the Children's Hospital of Philadelphia (CHOP)

,

will be delivering plenary lectures at the Rio meeting.
 
Read more...


With the experience of three successful events we are pleased to announce the
4th SICOT Educational Day
 

in Rio de Janeiro to be held on 19 November 2014. The theme for this year is 'Shoulder & Elbow'. We have invited expert Faculty from over 10 countries to lecture on the course.
 
Read more...
Don't miss out on exclusive hotel and tour offers in Rio de Janeiro! Click here for more information.

Don't miss this unique opportunity to promote your products and services to leading international orthopaedic surgeons, traumatologists and specialists in related fields.
Read more...
---
SICOT News
21st SICOT Trainees Meeting Report




by Ashley Brown & Bassel El-Osta
London was the host of the 21st SICOT Trainees' Meeting, held on 1-2 June 2014. Having been held in Egypt, Russia and Poland previously, this was London's first time hosting the Trainees' Meeting. The Organising Committee was headed by Mr Bassel El-Osta (London), member of the SICOT Young Surgeons Committee, and Mr Ashley Brown (London), SICOT Associate Member, with five other orthopaedic trainees from around the United Kingdom, while Mr Ian Leslie, SICOT National Delegate of the United Kingdom, supervised the Committee.
Read more...
SICOT's mission is to spread knowledge about orthopaedics and traumatology throughout the world. Since the importance and popularity of online education is increasing every day, SICOT has been collaborating with VuMedi to provide online education to the global orthopaedics and traumatology community. This strategic cooperation with VuMedi has been initiated and managed by the SICOT Young Surgeons Committee. You will be able to participate live and interact with speakers. The lectures will also be accessible for viewing later on from the
SIGNEL
and
VuMedi
websites. More detailed information about these webinars will be published
here
shortly.
2015 AAOS-SICOT International Surgical Skills Scholarship Program
The American Academy of Orthopaedic Surgeons (AAOS) is pleased to announce it is accepting applications for the 2015 AAOS-SICOT International Surgical Skills Scholarship Program. Through a generous contribution from SICOT-USA, AAOS will award one scholarship to a SICOT member for the intended purpose to travel to the United States to attend a hands-on orthopaedic surgical skills course with cadaveric specimens in the Orthopaedic Learning Center in Rosemont, Illinois, USA. The scholarship visit also includes a 2- to 3-day observership at a high-volume USA hospital.
Eligible orthopaedists are invited to
apply online here
. The applicants are required to submit their Curriculum Vitae, an official letter from SICOT confirming that they are current members in good standing, and two letters of recommendation. The due date is 15 August 2014.
OrthoEvidence - your clinical resource for evidence based orthopaedics
At OrthoEvidence we take pride in being the global online source for timely, high quality, pre-appraised evidence based orthopaedic summaries. Our database of over 2,400 Advanced Clinical Evidence (ACE) Reports bring you the highest quality research from over 60 top orthopaedic journals. Our ACE Reports are the easiest way to consume research articles, which are designed to be 5 times faster than reading the full text. Our iOS app is coming in 2014 to put our content to the palm of your hand.
Open your OrthoEvidence account and get the best evidence delivered to your inbox – simply
click this link
to join via SICOT! We look forward to providing you the best evidence that matters.
---
SICOT Global Network for Electronic Learning - SIGNEL
Biologic augmentation of rotator cuff repair with mesenchymal stem cells during arthroscopy improves healing and prevents further tears: a case-controlled study
Philippe Hernigou, Flouzat Lachaniette, Charles Henri, Jerome Delambre, Sebastien Zilber, Pascal Duffiet, Nathalie Chevallier & Helene Rouard
Purpose

 
The purpose of this study was to evaluate the efficiency of biologic augmentation of rotator cuff repair with iliac crest bone marrow-derived mesenchymal stem cells (MSCs). The prevalence of healing and prevention of further tears were correlated with the number of MSCs received at the tendon-to-bone interface.
Read more...
Case of the Month




by Mohamed Elsagheir & Hatem G. Said



A 26-year-old male presented recently to our outpatient clinic with progressively increasing left-sided hip pain and limited ROM with no history trauma. On examination he had a palpable immobile hard swelling on the posterior aspect of the proximal femur. Range of movement was affected mainly in abduction and complete limitation of external rotation. His WBC, CRP and ESR were within normal limits.
 
This is a radiograph of the hip. What is your differential diagnosis?
Read more...
---
Fellowship News
Report of the B. Braun Aesculap/SICOT Orthopaedic Scholarship


by Pradeep Reddy

I am very happy to inform you about my successful completion of the B. Braun Aesculap/SICOT Orthopaedic Scholarship (Image-Free Computer Navigation). I must say it was a wonderful experience all by itself, right from working with Prof Frank Lampe to attending the navigation course in Vienna, also under the chairmanship of Prof Lampe
.
Read more...
---
Articles by SICOT Members
The orthopaedic common regional project Romania-Hungary-Serbia is a model for beneficial cross-border integration for patients and doctors




by Dan V. Poenaru
After 1990, with the collapse of communism, a reassessment and remodelling of values had taken place and also amongst the relationships in the medical community of the countries in this part of Europe. It is somehow obvious that within Europe or one specific region one patient can benefit from medical help from a geographically closer unit that is not in the country where the patient is insured. This is why several cross-border units for emergency and/or scheduled surgery were created in several Western European countries such as between France and Germany or Belgium, France and Luxembourg. Eastern Europe was for so many years divided by local and regional conflicts that happened behind the Iron Curtain and even now there exist political movements that interfere in the patient's well-being.
Read more...
---
Women in Orthopaedics
Lessons of life and orthopaedics from those who have been there and done that...


by Ratna Johari Maheshwari

In a tête-à -tête with Prof Evalina L. Burger, I find out what it takes to be truly worldclass. Dr Evalina L. Burger was named to Cambridge's Who's Who list for her leadership and dedication to spine care. She was the first South African female spine surgeon to be selected for the prestigious ABC fellowship in 2000. This honour is bestowed biennially on the top 6 orthopedic surgeons in the English-speaking world. Dr Burger has a vast experience in comprehensive spine care including pain management, tumours and infection and is well versed in traumatic conditions of the Spine.
Read more...
---
International Meetings attended by SICOT

10th German Congress for Orthopaedics and Trauma Surgery
We are pleased to inform you about one of the largest congresses for Orthopaedics and Trauma worldwide: The 10th German Congress for Orthopaedics and Trauma Surgery (DKOU), which takes place on 28-31 October 2014 in Berlin, Germany, and will again attract over 11,000 congress delegates. Highlights are lectures by Dr Henrique Jones (Portugal) and Prof Francesco Benazzo (Italy). Further information about all sessions in English can be found
here
and any questions you may have will be answered if you write to
dkou@intercongress.de
. The organising scientific societies would be very happy to welcome you to Berlin!
---
Industry News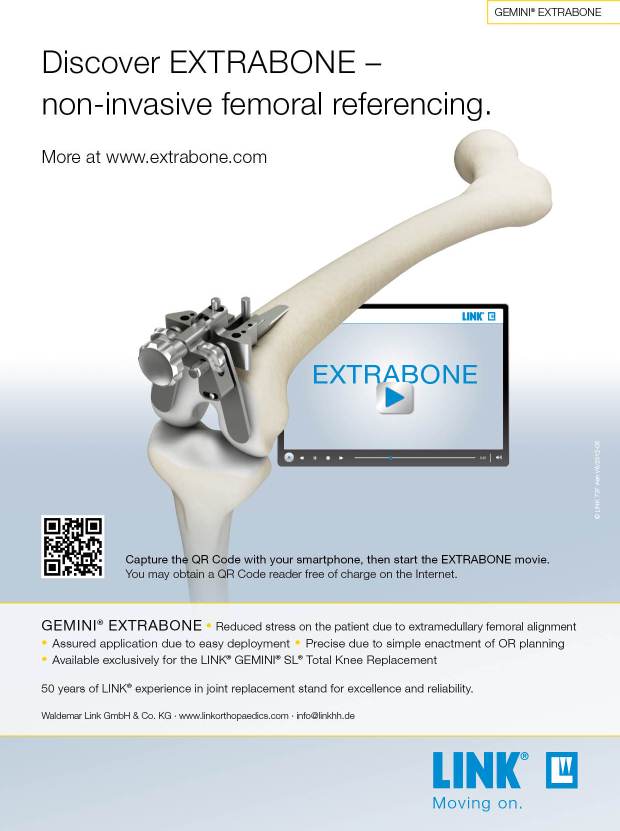 ---
Editorial Department
Editorial Secretary: Hatem Said
Editorial Production: Linda Ridefjord

Editorial Board: Ahmed Abdel Azeem, Syah Bahari, Kamal Bali, Bassel El-Osta, Anthony Hall, Shalin Maheshwari, Maximilian Rudert

Rue de la Loi 26-b.13, 1040 Brussels, Belgium
Tel.: +32 2 648 68 23 | Fax: +32 2 649 86 01
E-mail: edsecr@sicot.org | Website: www.sicot.org
---
Disclaimer: Some of the views and information expressed in this e-Newsletter include external contributors whose views are not necessarily those of SICOT. SICOT is not responsible for the content of any external internet sites.