SICOT e-Newsletter
Issue No. 67 - April 2014
Fellowship News

German SICOT Fellowship 2013
Sherif Elnikety (United Kingdom) & Andrew S.L. Yip (Hong Kong)
SICOT Associate Members
We would like to report our travelling fellowship experience along with some information that was not available to us before starting the fellowship to act as a guide for the future fellows.
The fellowship was granted to us as an award for ranking top in the SICOT Diploma Examination held in Dubai during the SICOT Orthopaedic World Conference in 2012. The fellowship was first established by Prof Eulert, the previous SICOT National Delegate for Germany, whom we had the honour of meeting. The funding for this fellowship is covered by the SICOT German section.
The programme is over four weeks rotating through four leading orthopaedic centres in Germany. The order of rotation varies from one year to the other depending on the host surgeons' availability. The four centres participating in the programme are: 1) Rummelsberg Hospital near Nuremberg hosted by Dr Baur, 2) King Ludwig House Hospital at Würzburg hosted by Prof Rudert, 3) Hospital for Special Orthopaedic Surgery and Spinal Surgery at Berlin hosted by Prof Keinapfel and 4) Erlangen University Hospital hosted by Prof Forst.
The funding for the fellowship includes airline ticket, train tickets for transportation between centres, hotel booking as well as pocket money of EUR 100 per week. Some centres will pay for the internal transportation depending on the hotel location. The pocket money should be enough for your usual expenses, but consider some extra cash for your unexpected expenses, gifts and souvenirs.
The arrangements and communication regarding this fellowship are done by Prof Rudert, the current German SICOT National Delegate, and Dr Baur, the current German SICOT Treasurer.
The programme usually takes place in June every year although this may vary. The weather during our visit in June 2013 was summer most of the days with an average of 25-28°C, however on some days it was cold and raining. We advise you to have light summer clothes with a light jacket or coat and a small umbrella.
The typical day for the fellows starts at 07:30 to join the morning meeting to discuss over-night admissions, theatre lists for the day, and urgent cases. The meeting usually carries on until 08:00. Activities during the day after the meeting may vary between full day theatre lists where fellows are welcomed to scrub and assist, outpatient clinics or ward rounds depending on the local arrangement. Overall, the schedule is usually flexible and fellows can arrange their week according to their needs.
The general theme of the hospitals is joint replacement surgery. However, most of the subspecialties are available in the four centres. It is important to set your expectations right before starting your fellowship; you are going to be exposed to a different medical system, different disease pattern and different lifestyle. You might be able to pick some new surgical tips and tricks, see different types of implants and different ways of managing common orthopaedics problems.
It is preferable if fellows have some knowledge of German language to facilitate communication and maximise the benefit. Nevertheless, English is generally accepted for communication especially by medical staff.
The winners of the fellowship are usually announced during the Closing Ceremony of the SICOT Orthopaedic World Conference. A few weeks later the conference administration will put you in contact with the German SICOT section and this will be the end of the SICOT administration involvement. The German SICOT section made the first contact around March to begin the arrangements and communicate the details of the fellowship.
The first centre in our journey was Rummelsberg Hospital, which is situated near Nuremberg, the historic city famous for trades in mid centuries and Nuremberg trials after World War II. It is a very nice city, with a vibrant town centre. The Hospital itself was the centre where Prof Wagner was practicing, who invented the conical cementless revision femoral stem. In his time it was one of the top orthopaedic centres in the world. The hospital operates one of the few worldwide unique operating theatres where the theatre is divided in four operating rooms each enclosed in glass with airflow system in each room. The four rooms are situated in a large theatre and the surgeons can see each other while operating. It was said that Prof Wagner supervised this design himself and he used to observe other surgeons' techniques while he was operating himself. We have seen a variety of operations including navigated tibial osteotomies for varus OA knee, hip and knee primary and revision arthoplasties as well as spinal, foot and ankle, paediatric and shoulder surgeries.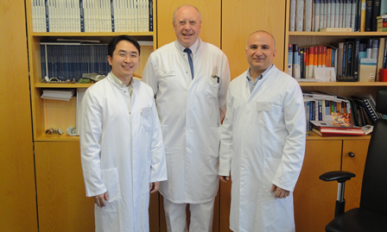 The second centre was Koenig Ludwig Hospital at Würzburg University. This is a regional elective orthopaedic referral centre and is headed by Prof Dr Maximilian Rudert. It is one of the oldest orthopaedic institutes in Germany (more than 100 years old) and the workload as well as quality of work reflected this. There was a good exposure to most major subspecialties. The minimally invasive anterior approach to hip replacement and custom made partial and total knee replacements were of particular interest. The hospital was active on the academic front, basic science laboratory is attached to the department which is led by Prof Nöth who is an exceptional surgeon as well as world-renowned in stem cell research. We presented some of our research to the department, which was well received.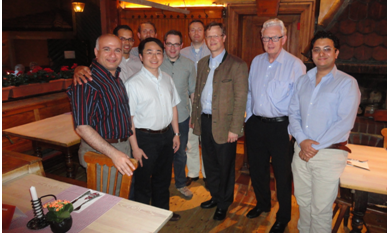 After spending a week in Würzburg, we moved to the third centre in Berlin where we attended the Auguste-Viktoria-Klinikum headed by Prof Dr Heino Kienapfel. There were numerous opportunities to attend various surgeries particularly shoulder, spine and total joint surgeries. Prof Kienapfel is experienced in anterior spinal instrumented fusion for complex adolescent lumbar scoliosis, as well as revision hip arthroplasty. Prof Kienapfel is a well-informed surgeon; we had very stimulating discussions with him over various topics.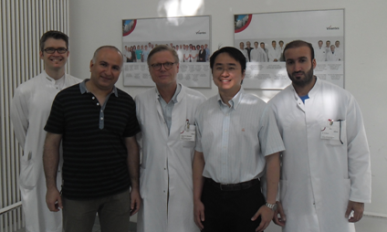 Our last centre was Erlangen University Hospital, which is located in the university town of Erlangen, famous for shopping and country life. Besides hip, knee and shoulder surgeries, this centre has a special interest in treating neuromuscular conditions as well as paediatric deformities.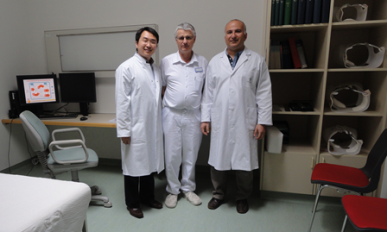 We would like to thank all the hosting surgeons and their teams for their endless support, the SICOT administrative team and Prof Rudert for facilitating the fellowship process. Our special thanks go to Dr Baur whose generosity and hospitality were unmatched. He treated us like a father and made this wonderful experience much more enjoyable.