SICOT e-Newsletter
Issue No. 65 - February 2014
Training Around the World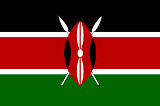 Orthopaedic Training in Kenya
Mbute Namunguba
SICOT Associate Member - Nairobi, Kenya
The journey to become an orthopaedic surgeon in Kenya begins in a similar way as all other places. After the undergraduate training, one has to do a mandatory period of internship. This period lasts for a minimum of 52 weeks. In this period, the young doctor is expected to rotate in the four major specialties, i.e. surgery, internal medicine, paediatrics, and obstetrics and gynaecology.

Successful completion of this phase earns one the right to be registered as a general practitioner by the Kenya Medical and Dentists Practitioners Board (KMDPB). It is after this stage that one can think of specialising. A basic requirement by the orthopaedic training institutions is that the doctor must have worked as a general practitioner for at least one year before applying for residency.

There are two different routes that are recognised by the government which lead to one being conferred the specialist status.

The first one is a university-based training programme that lasts for a minimum of five years. Currently, there are only two universities that have been approved to offer specialist training in orthopaedics. These are the University of Nairobi and Moi University. These two programmes are similar but each hold independent exams. Gaining entry into these programmes is extremely competitive as the number of positions is much lower than the number of applicants. Entry exams and an oral interview lead to a selection of the desired candidates.

The programme is divided into two parts, the first part is deemed to be the most demanding, mostly because one is required to be proficient in all the basic sciences and basic surgery. Those who pass this stage progress to part 2 which is largely clinical. In the clinical years, the doctor is expected to rotate in the orthopaedic subspecialties as well as write a thesis. This is then followed by an exit exam. Those who pass get a Masters degree in orthopaedic surgery (Mmed Orth).

The second option is hospital-based under the College of Surgeons of East Central and Southern Africa (COSECSA). In this programme, tertiary level hospitals with a designated number of orthopaedic surgeons are accredited to offer training positions to those interested in orthopaedics. There are currently four hospitals that have been accredited. These are Kenyatta National Hospital, Moi Teaching and Referral Hospital, AIC Kijabe Hospital, and Tenwek Mission Hospital.

This training also lasts for a minimum of five years and is divided into two. The first two years are spent rotating between the different surgical specialties and basic sciences. This is followed by an exam. Those who pass become members of the College. After this they are free to apply for higher surgical fellowship training in any of the approved institutions where they are expected to rotate in all the orthopaedic subspecialties. After three years, a common exam is sat by candidates in all member countries.

Passing this exam, one can be called a fellow of the college and gets an FCS(ecsa) Orth.

For the graduating surgeons, the Kenyan Medical Board has also made an added requirement. The doctor has to work under the supervision of a much senior board registered orthopaedic surgeon for a period of at least two years.

Successful completion of the process leads to a registration as a specialist orthopaedic surgeon in Kenya.

It is unfortunate that there are no training positions for any of the subspecialties in Kenya yet. For subspecialty training, surgeons have to travel overseas.