SICOT e-Newsletter
Issue No. 64 - January 2014
Fellowship News

SICOT meets SICOT Fellowship Report in Homburg
Ishaq Bamidele
Ojodu
SICOT Active Member - Nigeria
I was indeed privileged and honoured to have been given the 2013 "SICOT meets SICOT" Fellowship back in the winter of 2012. The award was a dream come true for me, as I had patiently awaited such an opportunity to come my way. I immediately swung into action to actualise this rare opportunity and privilege of a lifetime. I was eventually granted a German visa, after some initial delays, to proceed to my fellowship at the
Klinik für Unfall-, Hand- und Wiederherstellungschirurgie, Universitätsklinikum des Saarlandes Homburg/Saar
, Germany, under the able leadership of Prof Tim Pohlemann.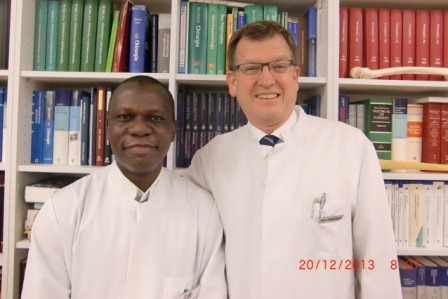 Myself and Prof Tim Pohlemann
I promptly settled down to work, after the routine orientation of the department and the facilities. The clinic is run by seven consultants and several resident doctors at different levels of training. A typical day usually starts at exactly 7 a.m. with the ward round, led by Prof Tim Pohlemann, followed by a morning clinical meeting, with a review of the cases of the previous day. Afterwards, I participated actively in the operating session. I was taught the rudiments of pelvic and acetabular reconstruction techniques personally by my boss, Prof Pohlemann, and Dr Joerg Holstein, in addition to gaining significant exposure in arthroscopic procedures of the shoulder, elbow and knee, spine fixation techniques as well as reconstructive surgeries of the soft tissues.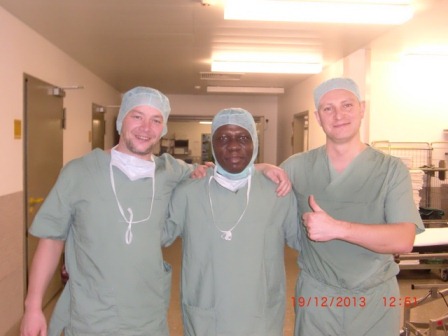 Dr Köhler, myself, and Dr Holstein
My skills in trauma management also improved during the fellowship period. I was particularly interested in pelvic and acetabular reconstruction techniques, of which I learnt a great deal directly from the world acclaimed expert in the field, Prof Pohlemann, who despite his busy schedule was always ready to provide unambiguous answers to all my enquiries.
I picked up fine arthroscopic techniques from the versatile and experienced Dr Antonius Pizanis, and from the energetic, vibrant and innovative friend of mine, Dr Sascha Hopp, who has recently published a paper on a novel arthroscopic technique in the management of athletic groin pain.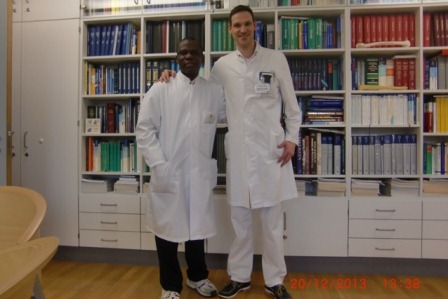 Myself and Dr Sascha Hopp
Prof Werner Knopp and Drs Antonius Pizanis and Birgit Reischmann provided me with the impetus I needed in the field of hand/soft tissue reconstruction and spine fixation respectively.
The review of the day's surgical activities, as well as the following day operation planning were usually done at the afternoon clinical meeting. During my fellowship, I participated actively in research activities of the department, both at the clinic and in the experimental surgical laboratory. I was therefore able to perform some animal experiments in the laboratory as well as successfully completing a scientific paper on complex pelvic fractures in the elderly, awaiting publication. This is in addition to being actively involved as co-author in another three different scientific papers.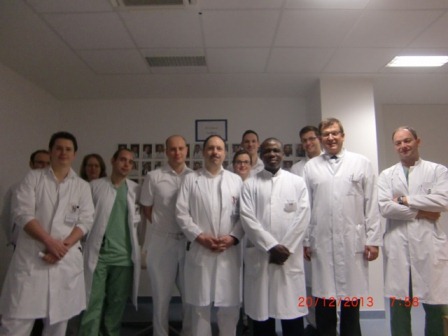 I made new friends not only from Germany, but also from Thailand, Malaysia, and Uzbekistan, to name just a few. My busy schedule was spiced with visits to some historical sites and recreational facilities in Homburg and Zweibruken. Though the language barrier is a significant factor in Germany, I was able to overcome this by picking up some important vocabulary needed for day-to-day interaction.
I am indeed very grateful to SICOT for this unique opportunity to learn directly from experts in the field of orthopaedics and traumatology, especially in the field of pelvic and acetabular reconstruction. My appreciation also goes to Prof Tim Pohlemann and his team for their hospitality, encouragement and above all for imparting their knowledge to me, which will serve as the foundation for my future professional development. My gratitude also goes to my soulmate, caring and loving wife, Bukola, and to my children for their sacrifice, encouragement and support during my fellowship period.