SICOT e-Newsletter
Issue No. 65 - February 2014
Fellowship News

A two-year post-SICOT Fellowship Evaluation Report

Mohammed B. Abdelwahab
SICOT Associate Member - Khartoum, Sudan
Two years have passed since I did my Assiut/SICOT fellowship. I am now at a point where I can take a glimpse at my competencies before I joined it and then after, and what has gone well since I travelled back home.

To start with, I chose arthroscopy and sports medicine as a highly skilled branch of orthopaedics which is nearly non-existent in Sudan despite the huge number of patients who are in a real need of the service.

I trained at the Department of Arthroscopy and Sports Medicine at the Assiut University Hospital (Egypt) for 6 months. We had busy operating lists with fascinating diversities which allowed me to benefit so much.

When I went back home I started practising knee arthroscopy, stepping upwards from simple scopes for doing meniscectomies, then invited new techniques of ACL reconstruction until I started training my junior staff and colleagues. A giant jump in my learning curve took place when I won the SICOT/AAOS scholarship and chose the knee course which was "Knee injuries getting patients back to the game". It was the most unforgettable experience I have ever gone through. The combination of these two different experiences left a remarkable fingerprint on my career.

Let us turn the sail a bit towards Sudan. What are the real impacts of these rewarding experiences which have been offered to me through SICOT?

Made the service at hand and reasonably affordable if you compare it to the treatment cost when done outside Sudan (400$ vs. 3,000$ for simple knee scopes and 1,500$ vs. 6,000$ for ACL reconstruction). I established a separate OR for arthroscopy in my institute, which is a governmental hospital, for the first time since it was established. Now we do scopes for free for patients who are under the umbrella of service coverage.
Opening up the door for a new type of orthopaedic service gave it a special flavour to be adopted as a new area for publications since we do not have our own local data. This research activity is heralded by the registrars under training. The researches that have been born until now are:

"Incidence of medial pathological plica in Sudanese patients as a common cause of medial joint pain". It had been submitted as a thesis to fulfil a MD degree.
"Early results of ACL reconstruction using BTB graft, our local experience, pits and falls". It had been presented as an oral talk at a Sudanese annual conference.
"Incidence of meniscal injuries in Sudanese patients after sport trauma". It is like an audit for provision of data for the national registry.

All this research work has been carried out during the last year. We are looking forward to more training and fellowships as such in the fields of shoulder, elbow, wrist, hip and ankle to enrich the field of training and research in my country.

Now I am encouraged to go back again to the Assiut education centre joining new training activities. I attended a shoulder course and got a short-term fellowship for 1-2 months at my own expense because it is really worth it.

One word before I conclude: I would like to raise my hat to the SICOT family and give a special deep thanks first to Prof Galal Z. Said and Dr Hatem G. Said and then to my teacher in Sudan, Dr S. Shaheen, for giving me a chance to be part of this wonderful family. I should also acknowledge their support, advice and guidance.

Below are some photos that reflect what has been achieved: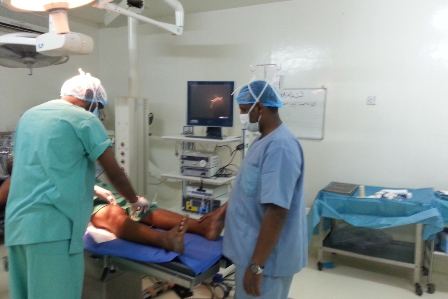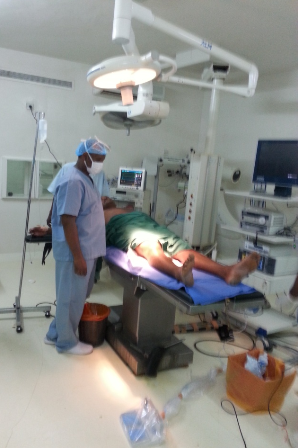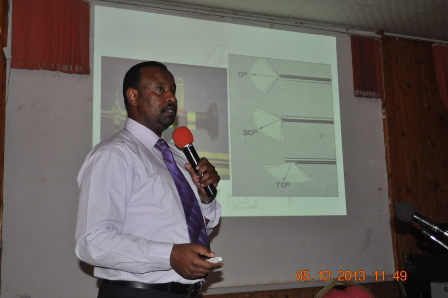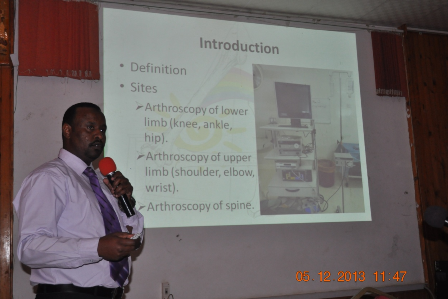 Input in educational activities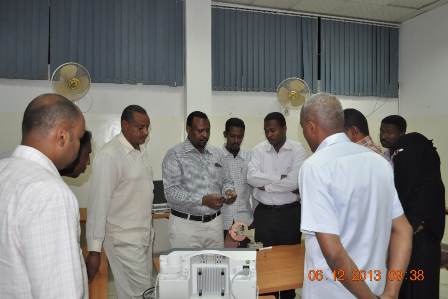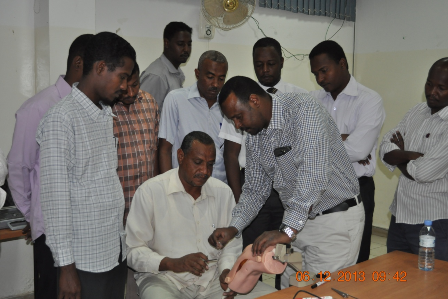 Playing a role in training