SICOT e-Newsletter
Issue No. 63 - December 2013
Fellowship News

CHOP/SICOT Fellowship Report
Indranil Kushare
SICOT Associate Member - Mumbai, India
It is a privilege and honour to be writing this as the inaugural SICOT/CHOP fellow in paediatric orthopaedics at the Children's Hospital of Philadelphia (CHOP).

I reached the beautiful and historic city of Philadelphia on 1 January 2013 to start my fellowship.

My mentor was Professor Dr John P. Dormans, Chief of the Department of Orthopaedics at CHOP. I spent time with him in his outpatient clinic (Green Pod) every Monday and Thursday. I was exposed to a huge variety of paediatric spine and tumour patients ranging from fairly simple to ultra-complex. There was a really informative discussion of the new cases' clinical findings, their management decisions and also discussion of post-op cases and X-rays. I also got to see a lot of surgeries in the operating room which broadened my horizon. Dr Dormans is a rare culmination of astute clinical acumen and rational therapeutics, fine blend of dedication and perseverance towards his work and academics, with a keen interest in research. His care and compassion towards patients and their families has made him stand out as a humane orthopedician.

On the academic front, every day early in the morning there is a good lecture by an attending which encompassed all the subspecialties of paediatric orthopaedics. There was a conference every Wednesday morning where interesting post-operative cases were discussed. The journal club was really interesting where the fellows and residents analyzed recent papers and their impact in orthopaedics was discussed by the CHOP faculty.

The whole fellowship programme was nicely detailed, well planned with equal weightage to clinics and academics and research. It was definitely a life-changing experience for me in terms of the procedures and techniques followed, along with the excellent approach to the patient. The knowledge gained from this fellowship is enormous and will go a long way in shaping and refining my capabilities and skills.

I collaborated with Dr Dormans in writing four scientific articles and this was a great learning experience for me. I also worked with Dr Flynn and Dr Davidson for more scientific papers. Dr Flynn is a farsighted and hard working professor with many academic credentials to his cap. His guidance has been of great help to me.

At the end of my fellowship, I was awarded my completion certificate at a wonderful orthopaedic department dinner along with all the other fellows and it was truly an experience which will be etched in my memory for years to come.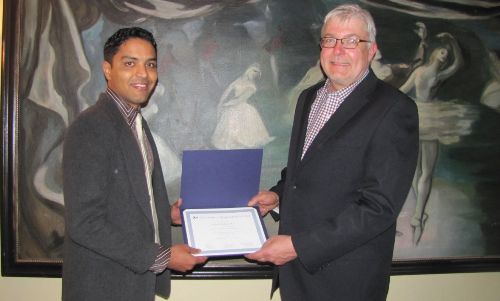 Dr John Dormans awarding Dr Kushare his completion certificate

The experience gained and the exposure has benefited me a lot and I will surely be incorporating this in my future orthopaedic practice, which I am sure will be beneficial to my patients and their families in the long run. I am also indebted to my fellow colleagues, Drs Colo, Bakhshi, Morrison, Gill, and Harsha N., and other staff members of the orthopaedic department who were all very hospitable and friendly.

I do not have enough words to express my gratitude towards SICOT for awarding me this prestigious fellowship and would like to wholeheartedly thank Dr Dormans for this great opportunity.