Best wishes for 2014 to you and your family from SICOT!
---
Editorial by Hatem Said -
SICOT Editorial Secretary
The Bread Loaf vs. Gold Market Theory in Medical Training…
Some may have heard about the 'Bread Loaf Theory', also known in some western countries as the 'Cake Theory'. This is a misconception that the more you teach others, the more they will grow into the market and share in your potential pool of clients and hence income. Unfortunately, this theory is widespread in developing countries, where the main source of income is private practice. It is less of an issue in areas where surgeons are on fixed salaries, and the salary is sufficient for one's needs and requirements. Read more...

---
SICOT Events
XXVI SICOT Triennial World Congress combined with 46th SBOT Annual Meeting
Rio de Janeiro TWC 2014


19-22 November 2014 * Rio de Janeiro, Brazil


---
SICOT News
We wanted to send this short reminder to let you know that full free OrthoEvidence access is currently available to SICOT members through the SICOT/OE partnership. Access the promo code in the SICOT Member's Area. The OrthoEvidence video explains this great time saving tool and how it can help with your practice! Take 2 minutes to watch the video, then sign up! Click Here To Watch The OrthoEvidence Video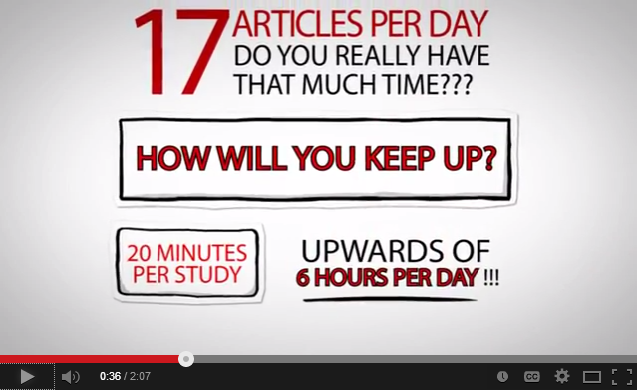 21st SICOT Trainees Meeting
Don't miss the 21st SICOT Trainees Meeting in London, United Kingdom, from 1 to 2 June 2014! More information at www.sicotuk.com.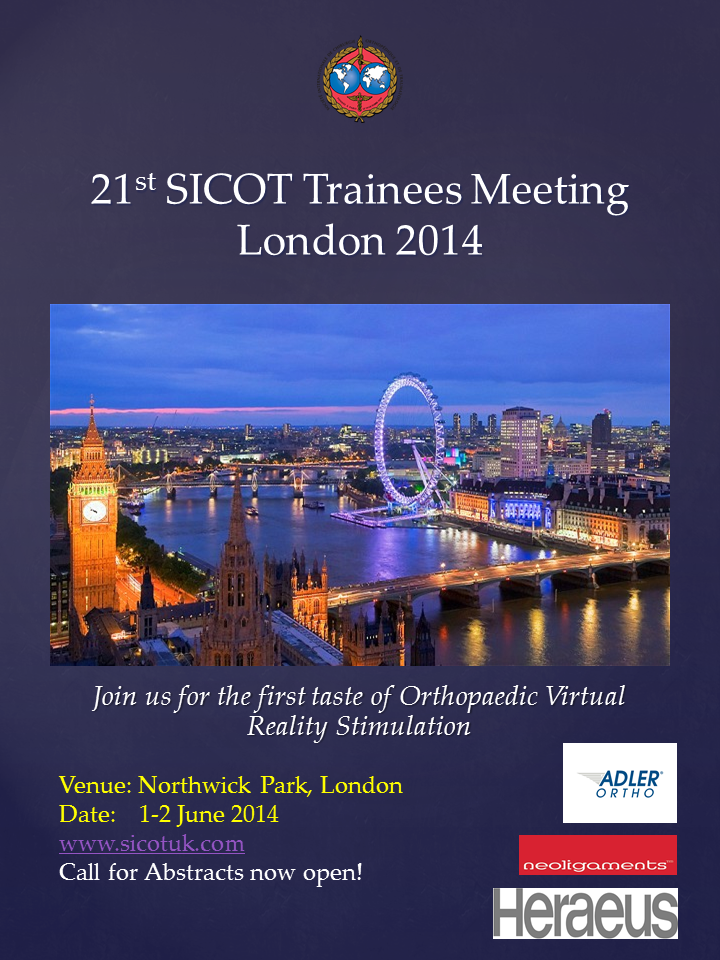 ---
SICOT Global Network for Electronic Learning - SIGNEL
Platelet-rich plasma prevents blood loss and pain and enhances early functional outcome after total knee arthroplasty: a prospective randomised controlled study
Aditya K. Aggarwal, V.S. Shashikanth & Neelam Marwaha
Purpose

 
The purpose of this study was to determine whether platelet-rich plasma (PRP) might prevent blood loss and post-operative pain and to expedite wound healing following total knee arthroplasty (TKA).
Read more...
Case of the Month
by Syah Bahari

A 60-year-old right-hand dominant female presented to our fracture clinic with painful left wrist over 3 months. The pain became progressively worse. The pain was initially under control with over the counter pain medication, but now she has been taking regular diclofenac sodium to control the pain.
Read more...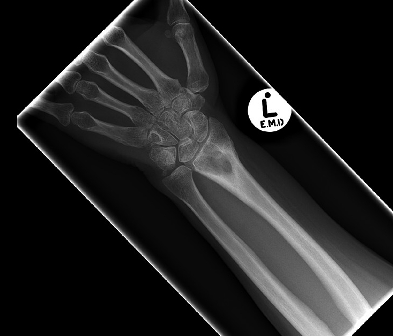 ---
Training Around the World
Orthopaedic Residency Training in Nigeria


by Amupitan Idumagbodi



Nigeria is a highly populous country blessed with many natural resources, and the health sector, which is still developing, boasts of a national medical college, the National Post Graduate Medical College (NPMCN), and also a regional college, the West African College of Surgeons (WACS), which is under the West Africa Health Organization (WAHO). Training as a specialist is being undertaken in either of these two Colleges in Nigeria. Read more...

---
Fellowship News
CHOP/SICOT Fellowship Report




Introduction by John Dormans & Report by

Indranil Kushare
The Children's Hospital of Philadelphia has collaborated with SICOT to form a joint fellowship and we have successfully completed the first year. The fellowship is 6-12 months and qualified applicants will have the opportunity to visit CHOP, expand their exposure in the field of Paediatric Orthopaedics and become involved in high quality clinical and/or basic research projects. The requirements to be considered for the CHOP/SICOT Fellowship include:
fluency in English
graduate from medical school and complete an Orthopaedic Surgery Residency Program
have an interest in Pediatric Orthopaedic Surgery
complete application with letters of recommendation by defined deadlines
submit visa application on time (where applicable)
be an active SICOT member
attend a SICOT meeting within the past 4 years
have proper training level
Indranil Kushare has successfully completed our first CHOP/SICOT Fellowship and has written a report documenting his experience.
Read more...
---
Articles by SICOT Members
Report of the Joints Surgery and Sports Medicine Congress in Tbilisi




by Tomáš Trč 
During the weekend of 16 and 17 February 2013, the Joints Surgery and Sports Medicine Congress was organised in Tbilisi, Georgia. The main organisers were Drs Michael Zimlitski, Vaja Gaphrindashvili and Levan Natchkebia from Tbilisi. The congress was organised under the patronage of SICOT and the supervision of Prof Jochen Eulert, SICOT Secretary General.
Read more...
---
Worldwide News

Screw fixation of medial malleolar fractures: A cadaveric biomechanical study challenging the current AO philosophy




Comment by Mahmoud M. Abousayed



In this study the authors had challenged the traditional AO (Bible of Internal Fixation) Foundation principles of fixation of medial malleolar fractures. Unlike all other studies focusing on the design characteristics of the screw that optimise the pull-out strength and compressive force, they focused the site of purchase of the distal threads assuming that the physeal scar would provide a better purchase than the low density metaphyseal area proximal to it.
Read more...
---
Industry News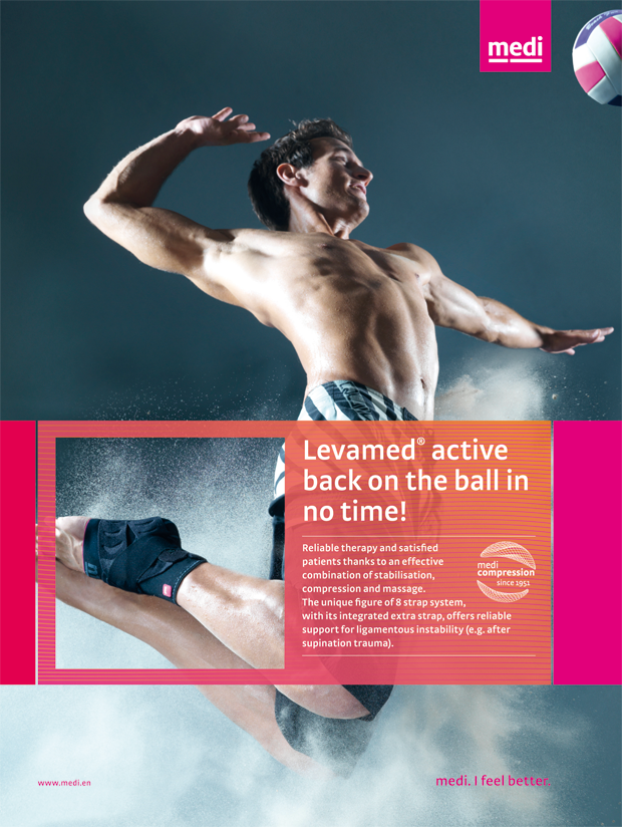 ---
Editorial Department
Editorial Secretary: Hatem Said
Editorial Production: Linda Ridefjord

Editorial Board: Ahmed Abdel Azeem, Syah Bahari, Kamal Bali, Bassel El-Osta, Anthony Hall, Shalin Maheshwari, Maximilian Rudert

Rue Washington 40-b.9, 1050 Brussels, Belgium
Tel.: +32 2 648 68 23 | Fax: +32 2 649 86 01
E-mail: edsecr@sicot.org | Website: www.sicot.org
---
Disclaimer: Some of the views and information expressed in this e-Newsletter include external contributors whose views are not necessarily those of SICOT. SICOT is not responsible for the content of any external internet sites.