---
Editorial by Jochen Eulert -
SICOT Secretary General
CME is not only a duty but also a right to claim
In almost all countries, society demands continuous medical education and training from the individual doctor and worldwide it is seen as his essential duty. Many, if not all, areas of society look for a well-trained and experienced doctor. Read more...

---
SICOT Events
XXVI SICOT Triennial World Congress combined with 46th SBOT Annual Meeting
Rio de Janeiro TWC 2014


19-22 November 2014 * Rio de Janeiro, Brazil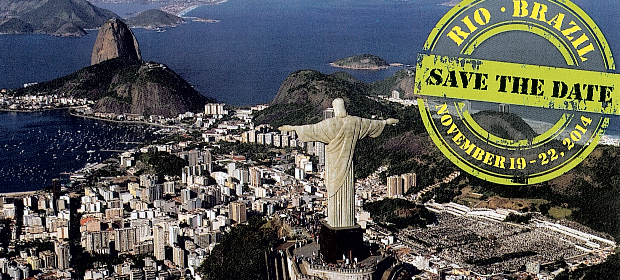 ---
SICOT News
The SICOT Head Office relocates
After 29 years, SICOTÂ is leaving Rue Washington 40 in Brussels. As from 1 December 2013, the SICOT Head Office is located at Rue de la Loi 26, Brussels. All postal correspondence should be sent to the new address below from now on. The telephone and fax numbers will remain the same.

Rue de la Loi 26 - b. 13
1040 Brussels
Belgium
20th SICOT Trainees Meeting
The 20th SICOT Trainees Meeting will be held on 16 December 2013 in Cairo, Egypt. It will include presentations by young surgeons under 40 years of age and plenary lectures by senior surgeons. Three prizes of up to EGP 1,000 each will be awarded to the three best presentations and all presenters will receive certificates of presentation and attendance. For more information, please contact 20thsicottraineesmeeting@gmail.com.

---
SICOT Global Network for Electronic Learning - SIGNEL
Antithrombotic prophylaxis in major orthopaedic surgery: an historical overview and update of current recommendations
Plamen Kinov, Panayot P. Tanchev, Martin Ellis & Gershon Volpin

The risk of venous thromboembolism following major orthopaedic procedures, such as joint arthroplasty and hip fracture surgery, are well recognised and represent one of the major challenges in orthopaedic practice, having in mind the increasing number of arthroplasties of the hip and knee done worldwide per year and their successful outcome. This potentially fatal complication remains a challenge in orthopaedic practice.
 
Read more...
Case of the Month


by Syah Bahari & Tom McCarthy
A 69-year-old male presented to the Emergency Department complaining of progressive pain in the left hip. He was able to mobilise using the walking frame. He denies any history of fall. He recently had a bipolar hip hemiarthroplasty for intracapsular neck of femur fracture 6 months earlier. He also has a background history of Parkinson's disease, osteoporosis, hypertension and depression. 
Read more...
---
Fellowship News
"SICOT meets SICOT" fellowship report from Hospital Infanta Leonor, Madrid




by Dinesh Choudary



I had the honour of being selected by SICOT for the "SICOT meets SICOT" fellowship programme at Hospital Infanta Leonor in Madrid, Spain. It is with great pleasure that I write to you this report after having successfully completed the fellowship during the months of April and May 2013.
Read more...
---
Industry News
---
Editorial Department
Editorial Secretary: Hatem Said
Editorial Production: Linda Ridefjord

Editorial Board: Ahmed Abdel Azeem, Syah Bahari, Kamal Bali, Bassel El-Osta, Anthony Hall, Shalin Maheshwari, Maximilian Rudert

Rue Washington 40-b.9, 1050 Brussels, Belgium
Tel.: +32 2 648 68 23 | Fax: +32 2 649 86 01
E-mail: edsecr@sicot.org | Website: www.sicot.org
---
Disclaimer: Some of the views and information expressed in this e-Newsletter include external contributors whose views are not necessarily those of SICOT. SICOT is not responsible for the content of any external internet sites.