SICOT e-Newsletter
Issue No. 60 - September 2013
Fellowship News

SICOT Aarhus University Fellowship Report



Naveen Tahasildar
SICOT Associate Member - Bangalore, India
With great pleasure, I report my experience as a Spine Fellow at Aarhus University Hospital from 3 January to 1 February 2013.
To begin with, I deeply appreciate the cooperation extended by Ms Lone Sand Simonsen in arranging my visa for Denmark and her constant support during my stay at Aarhus.
I reached Aarhus on 3 January 2013 and moved into the accommodation provided by the hospital. A nasal and oral swab culture for MRSA was taken on the first day, which is a routine for any person entering the operating theatres for the first time. As soon as the results were available, I started attending the theatres. Every working day started with a morning meet, where details about the in-patients were discussed in the presence of all consultants and ward nurses. I had an opportunity to scrub-in as first assistant in most of the cases and I was allowed to actively participate in each surgery. There are 5 consultants in the spine unit, Prof Cody Bünger, Dr Ebbe Hansen, Dr Peter Helmig, Dr Kristian Hoy and Dr Haisheng Li. I was fortunate to operate with each one of them. The hospital, being a referral care centre, deals with wide range of spinal disorders. The volume of cases operated here is really great. During my four-week stay, I participated in 30 odd cases. Spinal deformity, degenerative spine and spinal tumours make a major share of cases operated here. I could assist in a wide range of cases here including scoliosis, spondylolisthesis, cervical spine (anterior & posterior), spinal tumours and spinal trauma. I also followed up the patients in the wards with Dr Li and Dr Ebbe. The nursing and paramedical staff were committed and contributed significantly to the care of the patient. It was a pleasure working with Prof Bünger and he makes every challenging surgery look seemingly simple. I was truly impressed with his technique and surgical outcome. Operating with Dr Hansen was an enjoyable experience and he taught me some great tricks. He is a wonderful surgeon and takes keen interest in explaining every step of the surgery. I also assisted a number of cases with Dr Li and learnt a lot of things from him. He was very friendly and I loved working with him. Dr Helmig involved me in some interesting surgeries and taught me some of his tricks. I assisted Dr Hoy in some cervical anterior surgeries and I loved his technique.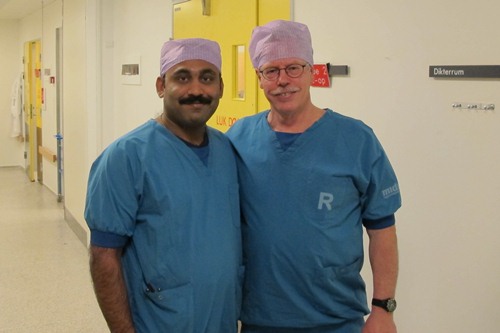 I specifically liked some wonderful techniques used here in operating the challenging revision scoliosis surgeries. In one of the cases, Prof Bünger corrected a decompensated scoliosis by doing a corrective osteotomy through the fusion mass. He plans his osteotomy (to decide on the size and location) on pre-operative images. After removing the posterior elements at the planned wedge, he went by an extra-cavitary approach to expose the vertebral body and completed the wedge by removing vertebral body along the pedicle. We got a good correction and balance in the end.
I was truly amazed at the emphasis that is placed upon basic research at this centre. I attended the research meetings every Friday at the laboratory. Prof Bünger wonderfully coordinated the meeting and supervised the research activities of all the Phd students. I was motivated by the wonderful ideas and passion of the research students. I also made some great friends. Dr Haolin Sun (spine fellow) was a great companion during the entire fellowship. He helped me a lot during the fellowship. I also thank Effe, Miao and Shallu for making my time in Aarhus a pleasurable experience. The trip to Copenhagen with Ebbe and his family was truly a memorable experience of my life. The whole family was so kind and made me feel warm in their company. I will really miss the wonderful time spent at Aarhus.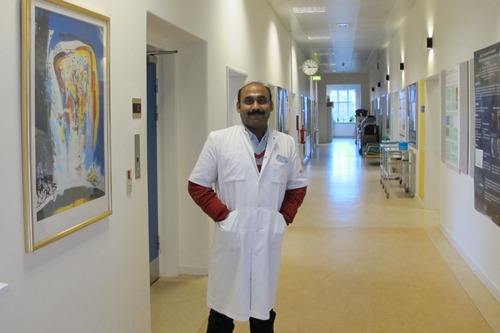 Finally, I thank all those at the Teknologisk hostel, who were so friendly. Overall it was a great experience and I would thoroughly recommend this fellowship to my colleagues. I sincerely thank SICOT for providing me with this great opportunity.