---
Editorial by Nanjundappa S. Harshavardhana & John P. Dormans

How I correct Adolescent Idiopathic Scoliosis

Scoliosis is characterized by frontal plane curvature of spinal column with axial rotation of vertebrae producing a rib-hump deformity. Adolescent idiopathic scoliosis (AIS) is the most common spinal deformity and is seen most commonly in girls (male:female being 1:10). It is most commonly right-sided and most frequently affects the thoracic spine. AIS can produce unacceptable cosmetic deformity with poor body self-image which may need surgical intervention to prevent curve progression, arrest deterioration in pulmonary function and enhance self-esteem.
Intensive investigations have been undertaken over the past decade to identify genes that predispose an individual to develop AIS. It is a multifactorial condition and several genes have been implicated.
Read more...
---
SICOT Events
34th SICOT Orthopaedic World Congress (Hyderabad OWC 2013)
17-19 October 2013 * Hyderabad, India
Online congress registration is open here until 15 September 2013!
Don't miss the
Instructional Courses
held throughout the Congress. Registration is open!
Read more...
With the experience of two successful events we are pleased to announce the

 
3rd SICOT Educational Day
 

in Hyderabad, India, to be held on 16 October 2013. The theme for this year is 'Trauma'. We have invited expert Faculty from over 10 countries for lecturing on the course. Read more...
Join us for the entertaining social programme and the chance to experience the rich culture of India. Read more...

Detailed information about the Cricket Match to be held on 16 October and the Charity Run/Walk on the morning of 19 October can now be found
here
.
Hotel booking for SICOT 2013 participants at Hyderabad is on! We have secured attractive discounted rates for a number of rooms in different categories of hotels close to the Hyderabad International Convention Centre. Shuttle transportation will be provided between the Congress venue and the official hotels at fixed times in the morning and evening for only those delegates who have booked through the official website: Online Hotel Accommodation Booking
Hyderabad OWC 2013 is the premier unique opportunity to promote your products and services to leading international orthopaedic surgeons, traumatologists and specialists in related fields. There are also many value-creating sponsorship options available to highlight your organisation's support and contribution to orthopaedics and traumatology. We will help in customising the most suitable option. Read more...
---
SICOT Global Network for Electronic Learning - SIGNEL
Do we really need closed-suction drainage in total hip arthroplasty? A meta-analysis
Xin-die Zhou, Jin Li, Yan Xiong, Li-feng Jiang, Wei-jun Li & Li-dong Wu
Purpose
The clinical use of closed-suction drainage, which aims to reduce postoperative wound haematomas and infection, is common. This study was performed to determine whether closed-suction drainage is safe and effective in promoting wound healing and reducing blood loss and other complications compared with no-drainage in total hip arthroplasty.
Read more...
Case of the Month


by Bassel El-Osta
A 77-year-old lady presented to the Orthopaedic clinic with a six-month history of spontaneous gradually worsening pain in the antecubital fossa of the right forearm. This was associated with a discrete lump which grew in size over time. She described the pain as a dull constant ache which could be provoked to sharp pain by elbow and forearm movements, and by heavy lifting. The pain did sometimes radiate to the wrist but there was no tingling, numbness or weakness in the arm. There was no history of any traumatic injury. Read more...

---
Fellowship News
Report of the "SICOT meets SICOT" Fellowship in

Székesfehérvár, Hungary
by Boney M. Rajan
The email from SICOT officials, Prof Jochen Eulert and Dr Hatem Said, confirming my fellowship approval in January 2013, at the St. George County Hospital for Musculoskeletal Disorders and Trauma, Székesfehérvár, Hungary, found me in extreme surprise and joy. Further correspondence with my chief, Prof Laszlo Bucsi, who was in charge of my training, made my Hungarian experience pleasant, homely and memorable; one to be cherished forever in the pages of my life.
Read more...
---
Worldwide News
Inadequate 'three-point' proximal fixation predicts failure of the Gamma nail




Comment by Shalin

Maheshwari
Peritrochanteric fractures have always fascinated orthopaedic surgeons with regards to choice of implant. They can be difficult to treat but the treatment options and indications are fairly well described in most cases. In a recent Cochrane review, Parker et al (2010) showed higher complication rate associated with cephalomedullary devices and recommended further studies using more contemporary implants. Read more...
---
Industry News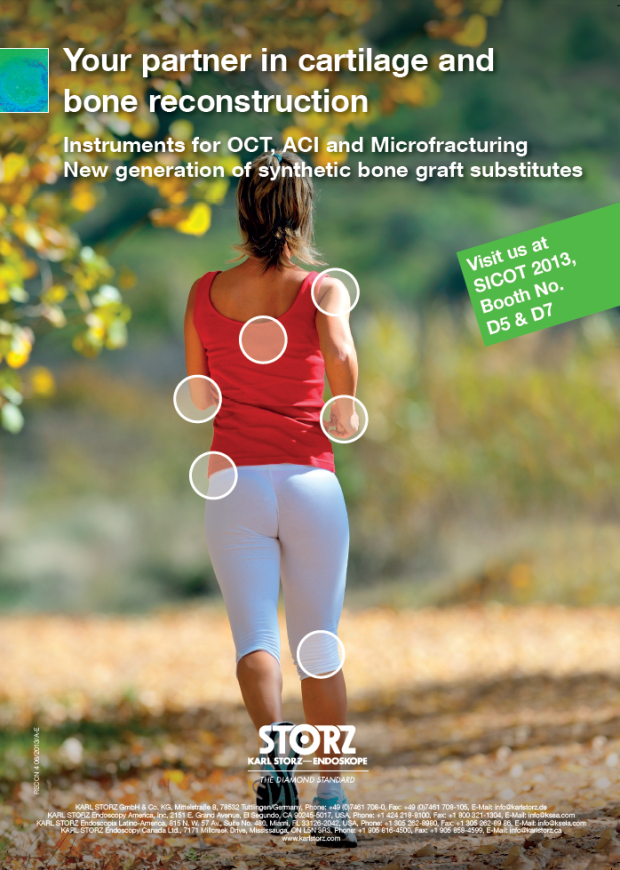 ---
Editorial Department
Editorial Secretary: Hatem Said
Editorial Production: Linda Ridefjord

Editorial Board: Ahmed Abdel Azeem, Syah Bahari, Kamal Bali, Bassel El-Osta, Anthony Hall, Shalin Maheshwari, Maximilian Rudert

Rue Washington 40-b.9, 1050 Brussels, Belgium
Tel.: +32 2 648 68 23 | Fax: +32 2 649 86 01
E-mail: edsecr@sicot.org | Website: www.sicot.org
---
Disclaimer: Some of the views and information expressed in this e-Newsletter include external contributors whose views are not necessarily those of SICOT. SICOT is not responsible for the content of any external internet sites.