---
Editorial by Kandiah Raveendran -
SICOT First Vice-President 
Education in SICOT: The role of the Education Centre
The primary goal and objective of SICOT is education. Today SICOT is at the forefront of orthopaedic education and training. The SICOT website itemises all the different fellowships available, e-learning, publications and the education and training resources including the SICOT Education Centre. This editorial is an update of my first editorial about the Education Centres published in the
SICOT e-Newsletter (Issue No. 39 - December 2011).
The SICOT Education Centre has many objectives but the main ones are to educate orthopaedic trainees and to continue the education of orthopaedic surgeons. It is also involved in the training of allied health workers.
Read more...
---
SICOT Events
34th SICOT Orthopaedic World Congress (Hyderabad OWC 2013)
17-19 October 2013 * Hyderabad, India
Online congress registration is open here!

Don't miss the Instructional Courses held throughout the Congress. Registration is now open!
Read more...
Join us for the entertaining social programme and the chance to experience the rich culture of India. Read more...

Hotel booking for SICOT 2013 participants at Hyderabad is on! We have secured attractive discounted rates for a number of rooms in different categories of hotels close to the Hyderabad International Convention Centre. Shuttle transportation will be provided between the Congress venue and the official hotels at fixed times in the morning and evening for only those delegates who have booked through the official website: Online Hotel Accommodation Booking
Hyderabad OWC 2013 is the premier unique opportunity to promote your products and services to leading international orthopaedic surgeons, traumatologists and specialists in related fields. There are also many value-creating sponsorship options available to highlight your organisation's support and contribution to orthopaedics and traumatology. We will help in customising the most suitable option. Read more...
---
Meetings by SICOT Members
SICOT Resident Training Programme in Nepal



The Nepal Medical College Teaching Hospital in Kathmandu, Nepal, is organising, in collaboration with SICOT and the Nepal Orthopaedic Association, a SICOT Resident Training Programme and
SICOT Symposium
on Paediatric Orthopaedics in October 2013.
Read more...
---
Articles by SICOT Members
To be or not to be an Orthopaedic Surgeon


by Thamer Hamdan

Human beings were born with different abilities. Not even two are alike as regards mental, physical, social, and psychological capabilities. Some were born to be singers, dancers, writers, actors or doctors, while others were born to be out of any specification. So it is very vital for each one of us to be aware of this critical point.
Read more...
---
SICOT Global Network for Electronic Learning - SIGNEL
Patterns of isotope uptake in sequential postoperative bone scan in undisplaced femoral-neck fractures
Byung Ho Yoon, Young Woong Kim & Hyung Ku Yoon
Purpose

 
We aimed to investigate the changing pattern of isotope uptake in the sequential bone scan test for the prediction of osteonecrosis of the femoral head in patients with an undisplaced femoral-neck fracture.
Read more...
---
Fellowship News
Report of the SICOT meets SICOT Fellowship at CHOP

, United States


by Islam Abouyoussef

I had the honour of being selected by SICOT for the "SICOT meets SICOT" (SmS) Fellowship Programme at the Children's Hospital of Philadelphia (CHOP) during May 2013. Philadelphia is a pleasant city located in the eastern region of the United States. CHOP is the main paediatric hospital of the University of Pennsylvania. In 2012, CHOP was selected the best children's hospital in the United States. The division of Orthopaedic Surgery in CHOP is always busy in terms of providing quality patient care, training of medical staff and doing research work.
Read more...
---
Controversies in Orthopaedics
Femoral neck fractures: Evidence Based Medicine


by Sherif A. Khaled
Femoral neck fractures are common and occur in 3% of young adults and this incidence rises to 97% above 60 years of age. However, many aspects of treatment are debatable. It has been reported in the literature that the incidence of AVN in young adults ranges from 0-86% and non-union 0-45% (1), hence careful attention should be given to those injuries that present frequently in our orthopaedic department. In a trial to answer these debates we conducted an Internet search and found thousands of reports. The following review covers the evidence based answers for the options of treatment available, the implants, timing of treatment, whether to perform a capsulotomy or not, to do open or closed reduction and the choice of prosthesis in case arthroplasty was the chosen method of treatment.
Read more...
---
Worldwide News
Open reduction and internal fixation of acute intra-articular displaced calcaneal fractures: A retrospective analysis of surgical timing and infection rates




Comment by

Ahmed M. Khedr
Wound-healing problems and infection continue to plague the surgical treatment of calcaneus fractures. With a reported incidence between 10 and 30%, wound edge necrosis is the most common complication of open treatment of calcaneus fractures
. The incidence of wound edge necrosis has declined with the popularization of the extensile lateral approach, an approach that respects the lateral angiosomes about the foot and ankle. Read more...

---
Industry News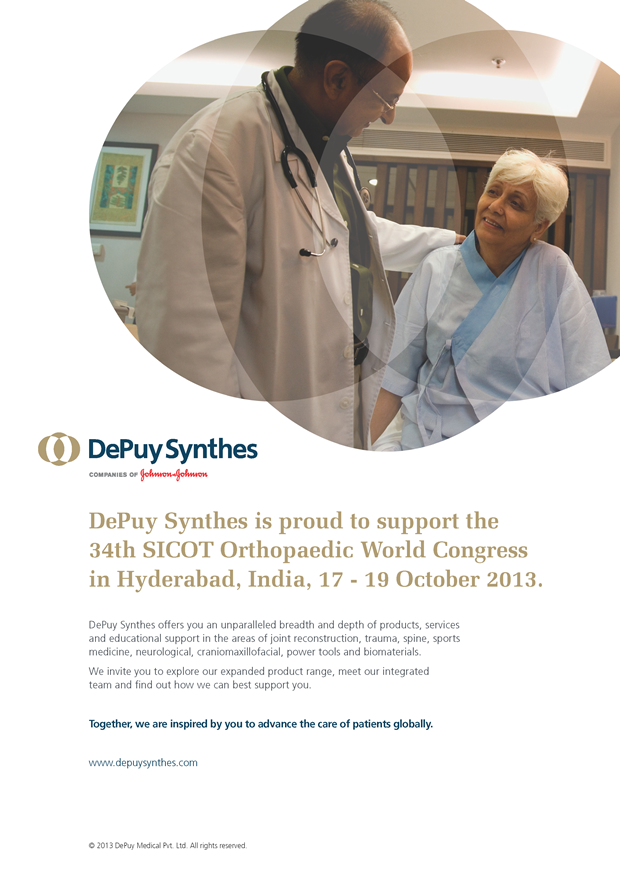 ---
Editorial Department
Editorial Secretary: Hatem Said
Editorial Production: Linda Ridefjord

Editorial Board: Ahmed Abdel Azeem, Syah Bahari, Kamal Bali, Bassel El-Osta, Anthony Hall, Shalin Maheshwari, Maximilian Rudert

Rue Washington 40-b.9, 1050 Brussels, Belgium
Tel.: +32 2 648 68 23 | Fax: +32 2 649 86 01
E-mail: edsecr@sicot.org | Website: www.sicot.org
---
Disclaimer: Some of the views and information expressed in this e-Newsletter include external contributors whose views are not necessarily those of SICOT. SICOT is not responsible for the content of any external internet sites.