SICOT e-Newsletter
Issue No. 56 - May 2013
Fellowship News

Report of Training Fellowship in Arthroplasty at Ganga Medical Centre & Hospitals
Wakeel Olaide Lawal
-
Lagos, Nigeria
It was a dream come true when Prof Jochen Eulert, SICOT Secretary General, informed me that a 3-month training fellowship in arthroplasty had been approved for me at
Ganga Medical Centre & Hospitals
, Coimbatore, India. It was a difficult decision for me because I had to resign from my 6-month fellowship job, which had been offered to me by my training institution after passing the fellowship examination of the West African College of Surgeons, and lose 6 months of salary. However, this great opportunity to improve my skills and knowledge in arthroplasty was enough consolation.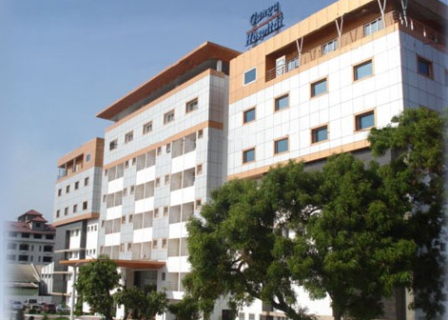 Ganga Medical Centre & Hospitals
Ganga Hospital is a 420-bed hospital with a state of the art facility. It provides care in various subspecialties of Orthopaedics, Plastic and Reconstruction Surgeries. The Hospital is situated in the heart of Coimbatore, a city popularly referred to as Medical City because of the large number of hospitals in the city. The Orthopaedics Department has 5 theatre suites that deal with arthroplasty, spine, arthroscopy, and paediatric cases and a separate 5 theatre suites for trauma. The arthroplasty units perform an average of 8 to 12 cases per day and this is more than enough for adequate exposure and training.
I arrived at Coimbatore on 30 August 2012 to start the training in September and to my surprise a car was already waiting for me at the airport to take me to my lodge. My accommodation was at M.K. Homes, which is about a 10-minute drive to the hospital. It is a privately owned lodge and I was paying per month 6,000 rupees for rent, 300 rupees for electricity, and 600 rupees for transport.
On 3 September, I met Prof Shanmuganathan Rajasekaran during a clinical teaching. He introduced me to other fellows who were with him for the breakfast clinical teaching. This prepared me quickly for training as I listened to the wealth of knowledge coming from him. I was happy I had taken the decision to come to this hospital for training. He introduced me to Dr Dhanasekaran, a consultant arthroplasty and trauma surgeon in the hospital, whose unit I was attached to. He took me around the hospital to familiarise myself and I felt at home instantly.
I started the training on the same day. I worked directly with Prof Rajasekaran, Dr Dhanasekaran, and occasionally with Dr Rajkumar, who is also a consultant arthroplasty and trauma surgeon in the hospital. I attended 6 day theatre sessions in about a week, out of which one was a trauma operating session. Each unit roster has an average of 6 arthroplasty cases per day which includes various complex primary total knee replacements, total hip replacements and revisions. I was directly involved in the management of cases, and I scrubbed for about 3-4 cases per theatre session and for more than 70 cases throughout the period of the fellowship.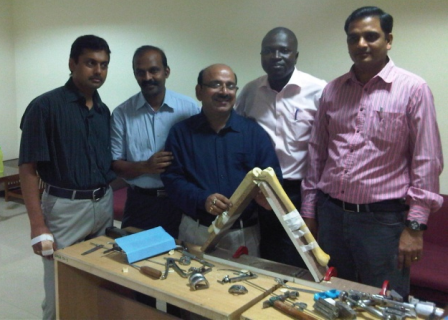 Demonstration with models coordinated by Dr Rajkumar (first from left)
While working with Prof Rajasekaran, I learnt many tips on the technical aspect of arthroplasty which comes from experience. I also had the opportunity to assist him in some complex total hip and knee replacements as well as cases of revision surgery. He made sure I was always present for his cases and this assisted me tremendously because of the knowledge he shared with me whenever I worked with him.
Another training programme was a demonstration with hip and knee models which was coordinated by Dr Rajkumar. This gave me a clear picture of what to expect in the course of the surgery.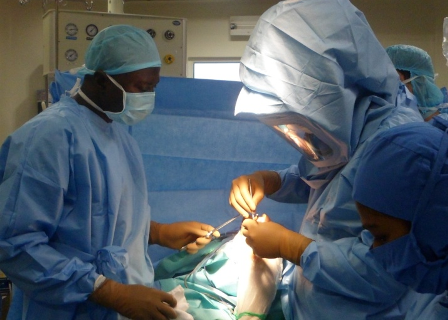 The author assisting Dr Dhanasekaran in a TKR
At GMCH, my supervising consultant ensured that I had the same opportunities as other arthroplasty fellows, irrespective of where I was coming from. I scrubbed for many replacements, including computer navigated total knee replacement, and attended follow-up clinics. I also observed a variety of trauma cases especially management of fractures around the hip, ankle, and proximal and distal humerus. I particularly enjoyed routine operating table discussions as well as discussions of cases in the clinic.

Coming to India (Ganga) has afforded me the opportunity of taking an ATLS Course. I also attended 2 workshops: one on complex primary knee replacement at Kovai Medical Centre and Hospital (KMCH) and another on the management of complex limb injuries at GMCH.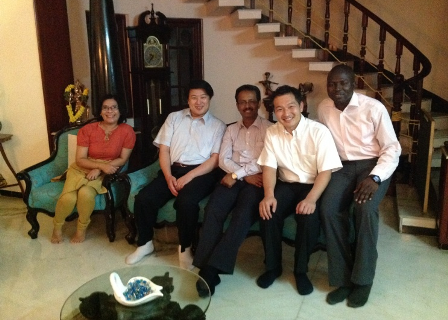 Dinner at the home of Prof Rajasekaran (third from left
)
Sunday was a resting day for me during the training and I used this to get acquainted with my environment and visit important places in Coimbatore.
The surgical experience that I gained at the GMCH is incomparable to what I had in my primary training centre. I am really happy that I had my training in this hospital considering the volume of cases I was exposed to within this short period of time. I do not think I could have gotten this anywhere else.
Finally, I wish to express my gratitude to Prof Eulert for giving me this opportunity. Special thanks also go to Prof Rajasekaran and the entire Arthroplasty and Trauma Department (Dr Dhanasekaran, Dr Rajkumar, and other arthroplasty fellows) for imparting knowledge. I also wish to thank Dr Balavenkart and Dr Ajoy for making sure our stay at Coimbatore was social as well. I particularly enjoyed the team work of the members of the operating theatre and members of staff of GMCH. I am grateful to the entire family of Prof Rajasekaran for hosting a befitting dinner for us.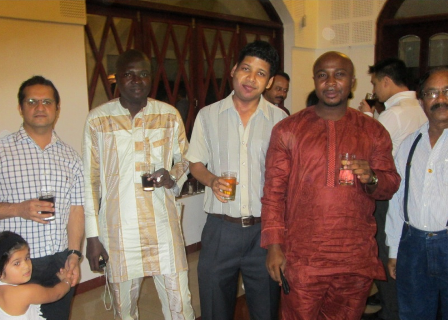 Fellows at the Annual Dinner of the English club of Coimbatore
"Action is the foundation of success...". I have acted by coming to India and await the success that follows action. I will forever call to mind the contribution of this facility to my professional development.