---
Editorial by Maurice Hinsenkamp - SICOT President
SICOT welcomes the SAARC and APOA member countries as its 2013 Friendship Nations
In the past few years SICOT has welcomed India, Japan, China, Russian-speaking countries, and the Pan Arab Orthopaedic Association member countries as its Friendship Nations. This partnership honours specific nations at our annual meetings, and a number of privileges are arranged for new SICOT members and Congress participants from the selected Nations. This year, the SICOT Friendship Nations are the SAARC member countries (Afghanistan, Bangladesh, Bhutan, India, Maldives, Nepal, Pakistan, and Sri Lanka) and the APOA (Asia Pacific Orthopaedic Association) member countries (Australia, China, Hong Kong, Indonesia, Japan, Kazakhstan, Korea, Laos, Malaysia, New Zealand, Philippines, Singapore, Taiwan, and Thailand).
Read more...
---
SICOT Events
34th SICOT Orthopaedic World Congress (Hyderabad OWC 2013)
17-19 October 2013 * Hyderabad, India
Online congress registration is open here! Presenting authors must register before 31 May 2013.

SICOT is pleased to announce that José Sérgio Franco, Dror Paley, Shanmuganathan Rajasekaran, and Steffen Ruchholtz will be delivering plenary lectures at the Hyderabad meeting.
Read more...
Registration for the eleventh SICOT Diploma Examination in Hyderabad is now closed. Candidates have been notified of their selection or non-selection. Read more...
Click here to find out more about the awards which are available to presenting authors at the Congress.
Don't miss the entertaining social programme and the chance to experience the rich culture of India. Read more...

Hotel booking for SICOT 2013 participants at Hyderabad is on! We have secured attractive discounted rates for a number of rooms in different categories of hotels close to the Hyderabad International Convention Centre. Shuttle transportation will be provided between the Congress venue and the official hotels at fixed times in the morning and evening for only those delegates who have booked through the official website: Online Hotel Accommodation Booking
Don't miss out on this unique opportunity to promote your products and services to leading international orthopaedic surgeons, traumatologists and specialists in related fields. Read more...
---
Meetings by SICOT Members
Course on "Fractures of the Upper End of the Femur"
The Egyptian Pelvis & Hip Society and the SICOT Egypt section invite you for a day course on "Fractures of the Upper End of the Femur" on Thursday, 4 July 2013 at the Medical Military Academy in Cairo, Egypt. This course will include three internal fixation hands-on workshops and instructional lectures delivered by distinguished faculty. For more information, please click
here
.
---
Articles by SICOT Members
The Activities of AMFA (Association Médicale Franco Asiatique) in 2012
by Geoffrey Walker
This short summary in English of last year's annual report is really a tribute to Prof Alain Patel, the Founder and President of AMFA, for his enormous efforts to improve orthopaedic and other medical services in Myanmar. In 2012, in spite of the difficult financial climate, AMFA received donations in cash of EUR 342,983 and of EUR 826,150 as materials, transport, activities of volunteers and support from various other charities. The
 
Assistance Publique - Hôpitaux de Paris

 
(AP-HP) has always provided considerable support with assistance from Directors, Engineers and Senior Nurses. Experienced technicians use their holidays to train Burmese colleagues how to install and repair equipment.
Read more...
---
SICOT Global Network for Electronic Learning - SIGNEL
Indications for and results of arthroscopy in the arthritic knee: a European survey
Hermann Otto Mayr, Matthias Rueschenschmidt, Romain Seil, David Dejour, Anke Bernstein, Norbert Suedkamp & Amelie Stoehr
Purpose

 
The place of arthroscopic treatment in osteoarthritis of the knee has generated much controversy. A survey was initiated to collect the opinion of experienced surgeons.
Read more...
Case of the Month
by Maher Halawa
A lady presented in 2012 with right hip pain after a THA 16 years previously. Currently the pain caused her to use two elbow crutches, with inability to fully weight bear on RT leg. X-rays showed polyethylene wear with wear granuloma in the back of the metal shell of the cup and loose zones around femoral component.
Read more...
---
Fellowship News
Report of Training Fellowship in Arthroplasty at Ganga Medical Centre & Hospitals




by Wakeel Olaide Lawal
It was a dream come true when Prof Jochen Eulert, SICOT Secretary General, informed me that a 3-month training fellowship in arthroplasty had been approved for me at Ganga Medical Centre & Hospitals, Coimbatore, India. It was a difficult decision for me because I had to resign from my 6-month fellowship job, which had been offered to me by my training institution after passing the fellowship examination of the West African College of Surgeons, and lose 6 months of salary. However, this great opportunity to improve my skills and knowledge in arthroplasty was enough consolation.
Read more...

---
Expert Corner
Surgical Management of Bankart Operation


by Jacinto Monteiro & Marco Sarmento
Shoulder instability is a very common symptomatic problem and should be separated from minor or major instability related to laxity. Instability itself varies from patient to patient, regarding symptoms, and is affected by age and gender.
Read more...

---
History of Orthopaedics
Hippocratic Oath… A pledge, The journey, Our destiny (Part 2)
by Hitendra K. Doshi
One may then seek to know the method of developing the ability to discriminate. The teacher in the oath also gives a solution as the oath advises not to please anyone at the expense of the life of a patient. Hence, it is cautioning the doctor to be mindful that any treatment offered should be for the best interest of the patient without any tinge of self gratification. This is a quality of 'selflessness' that we have pledged and with such a virtue, the mind is sanctified.
Read more...
---
Worldwide News
TKA: Similar revision rates and outcomes for all-polyethylene and metal-backed components



26 articles (12,500 TKAs with 231 revisions) were identified to compare the clinical outcomes (revision rates and clinical functioning) of metal-backed and all-polyethylene tibial component in primary TKAs. Results indicated that there were no differences in revision rates or outcome scores between the two components, except for higher migration of the metal-backed components and less migration of all-polyethylene components. 
Read more...
---
Industry News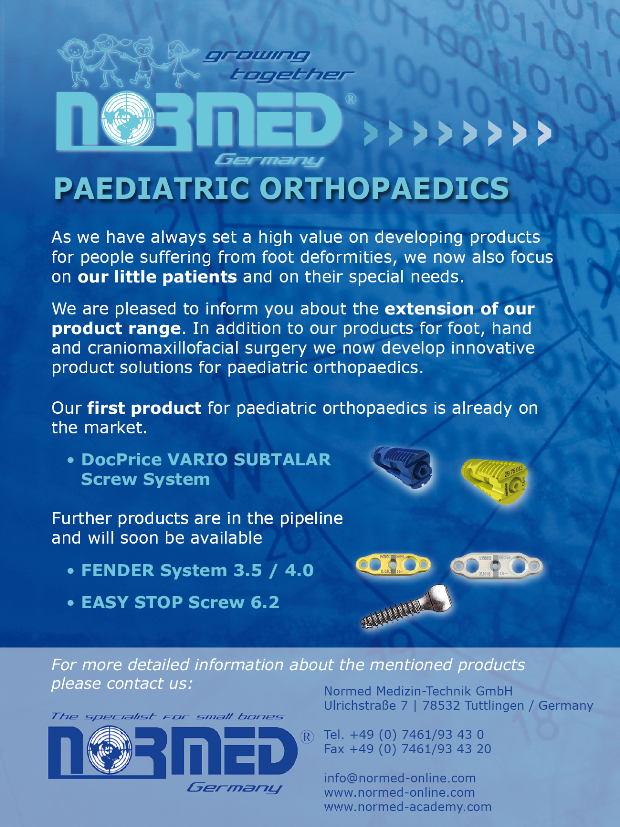 ---
Editorial Department

Editorial Secretary: Hatem Said
Editorial Production: Linda Ridefjord
Editorial Board: Ahmed Abdel Azeem, Syah Bahari, Kamal Bali, Bassel El-Osta, Anthony Hall, Shalin Maheshwari, Maximilian Rudert

Rue Washington 40-b.9, 1050 Brussels, Belgium
Tel.: +32 2 648 68 23 | Fax: +32 2 649 86 01
E-mail: edsecr@sicot.org | Website: www.sicot.org
---
Disclaimer: Some of the views and information expressed in this e-Newsletter include external contributors whose views are not necessarily those of SICOT. SICOT is not responsible for the content of any external internet sites.