SICOT e-Newsletter
Issue No. 55 - April 2013
Fellowship News

Report of the TTSH/SICOT Trauma and Hand Fellowship Award
Waleed Riad Saleh
SICOT Associate Member - Assiut, Egypt
Many thanks to the Tan Tock Seng Hospital (TTSH), SICOT, and Dr Hitendra Doshi for giving me the chance to have such a great experience of Singapore life.
Yes, it is a lifestyle, not only a medical practice, because from the moment I arrived there I joined all aspects of Singapore life (medicine, culture, sports, sightseeing, etc.). My first steps here were a little bit hard because of a common problem in Singapore which is to find suitable accommodation (in terms of location and rental fee). Soon after, I regularly followed the schedule of the orthopaedic department at TTSH. Basically, I am a hand surgeon so from the first days I tried to improve my skills in some aspects of hand surgery.
Wrist arthroscopy was my first target because we have a lot of indications for it. Dr Winston Chew gave me a very good chance to learn it from a very basic to a highly specialised level. I learned different techniques of TFCC ligament and managing different types of degenerative wrist conditions.
I also assisted Dr Yong Fok Chuan in many cases of free tissue transfer to reconstruct traumatic soft tissue loss. In my country we have a very high incidence of road traffic accidents with residual post-traumatic morbidities and soft tissue loss. It was interesting to use the free vascularized gracilis muscle transfer for coverage rather than for function.
Dr Teoh Lam Chuan explained every step to me in all surgeries with a smiling face. I really enjoyed assisting him in hand trauma and internal fixation of different hand areas, and I appreciated the better outcomes with using the mini plates over K-wires.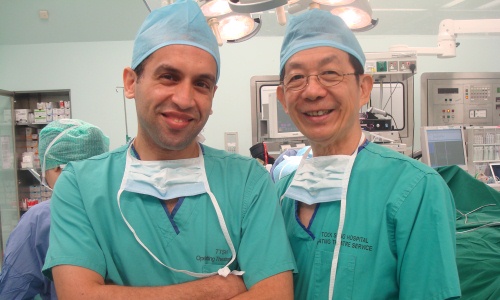 In the operative theatre with Prof Teoh Lam Chuan
With regards to the trauma load, TTSH receives a tremendous number of trauma cases. I joined the trauma team in many cases of ORIF of long bone fractures. I assisted Prof Ganesan Naidu, Head of the Orthopaedic Department, in many cases of femoral nailing and hemi-arthroplasty of femoral neck fracture.
Sightseeing in Singapore is something different. Visitors enjoy Marina Bay, Chinatown, Orchard Road, Sentosa Island and other amazing Singapore areas, in addition to sightseeing in nearby countries such as Malaysia, Indonesia and Thailand.
Living in such a polyethnic country gave me a lot of knowledge in life and medicine, which added to my experience of accepting others and working in a multidisciplinary team.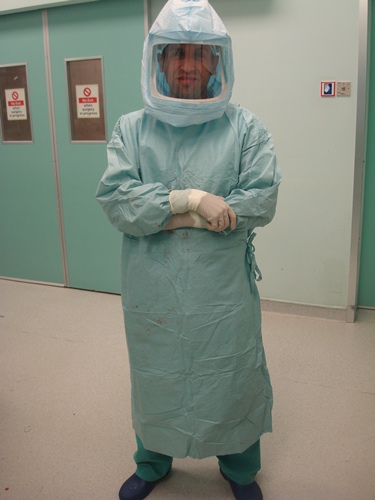 In the operative theatre assisting in a shoulder arthroplasty case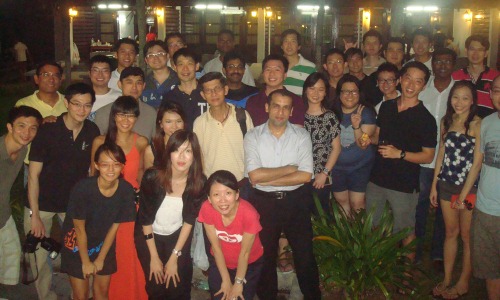 With members of the TTSH Orthopaedic Department during the Department BBQ at the end of the year