SICOT e-Newsletter
Issue No. 54 - March 2013
Fellowship News


Report of the German SICOT Fellowship 2012
Praveen Sarda & Ahmed Abdel Azeem
SICOT Associate Members - Brough, United Kingdom & Giza, Egypt
We started our eagerly anticipated trip to Germany in the first week of May 2012 in Erlangen where we joined Prof Forst and his team at the Waldkrankenhaus St. Marien orthopaedic hospital. Erlangen is an unassuming town about an hour by train from Würzburg. The clinic is well organised with all major subspecialties on offer. Theatre exposure was good and we had good interaction with Prof Forst and his team regarding periacetabular osteotomies. We also had a chance to visit the research laboratory where genetic research for osteoarthritis is being conducted. Labour Day is a holiday in Germany, as in most other places in the world, so we took the opportunity to explore the historic city of Bamberg nearby. Prof Forst also kindly arranged a visit to a nearby implant manufacturing factory that was very interesting as we saw the production of high quality revision implants firsthand!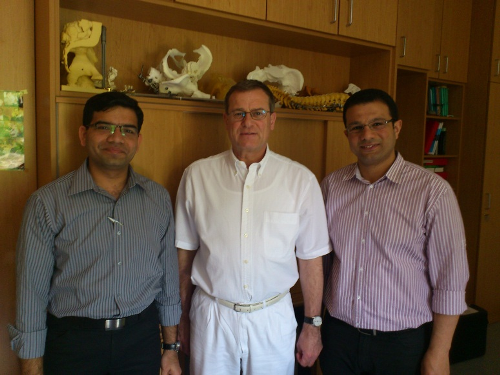 From left to right: Dr Praveen Sarda, Prof Forst and Dr Ahmed Abdel Azeem
After spending a week at Erlangen, we moved to another clinic, Klinik Wichernhaus, headed by Dr Wilhelm Baur. It was also located in the Bayer state in a small town called Rummelberg which is only a few minutes away from Nuremburg (the capital city of the state of Bayer). Our stay had been organised at Nuremburg so we had the opportunity to tour this historic city which was the gateway to the Mediterranean for ancient warriors. The city was largely demolished in the Second World War for being a Nazi stronghold but has been impressively rebuilt. Dr Baur himself was a very gracious host and we had the freedom to scrub and participate in any surgery of interest. Rummelsburg is known internationally for Prof Wagner's institute and it carries on his legacy. We were impressed by the unique design of their laminar flow tents and the Mercedes lights instead of regular operating lights!! We had the opportunity to learn a great deal from Dr Baur and his team, who are experts in computer navigated arthroplasty as well as osteotomies. We also assisted a large variety of cases including sports medicine with Prof Stangl. After an eventful week at Rummelsburg, we moved to our next destination, Würzburg.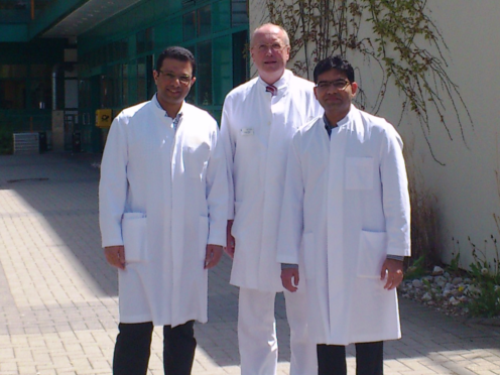 The SICOT fellows with Dr Wilhelm Baur
König-Ludwig-Haus, the specialist orthopaedic institute, belongs to Würzburg University and is headed by Prof Dr Maximilian Rudert. It is one of the oldest orthopaedic institutes in Germany (more than 100 years old) and the workload as well as quality of work reflected this. There was a good exposure to most major subspecialties. The minimally invasive anterior approach to hip replacement and custom made partial and total knee replacements were of particular interest. We had stimulating discussions with other members of the team like Prof Nöth and presented some of our research to the department, which was well received.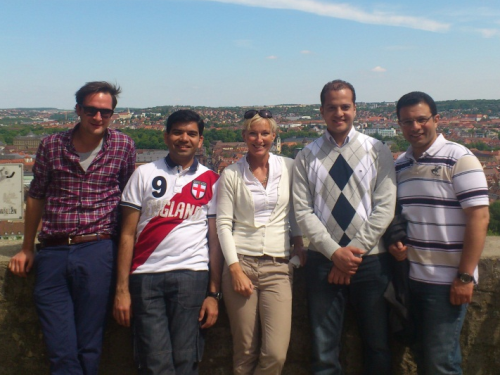 The fellows with staff members in Würzburg
We ended the fellowship in Berlin where we attended the Auguste-Viktoria-Klinikum headed by Prof Dr Heino Kienapfel. Berlin is a beautiful city, a unique blend of old and new. There were numerous opportunities to attend various surgeries. Dr Kienapfel kindly arranged for Praveen Sarda to work with Dr Mellorowicz who specialises in children's orthopaedics and is a very keen trainer. We spent a very productive week in Berlin before heading back home after a thoroughly enjoyable four weeks in Germany. Even though at times we felt one week was too short for each centre, it provided us with the opportunity to see different approaches, meet some wonderful people and travel a lot within Germany. We had a lot of interaction with our counterparts there and some stimulating discussions about different healthcare systems in the world!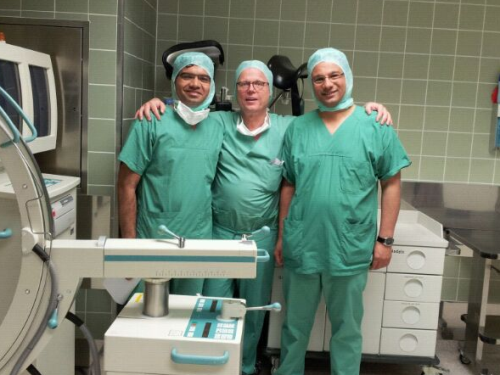 With Prof Dr Heino Kienapfel
From a scientific point of view, it was interesting to see different approaches to hip replacement, navigation systems as well as custom made arthroplasties, at almost every centre we visited. We learned something new at every centre and thank SICOT for organising this excellent fellowship that has enriched us both professionally as well as personally. The trip was well organised and accommodation at most places was of good standard. To make the experience even better and smoother for future fellows, we have the following recommendations:
Fellows could be provided with name badges or even generic badges with "SICOT fellow" printed on them. This makes their identification easier for theatre staff and improves communication.

A briefing with key staff on the first day of the fellowship would be very helpful to organise further planning.

One week at a centre can be too short with a lot of travelling, and a fortnight at two centres could be chosen based on the subspecialty preference of the fellows. However, a week at each centre is also an opportunity to explore Germany and as such can be based on personal preference.
Overall, travelling throughout Germany visiting four different clinics was really a very interesting experience that we will never forget.
We wish all the very best to future fellows and are happy to be of any assistance if needed.