---
Editorial by Fatih Kucukdurmaz - SICOT Young Surgeons Committee Chairman
I have been elected as the new Chairman of the Young Surgeons Committee (YSC). This is a great honour and responsibility on my shoulders. I am very happy for the great support of a wonderful team who will help me with this job. The previous Chairman, my dearest colleague Dr Hatem Galal Said, brought the Young Surgeons Committee to where it is now. He did a great job and showed an outstanding performance in the last four years. SICOT is a global orthopaedic society and has a strong worldwide network. SICOT has representatives in many countries on every continent. We meet every year in different parts of the world. These meetings are unique experiences where we learn, discuss and exchange knowledge. This is especially important for my young colleagues. The YSC has members from many countries thereby bringing diversity to it. It provides a platform for sharing ideas and opinions and when we meet, either physically or virtually, we enjoy aligning our enthusiasm to produce new projects. The YSC has several activities which have been developed and improved by its members to serve the global orthopaedic society. Read more... 
---
SICOT Events
34th SICOT Orthopaedic World Congress (Hyderabad OWC 2013)
17-19 October 2013 * Hyderabad, India
Abstract submission is now closed. Thank you for submitting your abstracts. Presenting authors will be notified of their abstract acceptance/refusal on 2 May 2013.
Online congress registration is open here!
Registration for the eleventh SICOT Diploma Examination in Hyderabad is now closed. Candidates have been notified of their selection or non-selection. Read more...
Click here to find out more about the awards which are granted to young surgeons to help them attend the Congress.
To book a room or tour in Hyderabad at specially negotiated discounted rates, please click here. We recommend that you book your accommodation well in advance.
Don't miss out on this unique opportunity to promote your products and services to leading international orthopaedic surgeons, traumatologists and specialists in related fields. Read more...
---
SICOT Global Network for Electronic Learning - SIGNEL
High reliability of an algorithm for choice of implants in hip fracture patients
Henrik Palm, Eva Posner, Hans-Ulrik Ahler-Toftehøj, Peter Siesing, Silas Gylvin, Tobias Aasvang, Kim Holck & Kenneth Brian Holtz
Purpose Hip fracture treatment is controversial, with high complication rates. An algorithm for hip fracture surgery has shown reduced reoperation rates, but choice of implant is based on the commonly used fracture classifications, which were previously evaluated to be unreliable. The purpose of this study was to investigate the reliability of the algorithm. Read more...
Case of the Month
by Ahmed Abdel Azeem, Ahmed Foaud Seifeldin, Mostafa Abusayed & Ahmed Khedr
A 16-year-old male patient presenting after a fall from height with a swollen right heel and inability to weight bear on it. X-rays and CT scan showed intra-articular fracture of the calcaneus with Sanders' type II, joint depression fracture of the right calcaneus. Further examination and investigations showed no other associated injuries.
Read more...
---
Fellowship News
Report of the German SICOT Fellowship 2012
by Praveen Sarda & Ahmed Abdel Azeem
We started our eagerly anticipated trip to Germany in the first week of May 2012 in Erlangen where we joined Prof Forst and his team at the Waldkrankenhaus St. Marien orthopaedic hospital. Erlangen is an unassuming town about an hour by train from Würzburg. The clinic is well organised with all major subspecialties on offer. Theatre exposure was good and we had good interaction with Prof Forst and his team regarding periacetabular osteotomies. We also had a chance to visit the research laboratory where genetic research for osteoarthritis is being conducted. Read more...
---
Training Around the World
Orthopaedic Training in Turkey
by Ömer Cengiz
Undergraduate medical training in Turkey is 5 years in duration with an additional one year of internship. After completing 6 years of undergraduate study, a medical student is entitled to become a medical doctor. However, this does not mean that you can get your medical diploma right away. You are required to fulfil a civil service obligation ranging between 300 and 600 days that varies between regions. However, there is an exemption through sitting the medical specialty examination. By passing the examination before completing the civil service, you are then exempted from the compulsory service. The examination consists of multiple choice questions (MCQ). In order to enter any residency programme, one has to pass and get enough points which is really challenging. After that, your five-year orthopaedic residency programme begins. Read more...
---
Expert Corner
This is a new section of the SICOT Newsletter. We have asked prominent surgeons in our SICOT community to share their experiences, pearls of wisdom, and pitfalls in managing certain orthopaedic and trauma conditions. For this issue, we have invited Prof Jacques Caton to share his experience on performing primary total hip replacement. He is the current Chairman of the SICOT Publications & Communications Committee and the SICOT Hip Arthroplasty Subspecialty Committee. He has vast experience in primary and revision total hip arthroplasty.
How I do a Primary Total Hip Arthroplasty (THA)
by Jacques H. Caton
Today, Total Hip Arthroplasty (THA) is one of the most dramatically successful procedures performed in the field of medicine. The number of THAs performed in France in 2010 was estimated to be 147,513. The first modern, commonly accepted technique for THA was developed by Sir John Charnley in 1962 [5], 50 years ago, and has achieved very good long-term results. On that basis, since 1979, for my patients with osteoarthritis (OA), osteonecrosis (ON), or femoral neck fracture, I use a Charnley type THA with a 22.2 mm metallic or ceramic head and, in the last 33 years, I have performed this operation on more than 5,000 patients. Read more...
---
History of Orthopaedics
History of Orthopaedics in Hong Kong
by Peter Yau
Before the Second World War, the orthopaedic care in Hong Kong could only be described as primitive. General surgeons were responsible for treating all the orthopaedic cases, with predominant emphasis on trauma. Advances in orthopaedic technology were virtually non-existent. The first academic orthopaedic discipline was introduced in Hong Kong in 1951. The Orthopaedic and Trauma Unit was established within the Department of Surgery at the University of Hong Kong. Dr Arthur Ralph Hodgson was recruited from United Kingdom as the head of the unit. Read more...
---
Industry News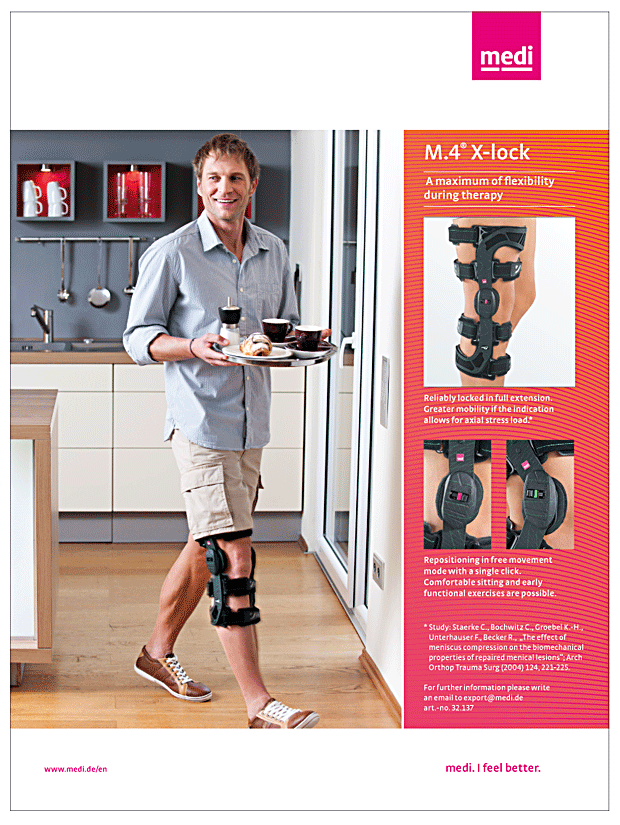 ---
Editorial Department

Editorial Secretary: Hatem Said
Editorial Production: Linda Ridefjord
Editorial Board: Ahmed Abdel Azeem, Syah Bahari, Kamal Bali, Bassel El-Osta, Anthony Hall, Shalin Maheshwari, Maximilian Rudert

Rue Washington 40-b.9, 1050 Brussels, Belgium
Tel.: +32 2 648 68 23 | Fax: +32 2 649 86 01
E-mail: edsecr@sicot.org | Website: www.sicot.org
---
Disclaimer: Some of the views and information expressed in this e-Newsletter include external contributors whose views are not necessarily those of SICOT. SICOT is not responsible for the content of any external internet sites.