SICOT e-Newsletter
Issue No. 52 - January 2013
---
---
Editorial by Hatem Said - Editorial Secretary
The SICOT Newsletter Editorial Board - Thank you
Last year we started a new era in the SICOT Newsletter (NL). A new Editorial Board was formed which came with new ideas, sections and material. The new Board was formed of four active new members: Ahmed Abdel Azeem (Egypt), Kamal Bali (India), Bassel El-Osta (United Kingdom) and Syah Bahari (Malaysia). In addition we have two senior members: Mr Tony Hall (United Kingdom), who is responsible for the Article of the Month from the International Orthopaedics Journal, and Prof Maximilian Rudert (Germany), who has laid down the guidelines for the Case of the Month, and whose department in Würzburg has contributed a lot with very interesting cases. Of course, the main burden of Editorial Production lies on Linda Ridefjord who coordinates all these efforts into the final newsletter that you receive. Read more... 
---
SICOT Events
34th SICOT Orthopaedic World Conference (Hyderabad OWC 2013)
17-19 October 2013 * Hyderabad, India
Abstract submission is open until 10 March 2013. Please submit your abstracts in English via the SICOT website: www.sicot.org
Online conference registration is open here!
Registration for the eleventh SICOT Diploma Examination is now open. Read more...
---
SICOT News
19th SICOT Trainee Day
by Maher Halawa
This was the second SICOT Trainee Day of 2012. The first one took place in Russia. It was thought that it would be a good idea to ask the young surgeons to present their research work and face the audience. This would give them the courage and ability to communicate with other orthopaedic surgeons. Read more...
---
SICOT Global Network for Electronic Learning - SIGNEL
The timing of ankle fracture surgery and the effect on infectious complications:Â a case series and systematic review of the literature
Tim Schepers, Mark R. De Vries, Esther M. M. Van Lieshout & Maarten Van der Elst
Purpose Information about the influence of delayed surgery on infectious wound complications is ambiguous. A clinical audit was performed to test the hypothesis that early surgery lowers the rate of infectious wound complications. Secondly we looked at the influence of surgical delay and complications on patient reported functional outcome. Read more...
A 53-year-old female referred by her GP to our foot clinic complaining of pain in her left foot and ankle. She twisted her left ankle 2 months prior but never seeked medical attention at the time.

On examination, she was able to full weight-bear. Examination was unremarkable except for a non tender, focally palpable swelling over the lateral aspect of the ankle and foot extending from the distal fibula to the lateral aspect of the foot. The lesion was firm, non transilluminating, not mobile, not moving with ankle or foot movement and non adhering to the skin. Read more...
---
Fellowship News
Report on the "SICOT meets SICOT Fellowship Programme" at Klinikum Neumarkt
by Sandeep Kashyap
I am really privileged and honoured to have been awarded the 2012 "SICOT meets SICOT Fellowship Programme" at Klinikum Neumarkt. Neumarkt is a beautiful, clean and scenic town located in the Bavaria region of Germany near the beautiful medieval city of Nuremberg with its glorious old palaces that exist even today. The wonderful city of Munich is also in its vicinity. Read more...
---
Training Around the World
Training in India
by Shalin Maheshwari
Orthopaedics as a specialty has grown tremendously in India during the last four decades. Prior to entering this specialty one has to clear a common entrance test to enroll for basic medical education in a five and a half year undergraduate medical course (4 1/2 years course + 1 year internship across various specialties). Having done this the graduate has to appear for another common national level entrance test and is awarded specialty based on merit in ranking and availability of seats in centralized counseling. The postgraduate qualification is imparted by university-affiliated medical institutes, recognised by the Medical Council of India (MCI) and accredited by the National Assessment and Accreditation Council (NAAC). The trainee works as a resident across different specialties or units, writes a thesis, and appears for an exit examination at the end of three years for final assessment in theory, clinical and viva voce. The successful trainee is awarded the degree of Master of Surgery (M.S) in Orthopaedics and Diploma of Surgery (D' Ortho) in Orthopaedics, which are three- and two-year courses respectively. Read more...
---
Worldwide News
Early results of a remotely-operated magnetic growth rod in early-onset scoliosis
Comment written by Tracy Sorkin
EOS is a challenging condition to manage, with the prospect of children undergoing repeated surgeries and the risk this brings. Application of technology already used in endoprostheses for lower limb reconstruction following surgery for paediatric bone tumours could create an elegant solution, allowing lengthening to be performed in an out-patient setting. Read more...
---
Industry News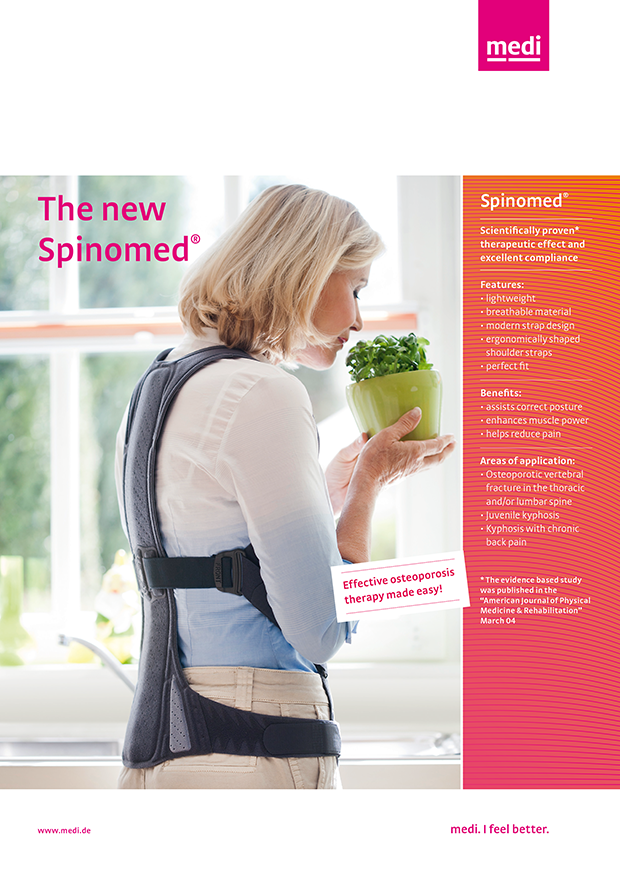 ---
Editorial Department

Editorial Secretary: Hatem Said
Editorial Production: Linda Ridefjord
Editorial Board: Ahmed Abdel Azeem, Syah Bahari, Kamal Bali, Bassel El-Osta, Anthony Hall, Maximilian Rudert

Rue Washington 40-b.9, 1050 Brussels, Belgium
Tel.: +32 2 648 68 23 | Fax: +32 2 649 86 01
E-mail: edsecr@sicot.org | Website: www.sicot.org
---
Disclaimer: Some of the views and information expressed in this e-Newsletter include external contributors whose views are not necessarily those of SICOT. SICOT is not responsible for the content of any external internet sites.
---