SICOT e-Newsletter
Issue No. 50 - November 2012
---
---
Editorial by John Dormans - SICOT Vice President North America
A Report on the SICOT Foundation 
The SICOT Foundation was established in 1990 to manage and distribute funds donated for the purpose of supporting SICOT's research and educational missions. It is incorporated in the United States, designated by the US Internal Revenue Service as a 501 (c)(3) private non-profit organization, and registered as a charitable trust in the State of New Hampshire. Donations are made by organizations and individuals wanting to contribute to the society's scientific endeavours, and fund multiple programmes and awards designed to promote international training and global unity among orthopaedic surgeons. Since its inception, the Foundation has undergone significant reorganization and collaboration, further supporting this group in its endeavours. Read more...
---
SICOT Events
Combined 33rd SICOT & 17th PAOA Orthopaedic World Conference (Dubai OWC 2012)
28-30 November 2012 * Dubai, United Arab Emirates
The Final Programme and Programme at a glance is available to download here.
Read more about the Plenary Speakers here.
The 'Combined 33rd SICOT & 17th PAOA Orthopaedic World Conference' is designated for a maximum of (or 'for up to') 24 hours of European external CME credits. Read more...
11 instructional courses covering sports injuries, polytrauma, fractures, arthroscopies, failed back, paediatrics, joint replacements, and other topics will be held throughout the conference. They will be arranged throughout the whole day avoiding overlaps and allowing participants to attend several of them on each day. The detailed programme of each course can be found here.
The SICOT Educational Day is an initiative undertaken by the SICOT Young Surgeons Committee. The theme chosen for this year is 'The Knee'. Great teachers from around the world are being brought together to lecture on their area of expertise.
The registration desk on site is located in front of Sheikh Rashid Hall F of the Dubai World Trade Centre and is open during the following hours: 

Tuesday, 27 November
Wednesday, 28 November
Thursday, 29 November
Friday, 30 November
07:30-18:30
07:30-18:30
07:30-18:30
07:30-12:00
A conference is also an opportunity to extend your personal network and the two social events being organised are particularly suited for this. Read more about the Opening Ceremony & Welcome Buffet on 28 November and the Conference Party on 29 November here.
Special prices and benefits are available for conference participants. Please don't delay booking your accommodation until the last minute. Book your accommodation and tours of Dubai here.
Don't miss out on this unique opportunity to promote your products and services to leading international orthopaedic surgeons, traumatologists and specialists in related fields. Read more...

Please visit the SICOT website regularly for updated information about Dubai OWC 2012.
34th SICOT Orthopaedic World Conference (Hyderabad OWC 2013)
17-19 October 2013 * Hyderabad, India
Abstract submission is open from 5 December 2012 to 15 February 2013. Please submit your abstracts in English via the SICOT website: www.sicot.org  



Main topics:
Arthroplasty
Arthroscopy
Minimal Invasive Surgery
Research
Spine
Trauma


Other topics:
Allografts
Biomaterials
Cartilage
Clubfoot
Developing World
Infection
Information Technology
Limb Reconstructive Surgery
  
Natural Disasters
Navigation
Neglected Problems
Osteoporosis
Paediatrics
Pain Management
Polytrauma
Prosthetics & Orthotics
 
Quality of Life
Rheumatology
Road Trauma Safety
Sports
Thromboprophylaxis
Tumours
Upper & Lower Extremities

Online conference registration opens on 5 December 2012.

Special rates are available for participants residing in the SAARC member countries.
---
SICOT News
SICOT Ortho Excellence Program (OEP)
This program has been organized under the aegis of SICOT Education. As conceptualized, a well known international SICOT surgeon presents a webinar on the second Friday of every month. This is open to orthopaedic surgeons in India and other parts of the world. In India it is targeted to 5,000 surgeons. The program has a website called www.sicotoep.com and the program is financially supported by Abbott Healthcare Pvt. Ltd. The current focus is on Trauma of the Lower Extremity. Read more...
---
SICOT Global Network for Electronic Learning - SIGNEL
Surgical treatment of chronic groin pain in athletes
Bojan Dojčinović, Bozidar Šebečić, Mario Starešinić, Sasa Janković, Mladen Japjec & Vencel Čuljak
Purpose Conservative treatment of chronic groin pain is prolonged and recurrence is quite common. Coexistence of sports hernia and adductor tendinitis/tendinosis in a single patient is noted in the literature. In our study we evaluated our operative treatment that should enable pain elimination and fast return to sports activities. Read more...
---
Fellowship News
Amazed in Aarhus
by Mohamed Said abd el Maksoud Mohamed Ismail
I have been lucky to win the "SICOT meets SICOT" fellowship to visit the University of Aarhus, Denmark, for two months as an invitation from Prof Dr Cody Bünger. The administration there was very helpful in obtaining my travel documents and facilitating the steps of getting a visa to travel to Aarhus. The administration secretary made a great effort to prepare the accommodation and helped me to manage everything there.
Prior to joining the surgeries, I attended an animal educational course to be more confident and train in new techniques in spine surgeries such as spine osteotomies. Read more...
---
Articles by SICOT members
WOC Newsletter
by Michael Laurence 
The philosophy of SICOT, in fact that of every medical or surgical society dedicated to the improvement of treatment, must have at its heart Education and Practice, within which there are certain conflicts of emphasis. This is erroneously described as a competition between the art and science of trauma management; - conservatism vs radicalism; medicine vs surgery; acceptance of disability or amputation. Read more...
---
Industry News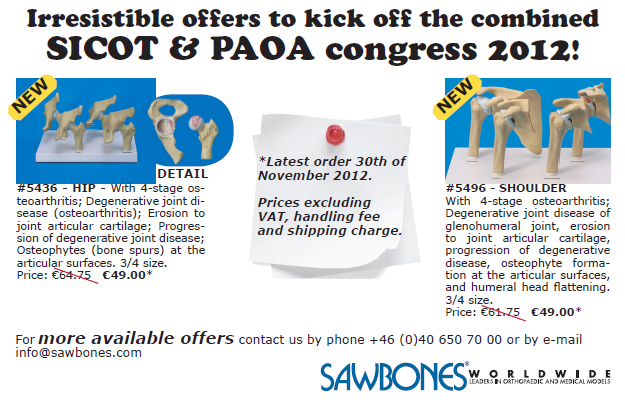 ---
Editorial Department

Editorial Secretary: Hatem Said
Editorial Production: Linda Ridefjord
Editorial Board: Ahmed Abdel Azeem, Syah Bahari, Kamal Bali, Bassel El-Osta, Anthony Hall, Maximilian Rudert

Rue Washington 40-b.9, 1050 Brussels, Belgium
Tel.: +32 2 648 68 23 | Fax: +32 2 649 86 01
E-mail: edsecr@sicot.org | Website: www.sicot.org
---
Disclaimer: Some of the views and information expressed in this e-Newsletter include external contributors whose views are not necessarily those of SICOT. SICOT is not responsible for the content of any external internet sites.
---