SICOT e-Newsletter
Issue No. 49 - October 2012
SICOT News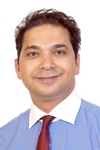 Report on the SICOT India Instructional Course Lectures
Vijay Shetty
SICOT Examiner - Mumbai, India
The first SICOT ICL was held at IMA House, Kochi, Kerala, on 28 and 29 April 2012. There were 44 eminent speakers from all over the country and many delegates. The sessions started at 08:30 and continued till 20:00 on both days. Prof Ashok Johari, SICOT National Delegate and Paediatric Orthopaedic Surgeon, inaugurated the course. Other eminent speakers present were Prof Prakash Kotwal (AIIMS, New Delhi), Dr Lazar Chandy (AO Trustee India) and Prof Anil Jain (Editor, Indian Journal of Orthopaedics). The lectures have been uploaded online to globalise SICOT India. Sessions were based on subspecialty and most of the major topics in Orthopaedics were covered. The theme of SICOT ICL 1 was "Principles and Best Evidence". The course was organised by Dr Hitesh Gopalan, member of SICOT India.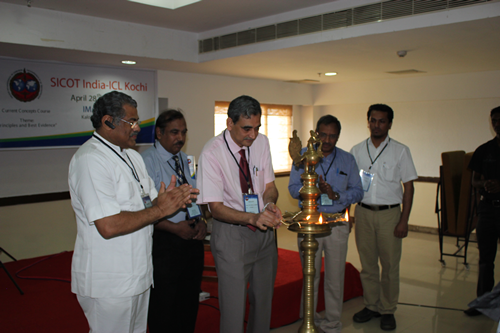 First SICOT India Instructional Course Lecture in Kochi
The second successful instructional course lecture was organised by SICOT India recently, in collaboration with the Hiranandani Orthopaedic Medical Education (HOME) in Mumbai, on 8 and 9 September 2012. This event was planned by Prof Ashok Johari and organised by Dr Vijay Shetty, SICOT Examiner, from Mumbai.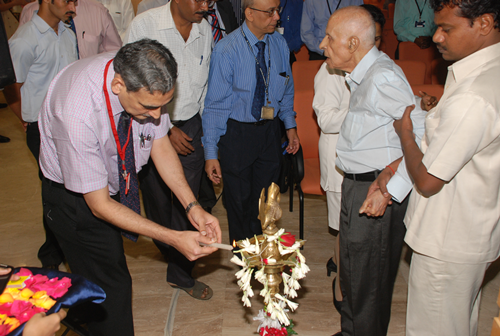 Second SICOT India Instructional Course Lecture in Mumbai
Dr L.H. Hiranandani, founder of the Hiranandani Hospital, Mumbai, inaugurated this two-day event. Over 30 local and national speakers were involved with this event. The lectures were delivered by the most eminent speakers and were of very, very high quality. This was one great opportunity for the youngsters to meet, discuss and network with very well known names. The topics covered a major bulk of orthopaedics and trauma. There were sessions on evidence based medicine and the most topical, orthobiologics.
These courses were aimed at all orthopaedic and trauma surgeons in training and at those who wish to learn and improve their decision-making and surgical skills. Very prominent speakers delivered over 200 lectures, and over 300 delegates benefited from these two courses. There were plenty of opportunities for interaction with the faculty members. Both meetings had a session on "meet the masters" where delegates could discuss their difficult cases and their management. There were also sessions focusing on research and paper writing.
SICOT India plans to organise many more of these courses across the country. Plans are already in place for the next instructional courses in Lucknow and in the northeast city of Kolkata. The ultimate aim of SICOT India is to streamline the orthopaedic training in India to a high-quality international level.