Dubai OWC 2012
Social Programme
The following events are not included in the conference registration fee (except the Closing Ceremony). Online registration is now closed. Please register on site.
---
Opening Ceremony & Welcome Buffet
| | |
| --- | --- |
| Date | Wednesday, 28 November 2012 |
| Time | 18:30 |
| Venue | Dubai World Trade Centre |
| Fee | EUR 10 |
| Dress code | Business attire or casual |
You will be welcomed by little girls dressed in traditional dresses. The first performance of the evening, "Ayala Dancers", will present an entertaining traditional Arabic dance consisting of rows of men and young boys lining up in two opposing rows armed with sticks and drums swaying together, singing and performing traditional dance moves. This act will be followed by the "Harebeya Dancers" who will perform a traditional folklore dance routine.
 
---
 
Conference Party
| | |
| --- | --- |
| Date | Thursday, 29 November 2012 |
| Time | 19:00 |
| Venue | Westin-Dubai Mina Seyahi |
| Fee | EUR 60 |
| Dress code | Casual |
The Conference Party will be held in the outdoor amphitheatre directly located in the gardens and beachfront of Westin-Dubai Mina Seyahi. We will have live entertainment throughout the evening and will be serving an Arabic Buffet with some international flare to accommodate all tastes.
The venue offers exceptional views over the pristine Dubai shoreline of the Arabian Gulf; at a distance you will see the famous Jumeirah Palm Island and the world renowned Atlantis hotel.
The unbelievable multitude of Media City high-tech skyscrapers of the 21st century illuminate the sky and provide a spectacular backdrop.
The drive to the Westin from the DWTC will offer all participants a chance to experience the amazing transformation of Sheikh Zayed road over the past years. What was once only sand and desert is now a rich collection of fascinating and famous structures that you have all either read about or seen in pictures. Amongst these are the Burj Khalifa, Burj Al Arab, Mall of the Emirates with the indoor ski slope, Palm Island, and so on. We invite you to sit back, enjoy the drive and certainly feel free to take pictures.
For those of you who wish to continue celebrating after the Conference Party, the Westin has been kind enough to allow us VIP access to their nightclub situated within a 5-minute walk and through a private entrance. We will be there to direct you to the nightclub. Transportation will not be provided to those staying for the after party.
Join us and experience a truly memorable evening of Arabian hospitality!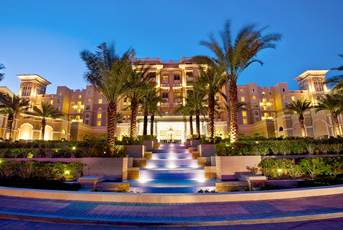 ---
Closing Ceremony
| | |
| --- | --- |
| Date | Friday, 30 November 2012 |
| Time | 18:15 |
| Venue | Maktoum D, Dubai World Trade Centre |
| Fee | included in conference registration fee |
| Dress code | Business attire or casual |
Numerous awards will be handed out and the Conference will be officially closed.