Please note that this e-Newsletter is a HTML format e-mail.
To view the e-Newsletter in a web browser, please click here.


SICOT e-Newsletter
Issue No. 47 - August 2012
---
---
Editorial by Keith Dip-Kei Luk
Scientific Programme of Dubai OWC 2012
This is the first time I am writing in the SICOT e-Newsletter since my election in Prague to President Elect of SICOT. I should begin by thanking everyone for their support and confidence in me in serving the Society for the coming 7 years which I look forward to. It is a pleasant surprise to find one of my duties is to chair the Conference Scientific Advisory Committee and coordinate the annual meetings for the next three years. The committee started working as soon as the Prague meeting was over. Read more...
---
SICOT Events
Combined 33rd SICOT & 17th PAOA Orthopaedic World Conference (Dubai OWC 2012)
28-30 November 2012 * Dubai, United Arab Emirates
Programme at a glance is available to download here.
Read more about the Plenary Speakers here.
Online registration is open! Register here...
Click here to find out more about the awards which are granted to young surgeons to help them attend the Conference.
Special prices and benefits are available for conference participants. Please don't delay booking your accommodation until the last minute. Book your accommodation and tours of Dubai here.
Don't miss out on this unique opportunity to promote your products and services to leading international orthopaedic surgeons, traumatologists and specialists in related fields. Read more...

Please visit the SICOT website regularly for updated information about Dubai OWC 2012.
---
SICOT Global Network for Electronic Learning - SIGNEL
Risk factors for post-traumatic osteoarthritis of the ankle: an eighteen year follow-up study
Anne Lübbeke, Davide Salvo, Richard Stern, Pierre Hoffmeyer, Nicolas Holzer & Mathieu Assal
Purpose Long-term studies evaluating risk factors for development of ankle osteoarthritis (OA) following malleolar fractures are sparse. Read more...
---
Fellowship News
Report of the "SICOT meets SICOT" Fellowship at the University of Ghent, Belgium
by Sarper Gursu
Being a fellow at the University of Ghent was definitely one of the best experiences of my life. The University of Ghent was founded in 1817 and today it has a very important role in Belgium's higher education system. The Orthopaedics and Traumatology Department of the University is a legitimate leading institution with its worldwide known surgeons in the different specialties of Orthopaedics. Read more...
---
Training Around the World
Orthopaedic Training in Malaysia
by Rizal Abdul Rani
Undergraduate medical training in Malaysia is similar to that in the United Kingdom but the same cannot be said about postgraduate surgical training. The duration is shorter and the basic surgical training is less formally structured. However, the increased workload and longer working hours in Malaysia offset this. Read more...
---
Scientific Debate
Ankle Arthrodesis versus Ankle Replacement
The treatment for patients with end stage ankle arthritis between the ages of 45 to 60 years is controversial. Where ankle arthritis is secondary to post traumatic without evidence of infection, neuropathy, diabetes, peripheral vascular disease or rheumatological condition, either option is possible. Read more...
---
Publications
Bone & Joint360: A new time-saving journal for busy orthopaedic surgeons
by Richard Villar - Bone & Joint360, Editor-in-Chief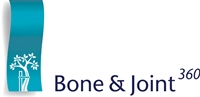 Bone & Joint360 is a revolutionary new journal brought to you by the publishers of JBJS (Br) and edited by Richard Villar (Cambridge, UK). It forms part of our instant-information era and is born from an understanding that orthopaedic surgeons, all over the world, are busy individuals who are frequently over-committed professionally.
Bone & Joint360 has been developed to help surgeons and researchers keep up-to-date with the current scientific literature without necessarily having to read every journal cover to cover. The journal's Editorial Board is drawn from some of the most notable names in the world of orthopaedic surgery. They scan the global scientific literature to identify papers not only from the mainstream journals but also from lesser-known publications. Medical, surgical, specialist, generalist, veterinary, paramedical, anything goes. If it is useful and critical to an orthopaedic surgeon, then we need to know of it.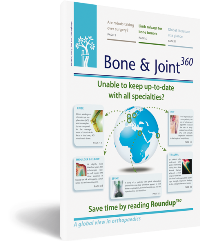 The key to Bone & Joint360 is its simplicity. Only the most important and significant advances are highlighted and summarised, bringing you the bottom-line clinical message with concise expert review. It is a quick and easy read broken down by subspecialty.
If you already subscribe to Bone & Joint360, you will have joined a rapidly expanding group of surgeons who want their information in bite-sized chunks.
If you don't subscribe yet, a year's subscription, giving you six print issues and full online access (including full text access via our new iPhone/iPad app) is extremely reasonable at just: £33, $52 or €38.
Subscribe now or read the first issue for free at
www.bj360.boneandjoint.org.uk  
Welcome to the rapid-read revolution!
---
Worldwide News
Review of "Minimum ten-year results of a prospective randomised study of autologous chondrocyte implantation versus mosaicplasty for symptomatic articular cartilage lesions of the knee"
by Ashley Brown
Articular cartilage lesions of the knee in young patients can have profound consequences, including chronic knee pain, reduced knee function and early onset osteoarthritis. Autologous chondrocyte implantation (ACI) and mosaicplasty are two methods used to treat articular cartilage lesions in young and middle-aged patients. Bentley et al's paper is one of the first of its kind, prospective, randomised, comparative study of the two methods with medium-term follow-up. Read more...
---
Industry News
KARL STORZ GmbH & Co. KG, Mittelstraße 8, 78532 Tuttlingen/Germany
Telephone: +49 (0)7461 708-0, Fax: +49 (0)7461 708-105, E-mail: info@karlstorz.de
  
KARL STORZ Endoskope – East Mediterranean and Gulf (Offshore), Solidere – Beirut Souks, Block M, 3rd Floor, 2012 3301 Beirut, Lebanon
Telephone: +961 (1) 999390, Fax: +961 (1) 999391, E-mail: info@karlstorz-emg.com

www.karlstorz.com 
---
Editorial Department

Editorial Secretary: Hatem Said
Editorial Production: Linda Ridefjord
Editorial Board: Ahmed Abdel Azeem, Syah Bahari, Kamal Bali, Bassel El-Osta, Anthony Hall, Maximilian Rudert

Rue Washington 40-b.9, 1050 Brussels, Belgium
Tel.: +32 2 648 68 23 | Fax: +32 2 649 86 01
E-mail: edsecr@sicot.org | Website: www.sicot.org
---
Disclaimer: Some of the views and information expressed in this e-Newsletter include external contributors whose views are not necessarily those of SICOT. SICOT is not responsible for the content of any external internet sites.
---
@@UNSUBSCRIBE@@