SICOT e-Newsletter
Issue No. 44 - May 2012
---
_
---
Editorial by Hatem Said - Editorial Secretary
SICOT Fellowships – Training Opportunities
In the last four years, SICOT has realised the significance of fellowship training and its benefits to SICOT members. Since the early Assiut University/SICOT Training Fellowships started in 2002, the impact on over 52 African fellows and their centres at home has been shown through their numerous reports. Read more...
---
SICOT Events
Combined 33rd SICOT & 17th PAOA Orthopaedic World Conference (Dubai OWC 2012)
28-30 November 2012 * Dubai, United Arab Emirates
Online registration is open! Register here...
Read more about the Opening Ceremony, Welcome Buffet, and Dubai Meydan Night here.
Read more about the Golf Tournament and Charity Run/Walk here.
Special prices and benefits are available for conference participants. Please don't delay booking your accommodation until the last minute. Book your accommodation and tours of Dubai here.
Don't miss out on this unique opportunity to promote your products and services to leading international orthopaedic surgeons, traumatologists and specialists in related fields. Read more...

Please visit the SICOT website regularly for updated information about Dubai OWC 2012.
---
SICOT News
Report on the 7th Educational Course in Moscow
This was my first mission as a new SICOT Ambassador. I had the honour and pleasure of representing our Society, as co-chair, of the 7th Educational Course organised by the M.F. Vladimirskii Moscow Regional Clinical and Research Institute (MONIKI), Faculty of Postgraduate Education, Prof O.S. Buachidze School of Orthopaedic Surgery, where the SICOT Education Centre is located, on 12-13 April 2012 in Moscow, Russia. Read more...
---
SICOT Global Network for Electronic Learning - SIGNEL
Medial Achilles tendon island flap - a novel technique to treat re-ruptures and neglected ruptures of the Achilles tendon
Lasse J. Lapidus, Bill Adams Ray & Per Hamberg
Purpose There is a strong consensus for surgical treatment of re-ruptures and neglected ruptures of the Achilles tendon. A number of different surgical techniques have been described and several of these methods include extensive surgical exposure to the calf and technically demanding tendon transfers. The overall risk of complications is high and in particular the risk for wound healing problems, which are triggered by an increased tension in the skin when inserting a bulky graft to cover the rupture. In order to reduce the risk for wound healing problems a new, less complicated surgical technique was developed, as described in this study. Read more...
 
24-year-old female presented to the Emergency Department after sustaining a twisting injury to her left foot. She was unable to weight bear. On examination, it was a closed injury. The foot is swollen but otherwise not grossly deformed. The neurovascular examination was satisfactory. This is an isolated injury and she was otherwise well. Read more...
---
Fellowship News
2011 German Travelling Fellowship Report
At the outset I would like to thank SICOT for awarding me the German Travelling Fellowship which has been a valuable learning opportunity for me. I was very happy to be informed by Ms Linda Ridefjord from the SICOT Head Office that I had been selected for the German Travelling Fellowship for three months in 2011. I received valuable support from Mrs Anneliese Haut, Secretary to Prof Maximilian Rudert, in planning my journey to Germany. Read more...
---
Training Around the World
Orthopaedic Training in Italy
As everywhere around the world, training after medical school graduation is a long and mostly exciting trip. In Italy the path to becoming a registered orthopaedic surgeon starts the day after your graduation. The first prerequisite to be eligible for the orthopaedic training is to attend and pass the national qualification exam, which allows you to start the medical practice and that consists of two parts. Read more...
---
Scientific Debate
Disc Replacement for Cervical Radiculopathy: Is it the new gold standard?
The traditional gold standard surgery for cervical radiculopathy has been Anterior Cervical Discectomy and Fusion (ACDF). Cervical Disc Arthroplasty has emerged as an alternative surgical procedure for the treatment of cervical radiculopathy. The decision to fuse or replace the cervical motion segment after neural decompression remains controversial. As a continuing initiative of the young surgeon's group of SICOT, we attempt to debate this controversial topic. Read more...
---
Industry News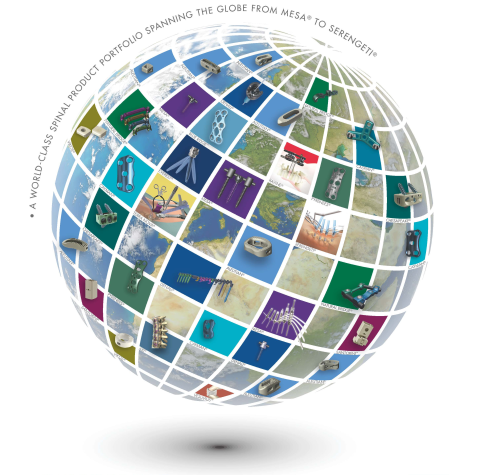 SPANNING THE GLOBE.

K2M, Inc. is an innovative spinal device company committed to the research, development, and commercialization of simplified solutions for the treatment of complex spinal pathologies and minimally invasive procedures. The company is recognized as a worldwide leader operating on six continents with unique technologies for the treatment of deformity, degenerative, trauma, and tumor spinal patients.
www.K2M.com                866.K2M.4171
---
Editorial Department

Editorial Secretary: Hatem Said
Editorial Production: Linda Ridefjord
Editorial Board: Ahmed Abdel Azeem, Syah Bahari, Kamal Bali, Bassel El-Osta, Anthony Hall, Maximilian Rudert

Rue Washington 40-b.9, 1050 Brussels, Belgium
Tel.: +32 2 648 68 23 | Fax: +32 2 649 86 01
E-mail: edsecr@sicot.org | Website: www.sicot.org
---
Disclaimer: Some of the views and information expressed in this e-Newsletter include external contributors whose views are not necessarily those of SICOT. SICOT is not responsible for the content of any external internet sites.
---