SICOT e-Newsletter
Issue No. 42 - March 2012
---
 
 
---
 
In Memoriam
On 17 February 2012, Prof Dr Dietrich Hohmann, German SICOT National Delegate from 1987 to 1996, passed away at the age of 81. Read more...
---
Editorial by Shanmuganathan Rajasekaran - SICOT Treasurer
The SICOT Regional Training Fellowships
We are in an era of knowledge explosion with new ideas and surgical techniques being described every day. Remaining updated with current knowledge and with cutting edge skills is however a major challenge. Gone are the days where knowledge can be acquired from textbooks and journals alone. Surgical training needs mentorship from an expert and actual participation in surgery. Read more...
---
SICOT Events
Combined 33rd SICOT & 17th PAOA Orthopaedic World Conference (Dubai OWC 2012)
28-30 November 2012 * Dubai, United Arab Emirates
 
Online registration is open! Register here...
The application and registration deadline is closed. Selected candidates were notified at the end of March. If you did not receive an email confirming your selection, please assume that you are on the waiting list. More information about the examination can be found here.
2nd SICOT Educational Day / 18th SICOT Trainees Meeting
The SICOT Educational Day is an initiative undertaken by the SICOT Young Surgeons Committee. The aim of this day is to provide a comprehensive review course for residents and an evidence-based update for practicing surgeons on a specific theme at each SICOT meeting. The theme is selected in such a way that it is mutually beneficial to residents in their exams and to orthopaedic surgeons in their daily practice. The theme chosen for this year is 'The Knee'. Great teachers from around the world are being brought together to lecture on their area of expertise. Read more...
Click here to find out more about the awards which are granted to young surgeons to help them attend the Conference.
Special prices and benefits are available for conference participants. Please don't delay booking your accommodation until the last minute. Book your accommodation and tours of Dubai here. 

Please visit the SICOT website regularly for updated information about Dubai OWC 2012.
17th SICOT Trainees Meeting
14-16 May 2012 * Moscow, Russia
Please click here for more information about the 17th SICOT Trainees Meeting.
---
SICOT Global Network for Electronic Learning - SIGNEL
Risk factors for post-traumatic osteoarthritis of the ankle: an eighteen year follow-up study
Anne Lübbeke, Davide Salvo, Richard Stern, Pierre Hoffmeyer, Nicolas Holzer & Mathieu Assal
   
Purpose
Long-term studies evaluating risk factors for development of ankle osteoarthritis (OA) following malleolar fractures are sparse.
Read more...
Female patient, 24 years old, had limb length discrepancy (LLD) 13 cm due to femoral shortening, the patient had distal femoral physeal arrest after history of motor car accident during childhood with fracture of distal femur. The patient had full range of knee motion with no equinus deformity but had severe pelvic obliquity and suffered from marked limbing. Read more...
---
Training & Education
Total Knee Arthroplasty: Patient Specific Instrumentation (PSI)
The technique of patient specific instruments (PSI) is revolutionary as it provides an alternative to conventional instrumentation systems that have been in use since the 1970s. This new concept is a midway between conventional jigs and the complex computer-assisted technologies such as robotics and navigation. When we talk about technology in surgery, we have to consider cost, complexity, operative time and potential hazards. These factors have made navigation more popular than robotics and again they will pave the road for PSI to be much more popular than navigation. Robotics was clinically used in orthopaedics in the early 1990s but was not exploited by implant companies and it was used only by developing surgeons. A decade later, navigation was introduced and over the years it has been employed by the industry and slowly by surgeons. However, PSI has been adopted by 9 industrial companies and many surgeons only in the last couple of years. It is all about simplicity, especially when combined with accuracy, making some new technologies more accepted than others. Read more...
I am an assistant lecturer, specialist of Orthopaedic Surgery and Traumatology, at the Assiut University Hospital, Egypt. I had the great opportunity of travelling to Germany as a SICOT fellow at one of the most organised hospitals I have ever seen, the König Ludwig Haus Hospital in Würzburg which is located in Bayern, Germany. The fellowship extended for 6 months from September 2010 until the end of February 2011. Read more...
Report of the SICOT Training Fellowship at Assiut University Hospital
It has been an honour for me to be the first Congolese training fellow chosen for and granted the SICOT/Assiut University Training Fellowship. Despite the fact that it was during the time of the Egyptian revolution, I did not hesitate to attend the training course in March 2011 to complete it in September 2011. Read more...
---
Worldwide News
Review of "Arthroscopic Management of Femoroacetabular Impingement in Athletes"
JW Thomas Byrd and Kay S Jones, Am J Sports Med 2011 39:7S
(by Ashley Brown)
Abstract
BACKGROUND: Hip pathology is a significant source of pain and dysfunction among athletic individuals and femoroacetabular impingement is often a causative factor. Arthroscopic intervention has been proposed to address the joint damage and underlying impingement. HYPOTHESIS: Arthroscopy may be effective in the management of symptomatic femoroacetabular impingement in athletes. STUDY DESIGN: Case series, Level of evidence, 4. METHODS: All patients undergoing hip arthroscopy at 1 institution were prospectively assessed with a modified Harris hip score obtained preoperatively and postoperatively at 3, 12, 24, 60, and 120 months. This report consists of a cohort of 200 patients identified who underwent arthroscopic management of femoroacetabular impingement, participated in athletic activities, and had achieved minimum 1-year follow up. RESULTS: There was 100% follow-up at an average of 19 months (range, 12-60 months). A total of 116 athletes had achieved 2-year follow-up. For the entire cohort, the average age was 28.6 years (range, 11-60 years) with 148 males and 52 females. There were 159 cam, 31 combined, and 10 pincer lesions. There were 23 professional, 56 intercollegiate, 24 high school, and 97 recreational athletes. The male:female ratio was 2.8:1 among cam lesions and 1:1 among pincer lesions. The median preoperative score was 72 with a postoperative score of 96 and the median improvement was 20.5 points, which was statistically significant (P < .001). Ninety-five percent of professional athletes and 85% of intercollegiate athletes were able to return to their previous level of competition. There were 5 transient neurapraxias (all resolved) and 1 minor heterotopic ossification. One athlete (0.5%) underwent conversion to total hip arthroplasty and 4 (2%) underwent repeat arthroscopy. For the group with minimum 2-year follow up, the median improvement was 21 points with a postoperative score of 96. CONCLUSION: The data substantiate successful outcomes in the arthroscopic management of femoroacetabular impingement with few complications and most athletes were able to resume activities.
Review 
FAI syndrome is only a recently described phenomenon, and there are few large research articles published to date. Byrd and Jones' original, prospective research paper is unique due to its relatively large cohort of 200 consecutive patients and follow-up, on average, of 19 months. With a range of athletes from amateurs to professionals and age range of 11-60 years, it covers a wide variety of patients.
The results were very favourable and were associated with few post-operative complications. Using the Harris Hip Score, patients reported a median improvement of 20.5 points, with 90% of the cohort returning to previous levels of competition. No patients were lost to follow-up. Alarmingly though, 88% were found to have either grade III or IV articular cartilage damage at the time of arthroscopy.
There were several limitations to this study, however. As with all newly defined concepts, there is a lack of any long-term data on the outcome of arthroscopic management of FAI; no published articles, including this one, report results beyond 5 years' follow-up. The use of the Harris Hip Score has its own limitations, but it is one of only a few validated methods to measure hip disease outcomes. Unfortunately, the authors did not clearly describe their exclusion criteria when making the decision on which patients to operate on. Also, they did not provide a breakdown of results based on patient demographics (such as age, sex or sport) or type (cam vs pincer) and severity of intra-articular injury. All of these would be beneficial to other hip arthroscopists when deciding on which patients to select for surgery.
Interestingly, the authors only treated acetabular labral injuries with debridement and did not attempt repair on any of these patients. Initial reports have shown labral repair to be superior to labral debridement. As such, it is exciting to consider how this may have affected the outcome of this trial should the authors have performed labral repairs.
In summary, this is a first of its kind, a large, original, prospective research article with extremely promising results. With highly skilled and established authors, I look forward to the ongoing follow-up of these patients and long-term results of arthroscopic management of FAI.
---
Industry News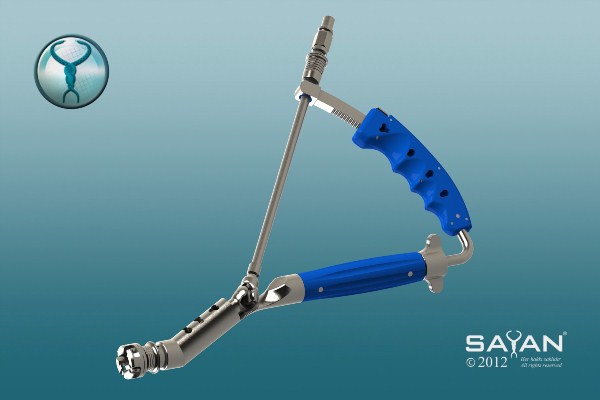 The new patent pending MIS-Flex Acetabular Reamer Handle is designed to be light, user-friendly offering multi application angles and cleaning-friendly. The elevation-free ergonomic handle, secured and tightened with ball socket, offers multi angulation motor coupling of the rotary handle up to 80°, ideal both for left and right handed surgeons with a small adjustment of the locking socket.
The quick coupling connection at the end of the rotary handle enables usage of different surgical motor couplings with the help of corresponding adaptors and the device itself consisting of only three in main (handfull pcs) parts disables losing of small parts during cleaning after the operation. Thanks to the grooves opened in the front and on the handle of the instrument enabling cleaning of the inner structure.
Sayan
Kemalpasa Mah.
7105 Sokak No:27 35060
Pinarbasi / Izmir
Turkey
Tel.: +90 232 472 27 78/79
Fax: +90 232 472 27 76
---
Editorial Department

Editorial Secretary: Hatem Said
Editorial Production: Linda Ridefjord
Editorial Board: Ahmed Abdel Azeem, Syah Bahari, Kamal Bali, Bassel El-Osta, Anthony Hall, Maximilian Rudert

Rue Washington 40-b.9, 1050 Brussels, Belgium
Tel.: +32 2 648 68 23 | Fax: +32 2 649 86 01
E-mail: edsecr@sicot.org | Website: www.sicot.org
---
Disclaimer: Some of the views and information expressed in this e-Newsletter include external contributors whose views are not necessarily those of SICOT. SICOT is not responsible for the content of any external internet sites.
---