SICOT e-Newsletter
Issue No. 40 - January 2012
---
SICOT Events

- Combined 33rd SICOT & 17th PAOA Orthopaedic World Conference - Dubai, United Arab Emirates
SICOT News


- Reports of the SICOT/EOA Trainee Day

- What SICOT has done for me - A trainee's perspective

- Musculoskeletal Allograft

- SICOT President awarded Commander of the Order of Leopold II
Worldwide News

- Current Concepts in Joint Replacement™ - Spring 2012

- 3rd International Conference "Strategies in Tissue Engineering"

- The relationship between modic change of lumbar endplate and lumbar disc herniation
 
---
Editorial by Ashok Johari, National Delegate of India
Orthopaedics in India – "Yes, we are the power"
Orthopaedics as a distinct speciality started in India in the 1920s. It grew in terms of applicability and appeal and soon became one of the most respected fields of surgery. Postgraduation started in the country with the Master of Surgery in 1951. The Indian Orthopaedic Association was formed as a section of the Association of Surgeons of India in 1955. Today it has over 9,000 members. Recent changes have helped to further strengthen Indian Orthopaedics. Read more...
---
SICOT Events
Combined 33rd SICOT & 17th PAOA Orthopaedic World Conference
28-30 November 2012 * Dubai, United Arab Emirates
The online abstract submission system is open until 15 February 2012.

Topics: Arthroplasty, Biomaterials, Clubfoot, Infection, Natural Disasters, Navigation, Osteonecrosis, Osteoporosis, Paediatrics, Prosthetics & Orthotics, Research, Rheumatology, Spine, Sports Traumatology, Thromboprophylaxis, Trauma, Tumours
Online registration is open! Register here...
Online registration is open! More information about the examination can be found here.
The application deadline is 29 February 2012.

Please visit the SICOT website regularly for updated information about Dubai OWC 2012.
---
SICOT News
Reports of the SICOT/EOA Trainee Day 
As part of the co-operation between SICOT and the Egyptian Orthopaedic Association (EOA), the SICOT Trainee Day was held during the EOA Annual Meeting on Monday, 12 December 2011. Its aim was to give young surgeons (younger than 40 years of age) the opportunity to present their work in front of an audience from around the world. This allowed them to gain more experience and definitely helped them improve their presentation skills. Read more...
What SICOT has done for me - A trainee's perspective
I attended the SICOT Congress in Prague last year, which featured the Educational Day which was held for the first time. This is a new initiative by the Young Surgeons Committee (YSC), where most of the orthopaedic syllabus will be covered in the next few years. The aim is to prepare trainees entering the exam and provide others attending an up-to-date and evidenced-based revision on a subject. Read more...
Musculoskeletal Allograft
The preservation and improvement of safety and quality standards in musculoskeletal allografts are essential when global exchange of knowledge and dissemination of healthcare techniques reach all parts of the world. WHO has commenced with 'Project Notify', a programme which encourages systematic reporting of all serious adverse reactions and effects resulting from organ, cell and tissue transplantation. To contribute to a good worldwide survey, SICOT encourages its members and all orthopaedic surgeons to complete a notification form which will contribute to identify problems and help to propose preventive action. Read more...
SICOT President awarded Commander of the Order of Leopold II
Maurice Hinsenkamp, SICOT President, has been awarded Commander of the Order of Leopold II by the King of Belgium on the recommendation of the Belgian Ministry of Education. The order is awarded for meritorious service to the Kingdom of Belgium. Prof Hinsenkamp received it for his contribution to education in biomechanics and orthopaedic surgery.
---
SICOT Global Network for Electronic Learning - SIGNEL
Arthroplasty options in femoral-neck fracture: answers from the national registries
Arun Kannan, Ramprasad Kancherla, Stephen McMahon, Gabrielle Hawdon, Aditya Soral & Rajesh Malhotra
   
Purpose Femoral-neck fracture in the elderly population is a problem that demands the attention of the orthopaedic community as life expectancy continues to increase. There are several different treatment options in use, and this variety in and of itself indicates the absence of an ideal single treatment option. Recent debate has focussed on the probable superiority of total hip arthroplasty (THA) over hemiarthroplasty for femoral-neck fracture. Clinical trials and systematic reviews of such trials have not provided a convincing answer to this question. Read more...
15-year-old male patient, overweight (BMI 27), presented to the outpatient clinic complaining of right groin pain and limping for 1 month.
General examination revealed no relevant abnormalities.

Local examination revealed:

Limping gait with an externally rotated right lower limb.

Shorter right lower limb with Limb length discrepancy of approximately 2 cm.

Examination of the right hip revealed painful and limited internal rotation (5 degrees only) as compared to the other side and obligate external rotation with hip flexion beyond 40 degrees.

Examination of the left hip revealed satisfactory range of internal rotation but is also painful and obligate external rotation with full flexion.

Read more...
---
Training Around the World
Orthopaedic Training in the United Kingdom
Many surgeons in the world ask themselves why British surgeons are middle-aged and the younger ones are called registrars! Many surgeons around the world ask us what registrars are? Why do they have a consultant and what does this mean? Read more...
---
Worldwide News
Current Concepts in Joint Replacement™ - Spring 2012
This course will take place in Las Vegas, Nevada, from 20-23 May 2012. Click here to read the preliminary announcement (pdf)
Course Overview:
Alternative Bearing Surfaces: Hopes & Concerns

Results of Hip, Knee & Shoulder Replacement

Implant Fixation: Options & Outcomes

Tips & Techniques for Successful Arthroplasty

Fractures about the Hip, Knee & Shoulder

Complex Management Issues: Before & After

Alternatives to Hip, Knee & Shoulder Arthroplasty

Case Challenges in Hip, Knee & Shoulder Replacement
3rd International Conference "Strategies in Tissue Engineering"
The abstract deadline for the 3rd International Conference "Strategies in Tissue Engineering" in Würzburg, Germany, from 23 to 25 May 2012 is coming up soon (31 January). As for the previous conferences in 2004 and 2006, the high level of the scientific programme will be determined by more than 30 keynote lecturers, invited from all over the world presenting their latest research and clinical results. For abstract submission and more information, please visit: www.wite.org 
The relationship between modic change of lumbar endplate and lumbar disc herniation
Objective: To explore the relationship between Modic change of lumbar endplate and lumbar disc herniation (LDH) and the clinical value. Read more...
---
Industry News
Aesculap AG
Advanced Surface - 7 Layers to Protect You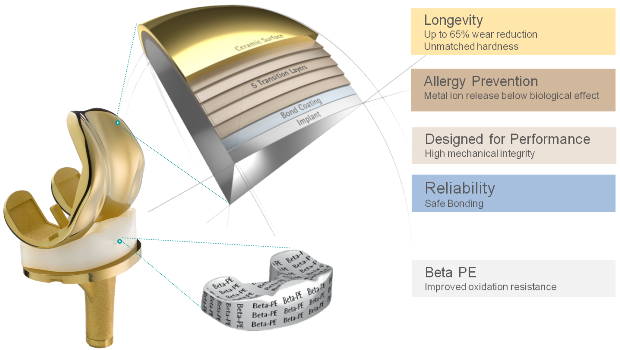 Chromium Allergy in TKA: Disappearance of Symptoms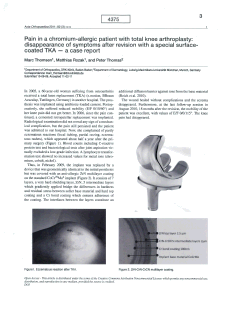 licence: http://creativecommons.org/licenses/by-nc-nd/2.0/de/legalcode  
Recently issued publication of Marc Thomsen, Matthias Rozak and Peter Thomas.
More information on "Preclinical Evaluation of Coated Knee Implants for Allergic Patients" you will find here:Â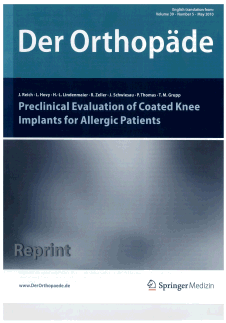 Contact:
Aesculap AG
Am Aesculap Platz
78532 Tuttlingen, Germany
E-mail: brigitte.altermann@aesculap.de  
www.aesculap.de  
---
Editorial Department

Editorial Secretary: Hatem Said
Editorial Production: Linda Ridefjord
Editorial Board: Ahmed Abdel Azeem, Syah Bahari, Kamal Bali, Bassel El-Osta, Anthony Hall, Maximilian Rudert

Rue Washington 40-b.9, 1050 Brussels, Belgium
Tel.: +32 2 648 68 23 | Fax: +32 2 649 86 01
E-mail: edsecr@sicot.org | Website: www.sicot.org
---
Disclaimer: Some of the views and information expressed in this e-Newsletter include external contributors whose views are not necessarily those of SICOT. SICOT is not responsible for the content of any external internet sites.
---