SICOT e-Newsletter
Issue No. 39 - December 2011Â 
---
 Best wishes for 2012 to you and your family
from the SICOT Editorial Department
---
 
---
 
Editorial by Kandiah Raveendran, SICOT First Vice President
The SICOT Constitution emphasises education as its primary goal and objective. SICOT has evolved many facets in educating orthopaedic trainees and surgeons all over the world. It has built a strong armamentarium including its Annual Conferences/Triennial World Congresses, fellowships, trainees' meetings, electronic learning (SIGNEL), SICOT diploma examination, educational day, telediagnostic centres, SICOT publications (International Orthopaedics and SICOT Newsletters) and Education Centres.
In my mind, the SICOT Education Centre or EduCentre is a natural progression from its telediagnostic centre. SICOT has proceeded cautiously in the establishment of Education Centres as a strong foundation is necessary to keep them growing and expanding. SICOT does not want its Education Centres to become white elephants. Read more...
---
SICOT Events
Combined 33rd SICOT & 17th PAOA Orthopaedic World Conference
28 November - 1 December 2012 * Dubai, United Arab Emirates
The online abstract submission system is open until 15 February 2012.
Main topics
Arthroplasty
Research
Shoulder
Spine
Trauma

Other topics
Biomaterials
Clubfoot
Foot & Ankle
Hand
Infection
Natural Disasters
Navigation
Osteonecrosis

Osteoporosis
Paediatrics
Prosthetics & Orthotics
Rheumatology
Road Trauma Safety
Sports Traumatology
Thromboprophylaxis
Tumours
Online registration is open! Register here...
Online registration is open! More information about the examination can be found here.

Please visit the SICOT website regularly for updated information about Dubai OWC 2012.
---
SICOT News
SICOT Newsletter Online Poll
The SICOT Newsletter and e-Newsletter are evolving. We would like to hear your opinion and feedback on the current form, and future changes. We have created an online poll, which should take less than 5 minutes to complete. This will help us bring you what you want to read in our Newsletter. As an appreciation for your time, we are offering two free registrations for the Combined SICOT/PAOA meeting in Dubai 2012. Poll ends on 20 January 2012. Online Poll
---
SICOT Global Network for Electronic Learning - SIGNEL
Effects of different weight-bearing regimes on press-fit cup stability: a randomised study with five years of follow-up using radiostereometry
Olof Wolf, Per Mattsson, Jan Milbrink, Sune Larsson & Hans Mallmin
Purpose There is little evidence supporting immediate weight bearing after uncemented total hip arthroplasty (THA). Read more...
---
Training Around the World
Orthopaedic Surgery Residency in Belgium
We all love it. The magic of surgery. Fixing stuff properly, relying on the very rich history of Orthopaedics. "Orthopaedics", I like that word. My name is Nader Dayerizadeh, an orthopaedic resident in Ghent. I was originally born in Iran, but immigrated to the Netherlands when I was about 16 years old and I am currently doing my residency in Ghent, Belgium. The steps in applying for residency in Belgium are different to many European countries. Most residents here are monitored and selected from their early medical years. Read more...
---
Worldwide News
The effect of aspirin and low-molecular-weight heparin on venous thromboembolism after hip replacement (by Bassel El-Osta)
A NON-RANDOMISED COMPARISON FROM INFORMATION IN THE NATIONAL JOINT REGISTRY
S. S. Jameson, THE NATIONAL JOINT REGISTRY
S.C. Charman, P.J. Gregg, M.R. Reed, J.H. van der Meulen, J Bone Joint Surg Br 2011; 93-B:1465–70.
"We compared thromboembolic events, major haemorrhage and death after total hip replacement in patients receiving either aspirin or low-molecular-weight heparin (LMWH). We analysed data from the National Joint Registry for England and Wales linked to an administrative database of hospital admissions in the English National Health Service. A total of 108,584 patients operated on between April 2003 and September 2008 were included and followed up for 90 days. Multivariable risk modelling and propensity score matching were used to estimate odds ratios (OR) adjusted for baseline risk factors. An OR < 1 indicates that rates are lower with LMWH than with aspirin. In all, 21.1% of patients were prescribed aspirin and 78.9% LMWH. Without adjustment, we found no statistically significant differences. The rate of pulmonary embolism was 0.68% in both groups and 90-day mortality was 0.65% with aspirin and 0.61% with LMWH (OR 0.93; 95% CI 0.77 to 1.11). With risk adjustment, the difference in mortality increased (OR 0.84; 95% CI 0.69 to 1.01). With propensity score matching the mortality difference increased even further to 0.65% with aspirin and 0.51% with LMWH (OR 0.77; 95% CI 0.61 to 0.98). These results should be considered when the conflicting recommendations of existing guidelines for thromboprophylaxis after hip replacement are being addressed."
There is a daily debate amongst orthopaedic surgeons regarding post arthroplasty prophylaxis and no obvious answers up till today have been given as clear cut. This is an article that was published in the November issue of the JBJS which looked retrospectively at the data of the joint registries regarding prophylaxis with LMWH and aspirin and comparing both.
After reading this article, I found that it has a good strength regarding the number of patient notes that have been reviewed namely 108 thousand. Another strong point was using a significant different statistical method to show the results. Also, the author has looked at as many parameters as possible and whether these parameters have any effect on the results.
However, this paper has a few weak points. The first one is the loss of the other 200 thousand patients who are registered on the NJR. Secondly, the proportion of patients receiving LMWH is 4 times greater than the patients who received aspirin. Therefore, this will affect the results significantly as the proportional results are incorrect. Moreover, and despite the thromboprophylaxis provided, the PE is still significant and the results do not show any difference. Finally, the author did not have a specific recommendation or outcome.
---
Industry News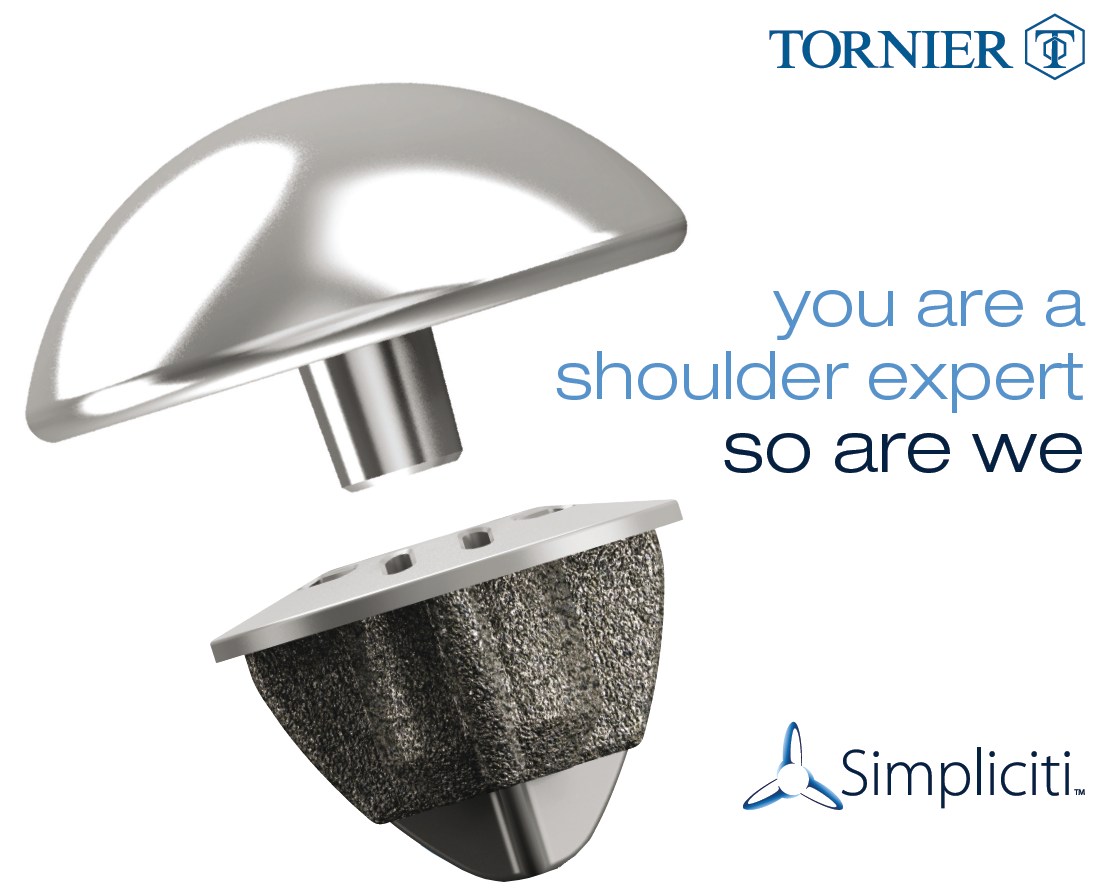 Tornier, the leader in shoulder arthroplasty, continues the product
design evolution of anatomic shoulder joint replacement.

Introducing Simpliciti™ Stemless Total Shoulder. Delivering
unparalleled choice for the results that you and your patients expect.




Press-fit, stemless anatomic solution designed to preserve bone and save time
 

Tri-fin design and highly porous coating deliver exceptional stability
 

Simple surgical technique and minimal instrumentation

 

Specialists serving specialists
ARTHROPLASTY | BIOLOGICS | SPORTS MEDICINE

Contact:
International Headquarters
Tornier SAS
161 rue Lavoisier, Montbonnot
38334 Saint-Ismier Cedex - France
Tel.: +33 (0)4 76 61 35 00
Fax: +33 (0)4 76 61 35 33

 
---
Editorial Department

Editorial Secretary: Hatem Said
Editorial Production: Linda Ridefjord
Editorial Board: Ahmed Abdel Azeem, Syah Bahari, Kamal Bali, Bassel El-Osta, Anthony Hall, Maximilian Rudert

Rue Washington 40-b.9, 1050 Brussels, Belgium
Tel.: +32 2 648 68 23 | Fax: +32 2 649 86 01
E-mail: edsecr@sicot.org | Website: www.sicot.org
---
Disclaimer: Some of the views and information expressed in this e-Newsletter include external contributors whose views are not necessarily those of SICOT. SICOT is not responsible for the content of any external internet sites.
---