SICOT e-Newsletter
 Issue No. 38 - November 2011
---
 
SICOT Events
- Combined 33rd SICOT & 17th PAOA Orthopaedic World Conference - Dubai, United Arab Emirates
SICOT News


- TTSH/SICOT Trauma & Hand Fellowship Award

- The Late Impact of my SICOT Fellowship

- SICOT Travelling Fellowships

-Â Touch Briefings 'US Musculoskeletal Review' Volume 6 Issue 1Â 
Worldwide News
- What are the results of revision surgery following lower limb amputation?
- Is there any role for minimally invasive surgery (MIS) in elderly patients with displaced intra-capsular neck of femur (NOF) fractures warranting hemiarthroplasty?
---
Editorial by Maurice Hinsenkamp -Â SICOT President
SICOT: Continuous Advancement
The SICOT 2011 XXV Triennial World Congress in Prague exceeded all of our expectations in terms of scientific excellence and attendance. This is a just reward for the important effort invested in extending the interest in SICOT meetings in different areas. Read more...
---
SICOT Events
Combined 33rd SICOT & 17th PAOA Orthopaedic World Conference
28 November - 1 December 2012 * Dubai, United Arab Emirates
The online abstract submission system will be open from 5 December 2011 to 15 February 2012.
Main topics
Arthroplasty
Research
Shoulder
Spine
Trauma

Other topics
Biomaterials
Clubfoot
Foot & Ankle
Hand
Infection 
Natural Disasters
Navigation
Osteonecrosis
  
Osteoporosis
Paediatrics
Prosthetics & Orthotics
Rheumatology
Road Trauma Safety
Sports Traumatology
Thromboprophylaxis
Tumours
Online registration opens on 5 December 2011. Find out more here...
Online registration opens on 5 December 2011. More information about the examination can be found here.
   
Please visit the SICOT website regularly for updated information about Dubai OWC 2012.   
---
SICOT News
TTSH/SICOT Trauma & Hand Fellowship Award
The TTSH/SICOT Trauma & Hand Fellowship will give the fellow a comprehensive exposure to both subspecialties (Trauma Surgery and Hand Surgery for 3 months each). It will be a unique experience as both services complement each other in managing trauma cases requiring fixation and soft tissue coverage. Apart from this, there will be opportunities for research and teaching. All young surgeons (below the age of 40) from around the world who are SICOT members are eligible to apply. The fellowship will be funded with a monthly allowance of SGD 2,500 every month for the duration of the fellowship. No other allowances or monetary payment in any form will be given. Read more...
The Late Impact of my SICOT Fellowship
I am Dr Orimolade Elkanah Ayodele, a young Orthopaedic Surgeon from the Obafemi Awolowo University Teaching Hospital Ile-Ife, Osun State in Nigeria. I was privileged to be at the Assiut University Teaching Hospital between March and August 2009 following my selection as a beneficiary of the Assiut University/SICOT Training Fellowship. I was well received and I was allowed to assist virtually in all surgeries of interest to me, ranging from arthroplasty, arthroscopy, spine, paediatric orthopaedics, pelvic and acetabular fracture fixations, a variety of general orthopaedic and trauma procedures as well as some limited exposure in the field of microsurgery which is well developed in Assiut. It was marvellous to see the number of Orthopaedic and Trauma cases that were operated on a daily basis in Assiut. Read more...
SICOT Travelling Fellowships
Every year, SICOT offers three young surgeons three-month fellowships to visit an international medical centre. The aim is to attend and learn at a renowned education centre to improve knowledge and surgical skills. The value of each fellowship is EUR 4,000, which includes travel and accommodation. Application deadline is 31 December 2011. Read more...
Touch Briefings 'US Musculoskeletal Review' Volume 6 Issue 1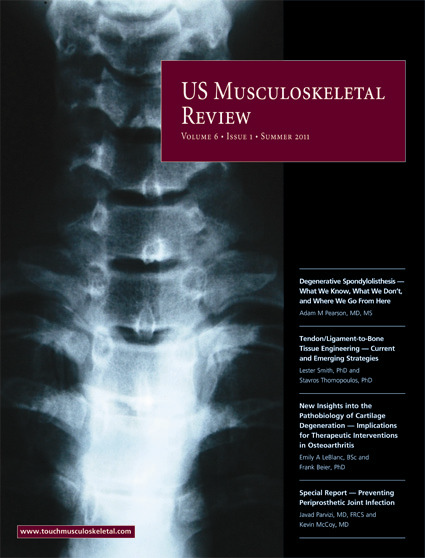 In the latest issue Javad Parvizi, MD and Kevin McCoy, MD contribute an excellent special report, 'Preventing Periprosthetic Joint Infection', while Norman T Ilowite, MD and Alexis Boneparth, MD discuss 'Juvenile Idiopathic Arthritis'. Elsewhere in this edition, Sheldon S Lin, MD and colleagues provide a fascinating exploration of diabetic fracture healing.
Directed by an Editorial Board comprising internationally respected physicians, US Musculoskeletal Review's peer-reviewed articles endeavour to provide a concise and timely update on the latest opinion and advances spanning the breadth of musculoskeletal practice.
Click through to:
www.touchmusculoskeletal.com/journals/editions/us-musculoskeletal-review-volume-6-issue-1-summer-2011
To access the current edition in full and free eBook format, please click here. (If you are a SICOT member, please log in to the SICOT website first with your username (member ID number/e-mail address) and password. Information about resetting passwords is available on the SICOT website.)
For more information please visit: www.touchmusculoskeletal.com  
---
SICOT Global Network for Electronic Learning - SIGNEL
Geometrical values of the normal and arthritic hip and knee detected with the EOS imaging system
Peter Than, Kinga Szuper, Szabolcs Somoskeöy, Vilmos Warta & Tamás Illés

Purpose EOS 2D/3D is an integrated, low-dose orthopedic digital radioimaging solution, which, due to its ground breaking properties, has recently shown an increasing application in scoliosis surgery. Its integrated sterEOS 3D software allows creation of patient-specific three dimensional (3D) lower limb models, and can produce geometrical parameters in 3D. Currently there are only a limited number of reports on EOS for lower limb applications. Read more...
---
Worldwide News
What are the results of revision surgery following lower limb amputation? (summarised by N.S. Harshavardhana)
Bourke HE et al (Injury 2011, July: 660-666) evaluated the role of revision surgery in lower limb amputations. In a retrospective single surgeon review of 71 patients, >60% of revisions were performed for trauma. SCS & SIGAM scores were used to measure rehabilitation success. The overall success rate in terms of rehabilitation was 48% though surgical success was much higher (71%). Best results were seen in those who had revisions either for bony or soft tissue pathology (>80%) followed by infection (72%). Revisions performed for pain (either due to neuroma or other reasons) was least rewarding at 42%. They did not find any obvious difference in stump pathologies between smokers and non-smokers. They concluded revision amputation stump surgery in a select cohort of patients to be rewarding, resulting in robust and pain-free prosthetic fitting.
Is there any role for minimally invasive surgery (MIS) in elderly patients with displaced intra-capsular neck of femur (NOF) fractures warranting hemiarthroplasty? (summarised by N.S. Harshavardhana)
Roy L et al (Injury; Apr 2010, 41:365-69) undertook a prospective randomised clinical trial to establish superiority of MIS Vs. conventional approach in elderly patients undergoing hemiarthroplasty for displaced intra-capsular NOF fractures using four validated outcome measures. MIS approach was defined as surgical incision with <8 cm in length and 25 patients were randomly assigned to this group. Lower extremity measure (LEM), Harris hip score (HHS), Short form 36 (SF-36) & Time up and go (TUG) scores were collected at serial 3 monthly intervals and results compared with standard incision group comprising of 31 patients. There was no significant difference in operative time, blood loss, need for transfusion or pain scores (VAS scale). Neither was mobility as assessed by LEM & TUG scores better in MIS group. Cementation quality as assessed by Barrack's grading was better in standard incision group (92% vs. 66% grade B). The HHS & physical component of SF-36 was better in standard incision group over MIS at the end of 2 years. They concluded there was no role of MIS in cemented endoprosthesis implantation for elderly patients with hip fractures.
---
Industry News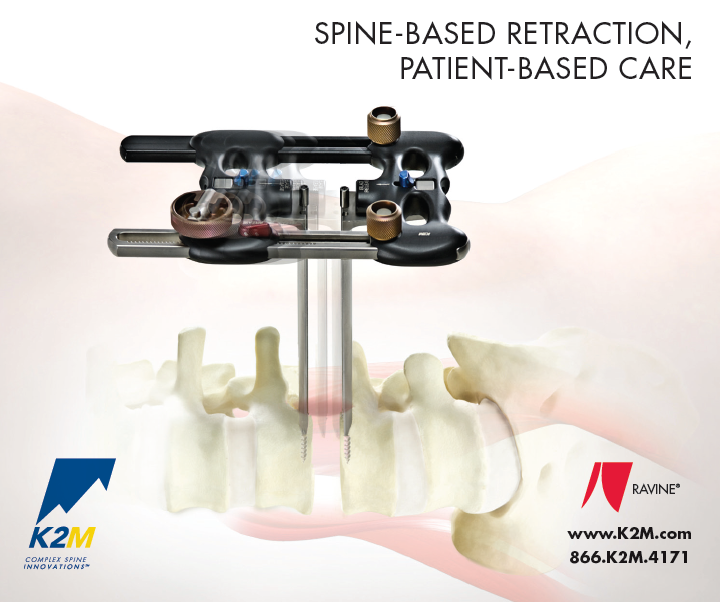 ---
Editorial Department 
 
Editorial Secretary: Hatem Said
Editorial Production: Linda Ridefjord
Editorial Board: Ahmed Abdel Azeem, Syah Bahari, Kamal Bali, Bassel El-Osta, Anthony Hall, Maximilian Rudert 
 
Rue Washington 40-b.9, 1050 Brussels, Belgium
Tel.: +32 2 648 68 23 | Fax: +32 2 649 86 01
E-mail: edsecr@sicot.org | Website: www.sicot.org  
---
Disclaimer: Some of the views and information expressed in this e-Newsletter include external contributors whose views are not necessarily those of SICOT. SICOT is not responsible for the content of any external internet sites.
---