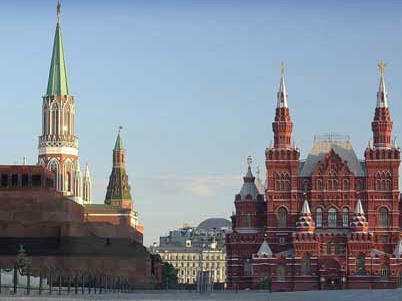 17th SICOT
Trainees Meeting
  
Moscow, Russia
  
14-16 May 2012
 
 
Welcome Messages 
Prof Cody Bunger, SICOT Immediate Past President
The 17th SICOT Trainees' Meeting is to be held in Russia for the second time. We had a successful experience with the 13th Trainees' Meeting in St. Petersburg in 2002. Russia has a long tradition of being a highly active country in terms of orthopaedic research. As the capital of the Russian Federation and its scientific centres, Moscow has much to offer our young colleagues. As well as its rich scientific heritage, the rich cultural intrigue of this city will most certainly have their anticipated magical effect on our guests. We look forward to seeing you in Russia!

Prof Sergei Mironov, President of AOTRF
On behalf of the Association of Orthopaedics & Traumatology of the Russian Federation, it is my proud privilege to cordially invite you to participate in the 17th SICOT Trainees' Meeting. We had been waiting 10 years for this wonderful opportunity to welcome orthopaedic surgeons from all over the world to Russia for the second time. This beneficial decision of SICOT is a great honour for our Society and personally for each Russian orthopaedist. We will do our best to offer you the highest level of meeting, quality education and excellent conference hospitality. Leading experts from around the world will be on hand to present clinical and scientific research findings, answer questions, and share expertise and lively discussion with the participants. A multidisciplinary scientific programme was developed and we are sure that attendees will find the sessions both informative and stimulating. We are looking forward to seeing you, dear friends, in Moscow, capital of Russia, in May.

Prof Nikolay Zagorodniy, SICOT National Delegate of Russia
On behalf of the Local Organising Committee, it is a great pleasure for me to welcome you to the 17th SICOT Trainees' Meeting. This meeting marks the second SICOT event in Russia within a 10-year period and we are truly proud to hold it. The 17th SICOT Trainees' Meeting will present a diverse collection of topics in instructional lectures, paper presentations, discussion groups, posters, and technical exhibitions. We would like you to take this opportunity not only to enjoy the remarkable city of Moscow, but also the whole of Russia, with its rich history and friendly people.

   
Call for Abstracts
Abstracts may be submitted via e-mail to
ph@peterlink.ru
until
1 March 2012
.
The winner of the Best Trainee Paper Award will be selected from among all abstracts submitted and will be awarded at the Closing Ceremony of the meeting. The prize is three years' free SICOT membership.
  

Topics
Joint Replacement
Vertebral Surgery
Arthroscopy
Acute Trauma
General Orthopaedics
Sports Medicine
Skeletal Reconstructions
   
Programme
Sunday, 13 May
Registration and pick-up of badges & documentation
Monday, 14 May
Registration and pick-up of badges & documentation
Scientific sessions
Opening Ceremony
Welcome Reception (included in fee)
Tuesday, 15 May
Scientific sessions
Closing Ceremony
President's Dinner (additional EUR 120)
Wednesday, 16 May

Day free of scientific sessions 
     
Venue
The Meeting will be held in the Congress Centre of the Moscow Government.
Russia, Moscow, Novyi Arbat, 36
   
Fees
Fees in EUR

before and including
1 February 2012

after
1 February 2012

Residents/Trainees & SICOT Associate Members*

EUR 50

EUR 70

Regular

EUR 100

EUR 150
incl. VAT and excl. foreign transfer fees
   
*Presentation of appropriate proof of status is required at time of registration or may also be faxed to:
+7-812-380 3155. Otherwise, the regular fee will be charged.  
       
Exhibition
Please contact the organisers at
ph@peterlink.ru
for more information. 
  
Organising Committee
NGO «People and Health»
191025, St. Petersburg, P.O. Box 2
Tel./Fax: +7 (812) 380 3155, 380 3156,
ph@peterlink.ru
www.congress-ph.ru 
17th SICOT Trainees' Meeting is organised under the patronage of: 
SICOT
The Ministry of Health of the Russian Federation
Moscow Government
Russian Academy of Medical Science
Association of Orthopaedists & Traumatologists of the Russian Federation
Central Research Institute of Traumatology & Orthopaedics n.a. Priorov
NGO "People and Health"