SICOT e-Newsletter
 Issue No. 37 - October 2011
---
 
SICOT Events
- Combined 33rd SICOT & 17th PAOA Orthopaedic World Conference - Dubai, United Arab Emirates
SICOT News


- CHOP/SICOT Fellowship

- SICOT Travelling Fellowships

- Journal of Bone and Joint Surgery, British Volume

- European Musculoskeletal Review - Volume 6 Issue 3
Worldwide News
- AAOS 2012 Annual Meeting
- Recommendations to improve outcomes for geriatric hip fractures: Re-visiting the NICE guidelines
- Characteristics of femoral shaft fractures in the elderly secondary to use of bisphosphonates
 
---
Editorial by Hatem Said -Â Editorial Secretary
Today SICOT still faces the global challenges of specialty societies, multiple meetings and a global economic recession. SICOT embraced these challenges and modernised its structure to continue performing its role as the international society for orthopaedic and trauma surgeons around the world. The focus on specialisations allows surgeons to attend SICOT meetings to grasp focused up-to-date information in their subspecialty. This has been achieved with focused symposia, instructional courses and invitations of key speakers in these subspecialties. On the economic side, the registration fees for meetings have been lower than in previous years, in addition to the member discount. Membership is also being offered with special rates for Friendship Nations. The high scientific level, subspecialisation and the special rates have increased our new membership in 2011 sevenfold compared to 2008, with 1,360 new members this year, in addition to the increase in attendance at our last meeting in Prague to 3,084 participants. Read more...
---
SICOT Events
Combined 33rd SICOT & 17th PAOA Orthopaedic World Conference
28 November - 1 December 2012 * Dubai, United Arab Emirates
The online abstract submission system will be open from 1 December 2011 to 15 February 2012.
Main topics
Arthroplasty
Research
Shoulder
Spine
Trauma

Other topics
Biomaterials
Clubfoot
Foot & Ankle
Hand
Infection 
Natural Disasters
Navigation
Osteonecrosis
  
Osteoporosis
Paediatrics
Prosthetics & Orthotics
Rheumatology
Road Trauma Safety
Sports Traumatology
Thromboprophylaxis
Tumours
Online registration will open on 1 December 2011.
Online registration will open on 1 December 2011. More information about the examination can be found here.
   
Please visit the SICOT website regularly for updated information about Dubai OWC 2012.   
---
SICOT News
The Children's Hospital of Philadelphia (CHOP) is offering six- or twelve-month research fellowships to US or internationally trained orthopedic surgeons. Prerequisite for the research fellow application is excellent oral and written command of the English language, graduate of medical school and residency program, interest in pediatric orthopedic surgery, submission of a complete application with letter of recommendation before the deadline 28 February 2012 (for the January 2013 fellowship), and on time visa application, where applicable. Read more...
SICOT Travelling Fellowships
Every year, SICOT offers three young surgeons three-month fellowships to visit an international medical centre. The aim is to attend and learn at a renowned education centre to improve knowledge and surgical skills. The value of each fellowship is EUR 4,000, which includes travel and accommodation. Read more...
Journal of Bone and Joint Surgery, British Volume
SICOT is collaborating with JBJS (Br) to provide SICOT Associate members limited free subscription to The Journal of Bone and Joint Surgery (British Volume) from October 2011 to September 2012. Sign-up before 25 November 2011 to take advantage of this very special SICOT member benefit - a completely free subscription for one year! Read more...  (If you are a SICOT member, please log in to the SICOT website first with your username (member ID number/e-mail address) and password. Information about resetting passwords is available on the SICOT website.)

European Musculoskeletal Review - Volume 6 Issue 3
As part of a Media partnership with Touch Briefings, SICOT members receive free eBook access to Touch Briefings 'European Musculoskeletal Review' Volume 6 Issue 3.

In the latest issue Professors Numa Mercier and Dominique Saragaglia contribute an excellent paper, 'How to Manage Ankle Trauma without Evident X-ray Signs', while Professors Rikke Sogaard and Peter Fritzell discuss an economic evaluation of lumbar spinal fusion. Elsewhere in this edition, Professor Lars Arendt-Nielsen and Hans Christian Hoech provide a fascinating exploration of peripheral and central sensitisation in osteoarthritis.

Directed by an Editorial Board comprising internationally respected physicians, European Musculoskeletal Review's peer-reviewed articles endeavour to provide a concise and timely update on the latest opinion and advances spanning the breadth of musculoskeletal practice.

Click through to:
www.touchmusculoskeletal.com/journals/editions/european-musculoskeletal-review-volume-6-issue-3Â Â 
SICOT members access the current edition, European Musculoskeletal Review – Volume 6 issue 3, in full and for free in eBook format. Click here to access your complimentary eBook. (If you are a SICOT member, please log in to the SICOT website first with your username (member ID number/e-mail address) and password. Information about resetting passwords is available on the SICOT website.)
Fore more information please visit: www.touchmusculoskeletal.com
---
SICOT Global Network for Electronic Learning - SIGNEL
Bone remodelling around the Metha short stem in total hip arthroplasty: a prospective dual-energy X-ray absorptiometry study
Matthias Lerch, Annelene von der Haar-Tran, Henning Windhagen, Bernd A. Behrens, Patrick Wefstaedt & Christina M. Stukenborg-Colsman
  
Purpose On the basis of positive clinical results with mid- and long-term follow-up using the Mayo short stem, the Metha neck-preserving stem (BBraun, Aesculap, Tuttlingen, Germany) was introduced. The purpose of this study was to validate the implant design by direct acquisition of bone remodelling data from total hip arthroplasty (THA) recipients using dual-energy X-ray absorptiometry (DEXA). Read more...
A 12-year-old boy is referred to the orthopaedic department accompanied by his parents. They report a fall on his right shoulder during ice skating one week earlier. The boy complains about pain in the right shoulder and limited movement. Physical examination revealed intact peripheral circulation, motor activity and sensibility.

1.) What are the most appropriate further investigations?
- Ultrasound of the right shoulder
- Plain radiographs
- CT-Scan of the right shoulder
- MRI of the right shoulder
---
Worldwide News
Renowned orthopaedic surgeons and traumatologists from more than 100 countries share their knowledge at the American Academy of Orthopaedic Surgeons 2012 Annual Meeting, 7-11 February in San Francisco, California, U.S.A.  Many sessions bring together our global community to discuss today's most important issues, including the Symposium "Worldwide Perspective on Alternate Bearings", as well as Instructional Courses on "International Perspectives on the Use of Biologics in Spine Surgery", "Managing the Increasing Demand for Total Joint Arthroplasty:  An International Perspective", and "Shoulder Instability: An International Perspective on Treatment". Be sure to bring your cases to the "Ask an Expert" Sessions, where leading surgeons offer their diagnosis and recommendations.  Enjoy a collaborative exchange of ideas and cases with orthopaedic surgeons from around the world at the AAOS 2012 Annual Meeting. For information on your invitation letter, registration, travel and more, go to www.aaos.org/amintl  
Recommendations to improve outcomes for geriatric hip fractures: Re-visiting the NICE guidelines (summarised by N.S. Harshavardhana)
Chesser TJ et al (Injury: Aug 2011) reviewed the NICE (National institute of clinical excellence) guidelines aimed at improving the outcomes in elderly patients presenting with hip fractures. The key recommendations are:
Investigation of choice in occult hip fractures and when X-rays are normal is: MRI scan.

Alternative to MRI (either contra-indicated or not available): CT scan.

Administer analgesia within 30 minutes of presenting to casualty.

NSAIDs are contra-indicated and preferred medications for analgesia include paracetamol/opioids/regional nerve blocks.

Early medical optimisation prior to surgery addressing co-morbidities.

Perform the surgery within 24-48 hours of admission to hospital on a dedicated trauma list with experienced anaesthetist and orthopaedic surgeon around.

Arthroplasty (hemi or total joint replacement) is recommended for displaced intra-capsular fractures.

Preferred approach for inserting hemiarthroplasty prosthesis: Antero-lateral.

Sliding hip screw (DHS) is recommended for extra-capsular/trochanteric fractures.

Intra-medullary nail is fixation modality of choice for sub-trochanteric fractures.

A dedicated care pathway with ward-based hip fracture programme and continued input by orthogeriatrician is integral for good outcome.

Early supported discharge service for medically stable and alert/orientated patients.

Secondary preventive measures viz. falls assessment/use of anti-resorptive agents and trochanteric pads to reduce the risk of fractures.

Participation in NHFD (National Hip Fracture Database) for external audit and comparison of care quality.
Characteristics of femoral shaft fractures in the elderly secondary to use of bisphosphonates
(summarised by N.S. Harshavardhana)
Ng YH et al (Injury: Aug 2011) reviewed the characteristics of femoral shaft fractures in elderly patients on bisphosphonates. In a retrospective review of all patients >60 years presenting with shaft femur fracture over a 4-year period, they identified 55 patients, 7 of whom were on Alendronate Na. The mean age of presentation was 77.3 years and all patients were of female gender who had h/o prodromal thigh pain for varying period prior to the fracture. The fracture configuration was either transverse of short-oblique and 5 of these 7 had thickening of proximal lateral femoral cortex which gave a characteristic "beaked" appearance. This thickening is attributed to occult stress fracture(s). They were all treated by fixation (extramedullary in 3 & intramedullary in 4). The union rate was 100% with mean time to union being 25 weeks (range 9-68 weeks). They concluded new entity of fractures secondary to adynamic bone disease following Alendronate use to have a characteristic fracture pattern and treating healthcare professionals to be aware of them. Use of bisphosphonates in treatment of post-menopausal osteoporosis is not without its risk and should be used judiciously. 
---
Industry News
Aesculap AG
Aesculap® OrthoPilot®
SportsMedSuite - ACL 3.0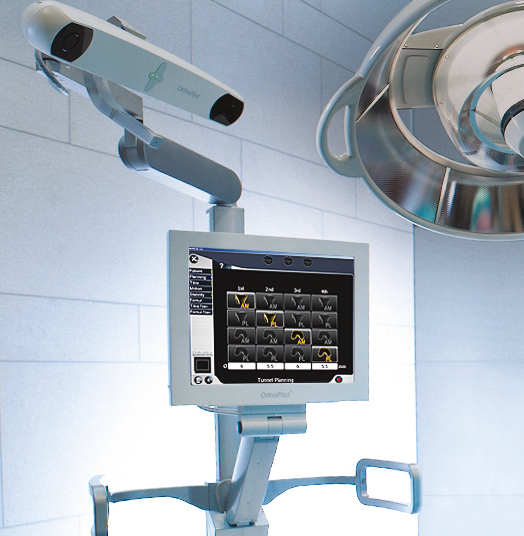 Four good reasons for navigating your ACL reconstruction.
ACL 3.0 - also available in double bundle technique.
   
The reconstruction of a ligament in single or double bundle technique, the decision between one or multiple bundles is one of the big challenges orthopaedic surgeons are facing today. ACL 3.0 offers a unique solution!
SportsMed Suite ACL 3.0 enables the surgeon to determine the optimal location for tibial and femoral drill tunnels using anatomical and/or isometric views by simply and quickly referencing a few anatomical landmarks. After referencing he can then decide to adopt either the single or double bundle technique. In addition to that, ACL 3.0 allows the surgeon to realize a pre- and post-operative stability and Pivot Shift Tests.
For more information please click here to see the video of Dr Shameem Sampath, the Bluespot Knee Clinic, Oaklands Hospital, Manchester, GB.
  
Aesculap AG | 78532 Tuttlingen | Germany | www.aesculap.com
---
Editorial Department 
 
Editorial Secretary: Hatem Said
Editorial Production: Linda Ridefjord
Special thanks to Anthony Hall
 
Rue Washington 40-b.9, 1050 Brussels, Belgium
Tel.: +32 2 648 68 23 | Fax: +32 2 649 86 01
E-mail: edsecr@sicot.org | Website: www.sicot.org  
---
Disclaimer: Some of the views and information expressed in this e-Newsletter include external contributors whose views are not necessarily those of SICOT. SICOT is not responsible for the content of any external internet sites.
---