SICOT e-Newsletter
 Issue No. 35 - August 2011
---
 
 
---
 
SICOT Events
SICOT 2011 XXV Triennial World Congress
6-9Â September 2011 - Prague, Czech Republic
Complete information about Prague TWC 2011 is available on the SICOT website.
The allocated presentation time during free paper sessions is six minutes, plus an extra two minutes for discussion. The final version of the scientific programme is available on the SICOT website. The organisers cannot assume liability for any changes in the programme due to external or unforeseen circumstances.

The 'SICOT 2011 XXV Triennial World Congress' is designated for a maximum of (or 'for up to') 21 hours of European external CME credits. Each medical specialist should claim only those hours of credit that he/she actually spent in the educational activity. Read more...
The on-site registration desk will be located in the Congress Hall Foyer 2 on the 2nd floor of the Prague Congress Centre. Please bring along your Confirmation of Registration Letter, which entitles you to pick up your badge and Congress bag with all documentation. The Abstract Book is available in electronic format and can be picked up at the MSD booth (B19) once you have your badge and bag.

The opening hours of the registration desk are as follows:

Tuesday, 6 September
Wednesday, 7 September
Thursday, 8 September
Friday, 9 September

07:30‐20:00
07:30‐18:30
07:30‐18:30
07:30‐12:00

As a SICOT member you can save money on your congress registration fee. If you are not already a member, click here to find out how you can join SICOT.

Special preferential membership dues are available for new members from our Friendship Nations: China, Belarus, Kazakhstan, Kyrgyzstan, Russia, Ukraine, and member countries of the Pan Arab Orthopaedic Association (PAOA). Click here to find out how you can join SICOT. Become a SICOT member and save money!
We are pleased to announce that Christian Gerber (Switzerland), Pierre Hoffmeyer (Switzerland), Frédéric Picard (United Kingdom), and James Wright (Canada) will be delivering plenary lectures on various topics of interest during the Congress. Read more...
Cody Bünger, SICOT President, will be delivering his Presidential Lecture at 10:00 on Wednesday, 7 September in the Forum Hall of the Prague Congress Centre.
Click here to read more about the 17 Instructional Courses which will be held throughout the Congress.
Register on site for our attractive social programme which includes the Opening Ceremony/Welcome Reception, Fun Night, and Presidents' Dinner. Read more...
The Charity Run will be held on Wednesday, 7 September at 06:30 (a morning run is the best way to start the day!). The funds collected will support orthopaedic treatment of children at SICOT Education Centres. Read more...

A Golf Tournament is being organised at the Konopiště Golf Resort on Friday, 9 September. Read more...
Tickets for "The Rite of Spring" (ballet), "L'elisir d'amore - Gaetano Donizetti" (opera), and "Rusalka - Antonín Dvořák" (opera) are available to participants of the SICOT 2011 XXV Triennial World Congress.

More information about the cultural programme and how to book for the various events can be found here. 
Please don't delay booking your accommodation until the last minute! Prague is very busy in early September and suitable accommodation is quickly sold out. Special prices and benefits are available for congress participants. Book your accommodation here. 
Exhibition & Sponsorship

Don't miss out on this unique opportunity to promote your products and services to leading international orthopaedic surgeons, traumatologists and specialists in related fields.
Exhibition & Sponsorship Prospectus (pdf)

If you are interested in sponsoring, exhibiting, or advertising at the Congress, please contact Lina Salvati:
Lina Salvati
Linsa Inc. (Canada)
 
Tel.: 1 514 924 3476
E-mail: lsalvati@linsa.ca  
Skype: ripley9423
 
---
 
SICOT News
2011 AAOS/SICOT International Surgical Skills Scholarship Programme
The American Academy of Orthopaedic Surgeons (AAOS) is pleased to announce it is accepting applications for the 2011 AAOS/SICOT International Surgical Skills Scholarship Programme. Through a generous contribution from SICOT-USA, AAOS will award one scholarship to a SICOT member for the intended purpose to travel to the United States to attend a hands-on orthopaedic surgical skills course with cadaveric specimens in the Orthopaedic Learning Center in Rosemont, Illinois, USA. The scholarship visit also includes a 2-3 day observership at a high-volume USA hospital. The application deadline for the 2011 AAOS/SICOT-USA scholarship programme is: 9 September 2011. Application form - Read more...
    
---
 
SICOT Global Network for Electronic Learning - SIGNEL
The role of stem cells in fracture healing and nonunion
Hangama Fayaz, Peter Giannoudis, Mark Vrahas, R. Smith, Christopher Moran, Pape Christoph, Christian Krettek & Jesse Jupiter
Nonunion and large bone defects present a therapeutic challenge to the surgeon and are often associated with significant morbidity. These defects are expensive to both the health care system and society. However, several surgical procedures have been developed to maximise patient satisfaction and minimise health-care-associated and socioeconomic costs. Read more...
A 37-year-old male patient is referred to the orthopaedic department with a 22-month history of pain in the right groin. He reports lower back pain, also over SI-joints. He has a history of lumbar discectomy 2 years before that improved the sciatica. The patient was admitted twice for back symptoms to have spinal fusion but was discharged because of unconvincing indications. He was referred to the pain clinic where he received 2 SI-joint injections with no improvement. Read more...
  
---
 
Worldwide News
Current Concepts in Joint Replacement™ - Winter 2011
This course will take place in Orlando, Florida, from 7 December to 10 December 2011.
Both hip and knee reconstruction have evolved into mature sciences and are seen to be dependent on a triad of design, patient factors and technical proficiency to achieve clinical longevity. This meeting will focus on both primary and revision outcomes as well as address problems of fixation, bone deficiency, instability, trauma, infection and patient management for hip and knee replacement. Evolving device, material and instrumentation technologies and the recent concerns affecting early in vivo hip and knee performance are addressed. An assemblage of contemporary thought leaders will probe the boundaries of these problems and offer solutions for joint pathologies where arthroplasty is indicated. Plenary commentary, didactic clinical reports, technique videos, debate and case challenges define the formats of presentation, which provide an optimal learning opportunity for orthopaedic surgeons and other allied professionals involved in joint reconstruction. Read more...
Preliminary announcement (pdf)Â 
 
---
 
Industry News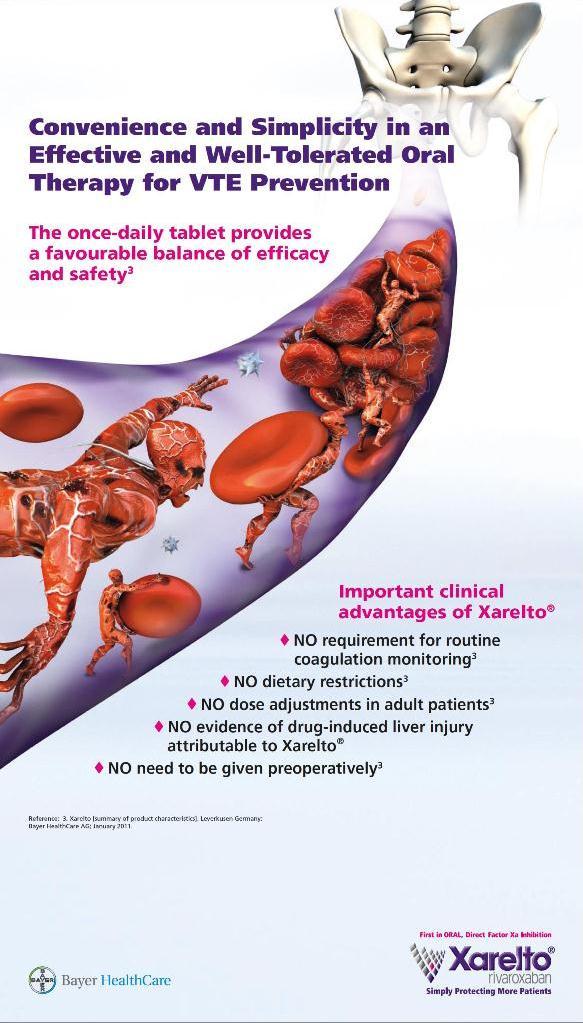 Xarelto 10 mg film-coated tablets.
(Refer to full SmPC before prescribing.)
Composition
:
Active ingredient
: 10 mg rivaroxaban.
Excipients
: Microcrystalline cellulose, croscarmellose sodium, lactose monohydrate, hypromellose, sodium laurilsulfate, magnesium stearate, macrogol 3350, titanium dioxide (E171), iron oxide red (E172).
Indication
: Prevention of venous thromboembolism (VTE) in adult patients undergoing elective hip or knee replacement surgery.
Contraindications
: Hypersensitivity to the active substance or to any of the excipients; clinically significant active bleeding; hepatic disease associated with coagulopathy and clinically relevant bleeding risk; pregnancy and lactation.
Warnings and Precautions
:
not recommended
: in patients concomitantly treated systemically with strong concurrent CYP3A4- and P-gp-inhibitors, i.e. azole-antimycotics or HIV protease inhibitors; in patients with severe renal impairment (creatinine clearance <15 ml/min), and due to lack of data in patients below 18 years of age or undergoing hip fracture surgery.
Careful monitoring for signs of bleeding required in
: patients with severe renal impairment (creatinine clearance 15 - 29 ml/min) or with moderate renal impairment (creatinine clearance 30 - 49 ml/min) concomitantly receiving other medicinal products which increase rivaroxaban plasma concentrations; cirrhotic patients with moderate hepatic impairment (Child Pugh B) not associated with coagulopathy; patients treated concomitantly with medicinal products affecting haemostasis; patients with congenital or acquired bleeding disorders, uncontrolled severe arterial hypertension, active ulcerative gastrointestinal disease, recent gastrointestinal ulcerations, vascular retinopathy, recent intracranial or intracerebral haemorrhage, intraspinal or intracerebral vascular abnormalities, recent brain, spinal or ophthalmological surgery; in patients at risk of ulcerative gastrointestinal disease an appropriate prophylactic treatment may be considered.
Use with caution
: in patients treated concomitantly with strong CYP3A4 inducers or with fluconazole; when neuraxial anaesthesia or spinal/epidural puncture is employed. Xarelto contains lactose.
Undesirable effects
:
Common
: post-procedural haemorrhage, nausea, fever, peripheral oedema, increased GGT, increase in transaminases.
Uncommon
: anaemia, thrombocythaemia, dizziness, headache, tachycardia, haematoma, gastrointestinal tract haemorrhage, urogenital tract haemorrhage, hypotension, nose bleed, constipation, diarrhoea, abdominal and gastrointestinal pain, dyspepsia, dry mouth, vomiting, pruritus, rash, contusion, pain in extremity, renal impairment, localised oedema, decreased general strength and energy, increase in: lipase, amylase, blood bilirubin, LDH, alkaline phosphatase; wound secretion.
Rare
: dermatitis allergic, syncope, hepatic function abnormal, urticaria, feeling unwell, bilirubin conjugated increased.
Frequency not known
: hypersensitivity, bleeding into a critical organ, adrenal haemorrhage, conjunctival haemorrhage, haemoptysis, pseudoaneurysm formation following percutaneous intervention, jaundice, compartment syndrome, renal failure/acute renal failure secondary to a bleeding.
Classification for supply
: Medicinal product subject to medical prescription.
Special precautions for storage
: No special conditions.
Date of revision of the text
: 4.3.2011.
Marketing Authorisation Holder
: Bayer Pharma AG, D-13342 Berlin, Germany
Further information available from
: Bayer s.r.o., Siemensova 2717/4, 155 00 Prague 5;
www.bayer.cz
Version
: EU/4Â 
   
---
 
Editorial Department
 
Editorial Secretary: Syed Awais
Assistant Editorial Secretary: Hatem Said
Editorial Production: Linda Ridefjord
Special thanks to Anthony Hall
 
Rue Washington 40-b.9, 1050 Brussels, Belgium
Tel.: +32 2 648 68 23 | Fax: +32 2 649 86 01
E-mail: edsecr@sicot.org | Website: www.sicot.org  
 
---
 
Disclaimer: Some of the views and information expressed in this e-Newsletter include external contributors whose views are not necessarily those of SICOT. SICOT is not responsible for the content of any external internet sites.
 
---