SICOT e-Newsletter
Issue No. 32 - May 2011
 
---
 
Editorial by H.K.T. Raza - President, Asia Pacific Orthopaedic Association & Past President, Indian Orthopaedic Association
Need for Global Training in Orthopaedics
There has been a remarkable progress in all medical fields in the last two decades. With the advent of the internet, dissemination of knowledge and exchange of ideas is only a mouse-click away. The world has shrunk to become a virtual global village. However, one must be aware of the fact that there is a wide disparity of access to knowledge and training methodologies across the world. In surgical specialties such as Orthopaedics, just a mere gain in knowledge is insufficient. Proper guidance and practice of psychomotor skills is exceedingly important. With the galloping pace at which new technologies, procedures and instrumentation are evolving, there is a need for the young orthopaedic surgeon to be properly trained and equipped to serve humanity. The developed world, mainly the Western countries, was the traditional destination for surgeons aspiring to be further trained in the art and science of orthopaedic practice. The scenario is rapidly changing. Many countries in the Asia Pacific region now boast of world class facilities, and are increasingly contributing to orthopaedic research and development. There is much to learn from even the developing countries where there is a wealth of experience in the management of Orthopaedic infections (including tuberculosis) - so important in these days of the HIV juggernaut. It is therefore not enough for a young orthopaedist to be trained in his/her own institution/city/state/country. New avenues for training and service should be made available to him/her. With rapid globalisation, future orthopaedic training should certainly become more diversified.
With the development of international and regional orthopaedic societies/associations, we must now start a process of developing a system in which we can train a young orthopaedic surgeon to be a global citizen fully equipped to serve anywhere in the world. The future trends would be, and should be, in this direction. Read more...
---
SICOT Events
SICOT 2011 XXV Triennial World Congress
6-9Â September 2011 - Prague, Czech Republic
Please check the SICOT website regularly for updated information about Prague TWC 2011.
The allocated presentation time during free paper sessions is six minutes, plus an extra two minutes for discussion. The scientific programme is subject to change and the final date, time, and session will only be announced after 15 June 2011. Please visit the SICOT website for updates.

The presenting author of an accepted abstract (oral and e-poster) must register and pay the congress registration fee before 15 June 2011 to have his/her abstract included in the Final Programme. The Congress Secretariat will not check if co-authors have registered. Abstract submitters can change the presenting author of an abstract through the abstract submission system until 15 June 2011, by clicking on the link in the confirmation email received after submitting the abstract. Please ensure that the family name, given name, institute, and address of the presenting author have been inserted.

E-posters: Only those authors who have received a confirmation of their registration and payment from the SICOT Congress Secretariat by 15 June 2011 will receive a link to upload their e-poster file(s). The links will be sent on 20 June 2011 to all registered authors presenting e-posters. The deadline for uploading your files is 15 July 2011.
Congress registration is open here!

If you are a presenting author, please insert your abstract number(s) on the registration form and check that your FAMILY name and GIVEN name(s) have been inserted in the corresponding field and spelled in the same way as on the abstract submission form. For example, if you have inserted "Smith" as the Family Name on the abstract submission form, please ensure that "Smith" has also been inserted as the Family Name on the registration form.

As a SICOT member you can save money on your congress registration fee. If you are not already a member, click here to find out how you can join SICOT.

Special preferential membership dues are available for new members from our Friendship Nations: China, Belarus, Kazakhstan, Kyrgyzstan, Russia, Ukraine, and member countries of the Pan Arab Orthopaedic Association (PAOA). Click here to find out how you can join SICOT. Become a SICOT member and save money!
Find out more here about the four Plenary Speakers who will be delivering lectures on various topics of interest during the Congress.
Cody Bünger, SICOT President, will be delivering his Presidential Lecture at 10:00 on Wednesday, 7 September in the Forum Hall of the Prague Congress Centre.
SICOT Educational Day 2011
The SICOT Educational Day is a new initiative undertaken by the SICOT Young Surgeons Committee. The aim of this day is to provide a comprehensive review course for residents and an evidence-based update for practicing surgeons on a specific theme at each SICOT meeting. The theme is selected in such a way that it is mutually beneficial to the residents in their exams and to the orthopaedic surgeons in their daily practice.
The theme chosen for this year is 'The Hip'. Great teachers from around the world are being brought together to lecture on their area of expertise. Read more... 
Click here to read more about the 17 Instructional Courses which will be held throughout the Congress.
Read more here about our attractive social programme which includes the Opening Ceremony/Welcome Reception, Fun Night, and Presidents' Dinner.
The Charity Run will be held on Wednesday, 7 September at 06:30 (a morning run is the best way to start the day!) Read more...
Please don't delay booking your accommodation until the last minute! Prague is a very touristic place in early September and suitable accommodation is quickly sold out. Please click here to book now.
Exhibition & Sponsorship

Don't miss out on this unique opportunity to promote your products and services to leading international orthopaedic surgeons, traumatologists and specialists in related fields.
Exhibition & Sponsorship Prospectus (pdf)

If you are interested in sponsoring, exhibiting, or advertising at the Congress, please contact Lina Salvati:
Lina Salvati
Linsa Inc. (Canada)
 
Tel.: +1 514 924 3476
E-mail: lsalvati@linsa.ca  
Skype: ripley9423
---
SICOT News

Winners of the 2011 SICOT Travelling Fellowships
Congratulations to the following SICOT members who have been granted the SICOT Travelling Fellowships for 2011:Â 
The Danish Travelling Fellowship at Århus University Hospital (specialised in spine surgery) has been granted to Darya Tesakova from Belarus and Krishna Kumar Ramachandran Nair from India.

The German Travelling Fellowship at the Orthopaedic Hospital of the University of Würzburg (specialised in arthroplasty of the hip, knee, shoulder and elbow; surgery of the shoulder, elbow, and foot; sports injuries; and paediatric orthopaedics) has been granted to Mayank Agrawal from India.

The International Travelling Fellowship has been awarded to Alfredo Pozzo from Bolivia.
---
SICOT Global Network for Electronic Learning - SIGNEL
Screening and treatment in developmental dysplasia of the hip - where do we go from here?
Mathew D. Sewell & Deborah M. Eastwood
Purpose: Developmental dysplasia of the hip (DDH) is a leading cause of disability in childhood and early adult life. Clinical and sonographic screening programmes have been used to facilitate early detection but the effectiveness of both screening strategies is unproven. This article discusses the role for screening in DDH and provides an evidence-based review for early management of cases detected by such screening programmes. Read more...
A 68-year-old woman, who had received an uncemented total hip arthroplasty in 2003, was referred to the orthopaedic department with a six-month history of pain in the left groin. She reported no trauma, but underwent inguinal hernia surgery in 2008 on the left side. Physical examination revealed bland skin conditions, a regular ROM with moderate pain in full extension and a marked pressure pain in the left groin. Standard laboratory whole blood analysis was within normal limits.
1.) What are the most appropriate further investigations?
Ultrasound of the left hip joint
Plain radiographs
CT-Scan of the hip and lower limb
MRI of the left hip joint
Whole body scintigraphy
---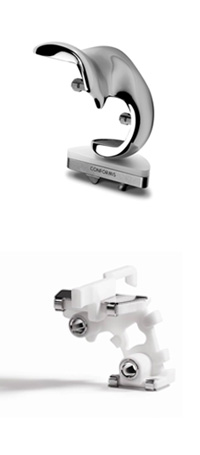 OR-Live Webcast

Next generation patient-specific knee resurfacing with the ConforMIS iDuo® G2
On June 9th, 2011 at 19:00 CEST (7:00 pm CEST - Central European Summer Time) the Elbland Clinic in Radebeul will present a webcast of a bicompartmental knee replacement featuring the iDuo® G2 patient-specific knee resurfacing system. The procedure will be performed by Axel Ripp, MD chief surgeon of the department of Orthopedics and Trauma at Elbland Clinic Radebeul, Germany and Wolfgang Fitz, MD from Brigham and Women's Hospital, Harvard Medical School in Boston, USA. The broadcast will provide viewers with the chance to observe the patient-specific surgical technique and email questions to the surgeons.
A personalized approach
The iDuo® G2 bicompartmental Knee Resurfacing System (ConforMIS, Inc.) is designed and manufactured using a proprietary patient-specific approach, enabling each patient to receive an implant that is made just for them. For certain patients, the customized fit enables a more bone preserving, resurfacing procedure that can help them maintain the natural kinematics of their knee. In addition, the iDuo® G2 comes packaged together with disposable, patient-specific instrumentation called iJigs®, which are designed from the same scans from the patient as the implant. The iJig cutting and placement guides are designed to work with the implants to simplify the surgery and improve a quantum leap forward for knee replacement technology.
Learn more about "The Next Generation Patient-Specific Partial Knee Resurfacing with the ConforMIS iDuo® G2" on June 9th 19:00 CEST (7:00 PM Central European Summer Time) on OR-Live.
www.or-live.conformis.de
    
---
Editorial Department
 
Editorial Secretary: Syed Awais
Assistant Editorial Secretary: Hatem Said
Editorial Production: Linda Ridefjord
Special thanks to Anthony Hall
 
Rue Washington 40-b.9, 1050 Brussels, Belgium
Tel.: +32 2 648 68 23 | Fax: +32 2 649 86 01
E-mail: edsecr@sicot.org | Website: www.sicot.org  
---
Disclaimer: Some of the views and information expressed in this e-Newsletter include external contributors whose views are not necessarily those of SICOT. SICOT is not responsible for the content of any external internet sites.
---