Education/Training
SICOT Travelling Fellowships
2010 Danish Travelling Fellowship Report
Dr Dharmendra Singh
Attending spinal surgeon - Medanta Medicity, Gurgaon, India
Clinical fellow spine surgery - Aarhus University Hospital, Aarhus, Denmark

I would like to thank SICOT for awarding me the Danish Travelling Fellowship, which has been a valuable learning opportunity. I received an email from Linda Ridefjord from the SICOT Head Office informing me that I had been selected for the Danish Travelling Fellowship for three months under the tutorship of Prof Cody Bünger, Chief of Spine Surgery at the Aarhus University Hospital in Denmark. I was very excited and started planning for my journey and making travelling arrangements. I received appreciable support from Prof Bünger's secretariat.
I started my fellowship on 16 August 2010. Very good arrangements for my accommodation had been made. When I reached the department, I received a warm welcome from Prof Cody Bünger and his team of four senior spine surgeons. From the second day onwards, I was given the opportunity to scrub up and help in the operations as first assistant. Operating with Prof Bünger was an amazing experience; like a dream come true. I assisted him in corrective operations on congenital, neuromuscular, adolescent, degenerative scoliosis and severe kyphotic deformities. He trained me on the application of growth rods, pedicle screw insertions in deformed spines, spinal hooks, and various techniques of spinal deformity correction such as rod rotation, vertebral rotation and various spinal osteotomies. I also had the opportunity to assist him in Transforaminal Lumbar Interbody Fusion (TLIF) and Anterior Lumbar Interbody Fusion (ALIF), 360-degree fusion of degenerative lumbar spine. I also learned CT-guided computer navigation with O-Arm which was frequently used to put pedicle screws in deformity correction, such as scoliosis, kyphosis and lumbar fusion operations.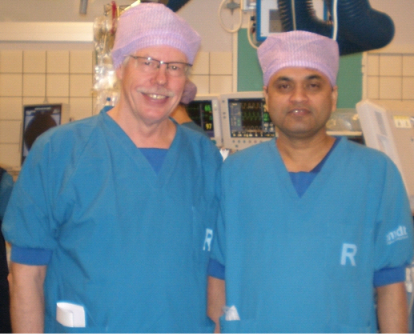 Cody Bünger and Dharmendra Singh
I also had the opportunity to participate in the experimental operations such as disc replacement, and anterior and posterior instrumentation on an animal spine. I attended research meetings in the laboratory which were of high standard and certainly increased my interest in research and academics. During the fellowship, I attended the SICOT Annual International Conference in Sweden with Prof Bünger and his large research group.
I was also fortunate to have the opportunity to scrub up frequently with Dr Ebbe Stender Hansen, senior spine surgeon, who is excellent in decision-making, a clever surgeon and a great teacher. I also had the privilege to assist other senior spine surgeons in a variety of spinal operations.
The weather in Aarhus was very good. The city of Aarhus is surrounded by the sea and green forests that bring a fresh and healthy breeze. Danish people are very honest, helpful and friendly. I made many new friends and had a great time with them. I experienced warm and generous hospitality, which I will remember throughout my life. I also had the privilege of visiting Prof Bünger's village and farmhouses. We drove to the seaside, where we visited a castle and had a pleasant dinner. It was a wonderful experience and I felt at home away from home.
The SICOT Danish Travelling Fellowship was a great learning experience for me. It optimised my surgical skills and broadened my knowledge not only of spine surgery but also of other people and their cultures. I now feel more confident and able to handle new challenges in the field of spine surgery and hope to be an efficient and reliable professional serving mankind. I am fortunate to have had the privilege of continuing my spine training as a clinical fellow for one year with Prof Bünger and Dr Stender Hansen.
I would like to thank Prof Cody Bünger for his kind support. He is a good teacher, a surgeon with magic hands, and a wonderful human being. I strongly recommend that young surgeons apply for the prestigious SICOT Danish Travelling Fellowship in order to optimise their surgical skills and enhance decision-making in all a wide variety of spine ailments.