SICOT e-Newsletter
Issue No. 29 - February 2011
Editorial by Mohammed Al-Otaïbi, General Organiser of the 4th SOA International Conference
SICOT expands its contribution to further horizons
Abha is the capital of the Asir province in the south of Saudi Arabia, 2,270 m (7,500 feet) above sea level, approximately 1,000 km south of the Saudi capital, Riyadh. The 4th Saudi Orthopaedic Association International Conference, combined with the SICOT Trainees' Day, took place in this beautiful city and was hosted by the King Khalid University. The event was attended by about 450 participants and 40 international speakers. The SICOT Trainees' Day was an important factor in the success of this international event. It gave young orthopaedic surgeons in training programmes the opportunity to participate by presenting their research papers to respected senior surgeons. The day was led by the SICOT President, Cody Bünger, the SICOT National Representative of Saudi Arabia, Abdullah Al-Othman, and the SICOT Vice President of the Africa, Near and Middle East region, Thami Benzakour, who delivered a valuable scientific talk about high tibial osteotomy and hosted the SICOT booth, which attracted many of the conference attendees who also applied for SICOT membership.
The remaining 4 days covered different subspecialties in orthopaedics and the attendance was high, reflecting the quality of the presented papers and discussion during the different sessions.
During the conference, the SOA continued its tradition of remembering those who have served the orthopaedic community in the country. Their efforts were acknowledged with trophies which were presented to them by the SOA President.
The industry exhibition held during this conference caught the attention of major orthopaedic companies worldwide, showing the latest advances in orthopaedic instruments, as well as hosting workshops.
The southern region has a unique status as an endemic area of sickle cell disease where patients present with different manifestations, among which avascular necrosis of the femoral head at a young age. A regional research centre has been established which follows these patients and collects data to keep a registry that is updated to find new ways of treating these patients. Also traffic accidents, due to a tough landscape in this region, represent a major challenge and call for a national registry and an improvement in the service with high standard trauma centres.
The Asir region is considered an important tourist destination in the Arabian Gulf due to its mild weather in the summer, with the temperature never exceeding 25°C, and pleasant winter weather due to the humidity index. The organizing committee prepared a social programme which would reflect the hospitality of the Saudis and show the special folklore of the Asir region.
The SOA and King Khalid University are grateful to all those guests who travelled from far away to take part in this conference.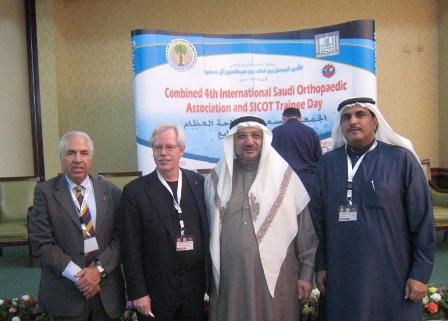 From left to right:
Thami Benzakour, Cody Bünger, H. Al Khawashki, SOA President, and Mohammed Al-Otaïbi,
Conference Chairman, after the Opening Ceremony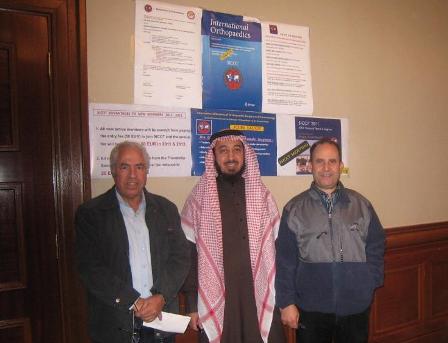 From left to right:
Thami Benzakour, Abdullah Al-Othman, SICOT National Delegate of Saudi Arabia, and J.D. El Ahmadi
at the SICOT booth