SICOT e-Newsletter
 Issue No. 26 - November 2010
---
---
Pakistan needs your help
Pakistan is suffering one of the worst natural disasters in the form of rain water floods. Heavy rainfall that started on 22 July and subsequent rains and flooding in various regions of Pakistan have affected approximately 20 million people and resulted in nearly 2,000 deaths nationwide. More than 3.5 million children are at risk of communicable diseases. As the water is moving towards the sea, it is causing serious effects on people, animals, plants and agriculture, infrastructure and soil, and public services. Please help the Pakistani people by making a donation to the Foundation for Health Care Improvement (FHCI), a charity organisation in Pakistan founded by Prof Syed Awais, SICOT National Delegate of Pakistan:
Account title:
Bank account number:
Bank name:
Branch address:
Swift code:
Branch code:
Account type:
Foundation for Health Care Improvement (FHCI)
103287-8
National Bank of Pakistan
Anarkali Branch, Dhani Ram Road, Lahore, Pakistan
NBPAPKKAA02L
(303)
PLS Saving Account
Thank you.
---
Editorial by Jochen Eulert, Secretary General
The collection and distribution of knowledge has been a major goal for SICOT for many years. Nowadays this has become easier with the development of IT, which is changing the world. With this in mind, SICOT has created an electronic learning programme:


SI
COT
G
lobal
N
etwork of
E
lectronic
L
earning
= SIGNEL
Read more...
---
SICOT Events
SICOT 2011 XXV Triennial World Congress
6-9Â September 2011 - Prague, Czech Republic
Please check the SICOT website regularly for updated information about Prague TWC 2011.
Call for abstracts

Abstract submission is open! Click here to submit your abstracts.

Abstract submission deadline: 15 January 2011

Main topics

Other topics
 
Arthroplasty
Research
Shoulder
Spine
Trauma
Biomaterials
Clubfoot
Endoscopic Spinal Surgery
Foot & Ankle
Hand
Knee Ligament & Cartilage Repair
Minimally Invasive Spinal Techniques
Natural Disasters
Navigation
Osteonecrosis
Osteoporosis
Paediatrics
Prosthetics & Orthotics
Regenerative Orthopaedics
Road Trauma Safety
Thromboprophylaxis
Tumours
  
Registration

Congress registration is open here!

SICOT Educational Day 2011
The SICOT Educational Day is a new initiative undertaken by the SICOT Young Surgeons Committee. The aim of this day is to provide a comprehensive review course for residents and an evidence-based update for practicing surgeons on a specific theme at each SICOT meeting. The theme is selected in such a way that it is mutually beneficial to the residents in their exams and to the orthopaedic surgeons in their daily practice.
The theme chosen for this year is 'The Hip'. Great teachers from around the world are being brought together to lecture on their area of expertise. Read more...
SICOT Diploma Examination
Registration is open for the ninth SICOT Diploma Examination which will take place in Prague, Czech Republic, in September 2011 (exact date to be confirmed) and will consist of a written part and an oral part. 
Read more...
Discover the various hotels available around the Prague Congress Centre here.
Exhibition & Sponsorship

Don't miss out on this unique opportunity to promote your products and services to leading international orthopaedic surgeons, traumatologists and specialists in related fields.
Exhibition & Sponsorship Prospectus (pdf)

If you are interested in sponsoring, exhibiting, or advertising at the Congress, please contact Lina Salvati:
Lina Salvati
Linsa Inc. (Canada)
 
Tel.: +1 514 924 3476
E-mail: lsalvati@linsa.ca  
Skype: ripley9423
---
SICOT News
NUHS/SICOT Trauma Fellowship Award
On 13 September 2010 a new SICOT Fellowship Award blossomed in the Asia Pacific region. A Memorandum of Understanding between SICOT and the Division of Orthopaedic Trauma, National University Hospital, Singapore, created a new window of opportunity. Read more...
SICOT Travelling Fellowships 2011
Every year, SICOT offers three young surgeons three-month fellowships to visit an international medical centre. The aim is to attend and learn at a renowned education centre to improve knowledge and surgical skills. The value of each fellowship is EUR 4,000, which includes travel and accommodation. Don't miss this great opportunity and apply before 31 December 2010! Read more...
---
SICOT Global Network for Electronic Learning - SIGNEL
Reindeer bone extract can heal the critical-size rat femur defect
Hanna Tölli, Sauli Kujala, Timo Jämsä & Pekka Jalovaara
Bone extract from reindeer induces new ectopic bone formation (BF) in muscle pouches, but its feasibility in experimental bone lesions has not been evaluated. We investigated the effects of implants, containing 2, 5, 15, 20 or 50 mg of reindeer bone extract in a collagen carrier, on the healing of 8-mm femur defects in 78 rats. Read more...
Is it always a Baker's cyst?
A 72-year-old woman is presented to our out-patients clinic with a three-month history of progressive right knee pain. She reports no trauma. This pain is sharp in nature, it is aggravated by exercise and relieved by rest. The physical examination of the right knee shows no swelling or tenderness on palpation. There is no redness or heat. A little Baker's cyst is palbable.
1.) What are the most appropriate investigations after the physical examination? Read more...
Femoral Neck Fractures Training
A SICOT online course on Femoral Neck Fractures is available at mySmartHealthcare.com for SICOT members.
If you are a SICOT member, please log in to the SICOT website with your username (member ID number/e-mail address) and password. Information about password renewal is available on the SICOT website.
Once you have logged in, you can register for the course here.
---
Worldwide News
The Johns Hopkins University is happy to announce the availability of a clinical observership and research position at its Division of Shoulder Surgery. It is a one-year position and it is open in 2011. Read more...
---
Industry News
Allergy Solution - Innovation in Allergy Prevention
The innovative coating solution for knee replacement to prevent allergic reactions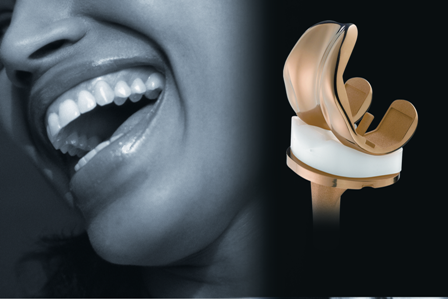 Safety for you
ALLERGY:
10-15% of population react to metals like nickel, chrome or cobalt. They have a certain risk to develop an implant allergy after knee arthroplasty.

Hypersensitive reactions to metallic implant devices include eczema, impaired wound healing, and sterile osteomyelitis and aseptic implant loosening.
  
SOLUTION:
A special multilayer coating with a ZrN top coating offers a safe solution for allergy risk patients:
Safe barrier function - the multilayer coating prevents release of nickel, cobalt and chrome ions.

Superior tribology characteristics - the multilayer design with the AS top coat ZrN is a material of excellent biocompatibility, superior abrasion hardness and durability.

No compromises - a large product range offers an individual solution adapted to the patient's anatomic situation.
Aesculap AG
Am Aesculap-Platz
78352 Tuttlingen
Germany

Tel.: +49 (0) 7461 95-0
E-mail: orthopaedie@aesculap.de  
---
Editorial Department
 
Editorial Secretary: Syed Awais
Assistant Editorial Secretary: Hatem Said
External Affairs: Linda Ridefjord
Special thanks to Anthony Hall
 
Rue Washington 40-b.9, 1050 Brussels, Belgium
Tel.: +32 2 648 68 23 | Fax: +32 2 649 86 01
E-mail: edsecr@sicot.org | Website: www.sicot.org  
---
Disclaimer: Some of the views and information expressed in this e-Newsletter include external contributors whose views are not necessarily those of SICOT. SICOT is not responsible for the content of any external internet sites.
---