SICOT e-Newsletter
 Issue No. 25 - October 2010
---
---
Pakistan needs your help
Pakistan is suffering one of the worst natural disasters in the form of rain water floods. Heavy rainfall that started on 22 July and subsequent rains and flooding in various regions of Pakistan have affected approximately 20 million people and resulted in nearly 2,000 deaths nationwide. More than 3.5 million children are at risk of communicable diseases. As the water is moving towards the sea, it is causing serious effects on people, animals, plants and agriculture, infrastructure and soil, and public services. Please help the Pakistani people by making a donation to the Foundation for Health Care Improvement (FHCI), a charity organisation in Pakistan founded by Prof Syed Awais, SICOT National Delegate of Pakistan:
Account title:
Bank account number:
Bank name:
Branch address:
Swift code:
Branch code:
Account type:
Foundation for Health Care Improvement (FHCI)
103287-8
National Bank of Pakistan
Anarkali Branch, Dhani Ram Road, Lahore, Pakistan
NBPAPKKAA02L
(303)
PLS Saving Account
Thank you.
---
Editorial by Hatem Said, Assistant Editorial Secretary
SICOT National Delegate of Egypt awarded the State Prize of Appreciation for Medical Sciences
SICOT congratulates Prof Galal Zaki Said on receiving this extraordinary award. We are proud to count such an exceptional personality as Prof Galal Said among our society members and are also grateful for all his achievements throughout his many years of work for SICOT. Read more...
---
SICOT Events
SICOT 2011 XXV Triennial World Congress
6-9Â September 2011 - Prague, Czech Republic
Please check the SICOT website regularly for updated information about Prague TWC 2011.
Call for abstracts

Abstract submission is now open! Click here to submit your abstracts.

Abstract submission deadline: 15 January 2011

Main topics

Other topics
 
Arthroplasty
Research
Shoulder
Spine
Trauma
Biomaterials
Clubfoot
Endoscopic Spinal Surgery
Foot & Ankle
Hand
Knee Ligament & Cartilage Repair
Minimally Invasive Spinal Techniques
Natural Disasters
Navigation
Osteonecrosis
Osteoporosis
Paediatrics
Prosthetics & Orthotics
Regenerative Orthopaedics
Road Trauma Safety
Thromboprophylaxis
Tumours
  
Registration

Congress registration is open here!

Exhibition & Sponsorship

Don't miss out on this unique opportunity to promote your products and services to leading international orthopaedic surgeons, traumatologists and specialists in related fields.
Exhibition & Sponsorship Prospectus (pdf)

If you are interested in sponsoring, exhibiting, or advertising at the Congress, please contact Lina Salvati:
Lina Salvati
Linsa Inc. (Canada)
 
Tel.: +1 514 924 3476
E-mail: lsalvati@linsa.ca  
Skype: ripley9423
---
SICOT News
SICOT Travelling Fellowships 2011
Every year, SICOT offers three young surgeons three-month fellowships to visit an international medical centre. The aim is to attend and learn at a renowned education centre to improve knowledge and surgical skills. The value of each fellowship is EUR 4,000, which includes travel and accommodation. Read more...
---
SICOT Global Network for Electronic Learning - SIGNEL
Hip fracture: effectiveness of early surgery to prevent 30-day mortality
Elisa Carretta, Valerio Bochicchio, Paola Rucci, Giuliana Fabbri, Massimo Laus & Maria Pia Fantini
To estimate the effect of delay to surgery for hip fracture on 30-day mortality using a risk adjustment strategy to control for the effect of demographic and clinical confounders. This observational study was carried out on all patients admitted with a hip fracture and discharged between January 2004 and December 2007 from a teaching hospital. Read more...
A 9-year-old girl is presented to the orthopaedic department with mild pain in her right foot since a couple of weeks. She reports no trauma. The physical examination shows a palpable swelling of the metatarsal I with tenderness on palpation. There is no redness or heat.
 
1.) After the physical examination has been completed, what are the most appropriate investigations? Read more...
Femoral Neck Fractures Training
A SICOT online course on Femoral Neck Fractures is available at mySmartHealthcare.com for SICOT members.
If you are a SICOT member, please log in to the SICOT website with your username (member ID number/e-mail address) and password. Information about password renewal is available on the SICOT website.
Once you have logged in, you can register for the course here.
---
Worldwide News
The Johns Hopkins University is happy to announce the availability of a clinical observership and research position at its Division of Shoulder Surgery. It is a one-year position and it is open in 2011. Read more...
---
Industry News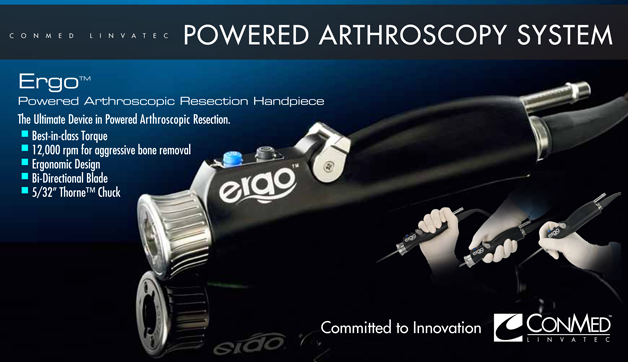 The Ergo™ powered arthroscopic resection handpiece from ConMed Linvatec featuring a max speed of 12,000 rpm and a new ergonomic design allows for the ultimate in comfort, power, and balance for your craft. Engineered to allow for optimal control when held in traditional, dagger style, or pencil grips, the Ergo™ handpiece eliminates the fatigue associated with traditional barrel shaped shavers.
With dynamic range suction control, Thorne™ Chuck attachment compatibility, bi-directional blade insertion, 2-button and no-button configurations, along with ConMed Linvatec's world class Xtra-Sharp™ blades, ReAct® reciprocating blades, Merlin® bendable and pre-bent blades and arthroscopy burs, the Ergo™ shaver from ConMed Linvatec is the ultimate device for powered arthroscopic resection.
Feeling is believing.
Contact your local ConMed Linvatec distributor to learn more about the Ergo™ powered arthroscopic resection handpiece today.
ConMed Linvatec Europe
W.A. Mozartlaan, 3
1620 Drogenbos
Belgium
 
Tel.: +32 2 52605 60
Fax: +32 2 52605 72
  
Visit www.linvatec.com to find your local Country Distributor.
---
Editorial Department
 
Editorial Secretary: Syed Awais
Assistant Editorial Secretary: Hatem Said
External Affairs: Linda Ridefjord
Special thanks to Anthony Hall
 
Rue Washington 40-b.9, 1050 Brussels, Belgium
Tel.: +32 2 648 68 23 | Fax: +32 2 649 86 01
E-mail: edsecr@sicot.org | Website: www.sicot.org  
---
Disclaimer: Some of the views and information expressed in this e-Newsletter include external contributors whose views are not necessarily those of SICOT. SICOT is not responsible for the content of any external internet sites.
---