Prague TWC 2011
Information about the Czech Republic
City of Prague
"The Mother of Towns", "The Golden City", or "The City of a Hundred Spires", these are just a few of the many attributes that the Czech metropolis nestling above the river Vltava has earned for itself. Prague, as a major destination of visitors arriving in the Czech Republic, with its appeal of architectural monuments of all styles, the traditional hospitality of its people and the excellent beer served by Czech pubs, as well as the remarkable mix of Czech, German and Jewish cultures, is considered one of the most beautiful cities, and not just in Europe.
In 1993, the city's historical centre was rightfully added to the UNESCO World Cultural Heritage List, with over 100 theatres, concert halls, galleries, and so on. More than 100 personalities famous worldwide have lived in Prague (e.g. King Charles IV, Rudolph II, J. A. Comenius (Komenský), W. A. Mozart, Franz Kafka, A. Einstein, A. Pick, M. Curie-Sklodowski, etc…). For lovers of historical monuments, Prague is, literally, a paradise. The grand Baroque palaces of the Hradčany quarter join forces to form a monumental gateway to Prague Castle, with its magnificent Gothic cathedral consecrated to St Vitus. The castle had been the seat of Czech kings from 1087 until 1918, when it became the seat of presidents of the Czechoslovak Republic, and since 1993 it has been the seat of the president of the Czech Republic.
The Lesser Quarter boasts a profusion of intimate corners and pleasant restaurants; fine burghers houses blend with splendid aristocratic palaces and charming gardens here. The Old Town of Prague offers its visitors a network of twisting medieval lanes and the Old Town Square. When exploring the remains of the former Jewish town, its synagogues, the Old Jewish Cemetery or the extensive collections of the Jewish Museum (one of the most valuable to be found in Europe), you are certain to experience a mysterious spiritual atmosphere. The Charles Bridge, the most beautiful promenade site in Prague, is alive with street artists and musicians.
Prague has 1,200,000 inhabitants and stretches over approximately 500 square kilometres. Prague has one of the oldest universities in Europe, the Charles University, which was founded in 1348.
With a widely opened pro-market economy, stable democratic government, stable currency and well-known working skills of the people, this country provides a great opportunity to host a conference in order to meet scientists and business people from all over the world.
  
Czech Republic
The number of foreign visitors to the Czech Republic has been increasing sharply over the last few years. Many come back after their first visit, to enjoy together with others all that the Czech Republic has to offer. The main advantage of the Czech Republic is the wealth, diversity and accessibility of cultural, historical and natural places of interest, all concentrated in a relatively small space that boast very serviceable standards of accommodation and dining facilities. Prague is among the most frequently visited cities in the world. Places of interest for tourists are not, however, concentrated just there - every part of Bohemia and Moravia has something to offer its visitors. For some, it is old cathedrals and picturesque corners of historical towns, others value a silent mountain valley or the mysterious atmosphere of romantic ruins and ancient castles. The social life is rich as well not just in Prague and other larger cities, but also in Bohemian and Moravian spas.

Official website of the Czech Republic: www.czech.cz  
Czech news in English: www.praguemonitor.com  
City map of Prague:Â www.hot-maps.de/europe/czech_republic/prague/homeen.html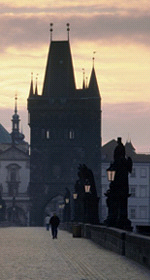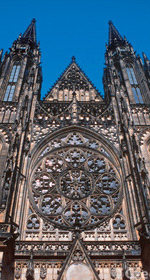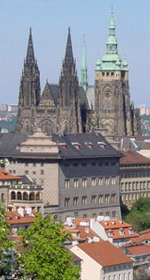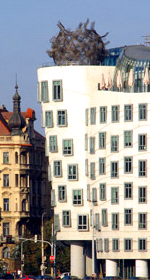 General Information
Airport
Prague International Airport handles the flights of most European carriers and also overseas flights. It is located 30-45 minutes from the centre of Prague. There is a good connection between the Airport and the city centre by bus and taxi. More information can be found at www.prg.aero.  
Currency and Banking
The Czech crown (CZK) is the official currency of the Czech Republic. Foreign currency exchange is available at Prague International Airport and at most hotels, banks and exchange offices throughout the city. International credit cards are accepted for payments in hotels, restaurants and shops. Payment in cash in EUR is also available in some restaurants and shops. Please ask for details on-site. You can find the official exchange rates on the website of the Czech National Bank at www.cnb.cz.
Electricity
The Czech Republic uses a 230 volt 50 Hz system, sockets are the standard European type and two-prong round pin plugs, with a hole for a male grounding pin, are standard. To use electric appliances from your country you may need a special voltage converter with an adapter plug.
Entry formalities
All foreign visitors to the Czech Republic must possess a passport valid for at least three months following the Congress. Participants requiring a visa should apply in advance at consular offices of the Czech Republic or diplomatic missions in their countries in order to avoid delay when travelling to the Congress. More information about visa requirements can be found here.
Important telephone numbers
112: General Emergency for Europe
150: Fire
155: Ambulance
156: Prague Police
158: Police
Parking
Parking spaces in or at the Prague Congress Centre will not be provided for the participants. Expenses for the parking space will be covered by the participants.
Public Transport in Prague
Prague has a good public transport system, which includes 3 metro lines, trams and buses. Prague's Metro system is quite new and efficient. During peak hours trains run every 1 or 2 minutes and off peak at least every 10 minutes.
Passengers need a valid ticket to travel on the city public transport system. The ticket must be stamped as soon as you get on a bus or tram, or enter the transport area (in the case of a metro station). Tickets can be purchased in automatic machines at each metro station, at surface transport stops or at newsstands. Please note that you need to validate the ticket when you enter the metro / tram / bus for the first time.
Tickets:Â 
CZK 24 (valid for up to 30 minutes, transferable)
CZK 32 (valid for up to 90 minutes, transferable)
1-day pass – CZK 110
3-day pass – CZK 310 
You can find public city transport routes, ticket prices and timetables at www.dpp.cz.
The Prague Congress Centre by public transport:
The Prague Congress Centre can be reached easily by metro line C (red line) to station "VYŠEHRAD". The PCC is located just in front of the metro station.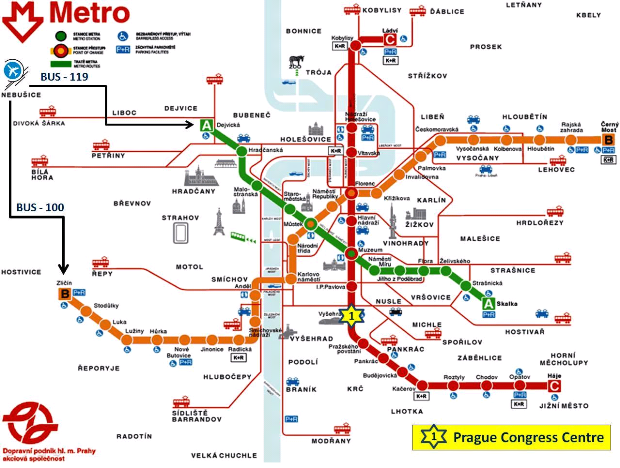 Shopping
Most shops in Prague are open from 09:00 to 18:00, Monday to Saturday. Shops in the city centre are usually open from 09:00 to 20:00, Monday to Sunday.
Taxis
Most taxis in Prague do not accept credit cards! Although it is easy enough in the centre to hail a taxi on the street, it is recommended that you book one in advance. The official fare is approximately CZK 30 per kilometre, so please check the price list before you get into the car. The journey to the PCC shouldn't cost more than CZK 600Â  (EUR 24).
Private Transportation – Carrow Taxi Service
We offer you the possibility to book a private taxi for your journey around the city. To book this service, please send an e-mail to sicot@carrow.cz to receive a special price for participants of the Congress (see below). Cash payment is accepted in CZK, EUR or USD. Please specify which currency in your booking.
  
Contact person: Marian Kodl
E-mail: sicot@carrow.cz  
Website: www.carrow.cz 

 

Price (includes VAT)


Å koda Superb
(1-3 pax)

Dodge Grand
(4-6 pax)

Transfer from airport Ruzyně to hotel in Prague (or vice versa)

EURÂ 23.00
USD 29.00
CZK 580.00

EURÂ 32.00
USD 40.00
CZK 800.00

Transfer from hotel to hotel
(or restaurant / railway station / Congress Centre, etc.)

EURÂ 19.00
USD 24.00Â 
CZK 470.00

EURÂ 24.00
USD 30.00
CZK 600.00Â 

 
Time Zone
The Czech Republic is in the Central European Time Zone, which is 1 hour ahead of GMT. At the time of the congress, the Czech Republic will be two hours ahead of GMT due to the Summer (Daylight Saving) Time. Complete information is available on the official website of the Czech Republic at www.czech.cz.
Tipping
Service is usually included in the bill in bars and restaurants, but tips are welcome. If you consider the service good enough to warrant a tip, we suggest about ten percent.
Weather
September weather in Prague is usually warm with temperatures around 20°C/70°F and somewhat humid. Sudden showers and thunderstorms are common, so bring an umbrella or be prepared to dash for cover. You can find current weather conditions at www.weather.com.