Publications
International Orthopaedics
"International Orthopaedics" is the Official Journal of SICOT. From 2011 onwards, it is published every month by Springer Verlag, Germany, and has a circulation of 3,200. SICOT members have full online access to the journal through the SpringerLink service.
Founded in 1977, it evolved from the publication of selected papers presented at the triennial congresses, but now accepts the best referred papers submitted from around the world. The articles deal with clinical orthopaedic surgery or basic research directly connected with orthopaedic surgery. Each year International Orthopaedics publishes the scientific work of researchers from more than 40 countries. International Orthopaedics is referenced in Journal Citation Reports/Science Edition, PubMed/Medline, Science Citation Index Expanded (SciSearch).
Manuscripts must be submitted in English and will be peer-reviewed electronically by independent reviewers. They must comply with the ethical requirements laid down in the 1964 Declaration of Helsinki; the informed consent of all persons included in the study must be obtained and the identity of the subjects may not be disclosed. Reports of animal experiments must be in accordance with "Principles of laboratory animal care" (NIH publication No. 85-23, revised 1985) and specific national laws, if any. The editors reserve the right to reject manuscripts that do not comply with the above-mentioned requirements.
Once accepted, manuscripts will be published in English. As soon as the proofs have been accepted by the author(s) the accepted articles appear on Online First, the online Journal, well before print publication. These articles are searchable and citable by their DOI, thus making International Orthopaedics the journal with the shortest publication time. To submit manuscripts online, please go to:
http://mc.manuscriptcentral.com/io (opens in new window)
Each issue of International Orthopaedics also includes news and information on meetings, panels, instructional courses, etc. (the "SICOT Bulletin"). To advertise in International Orthopaedics please e-mail edsecr@sicot.org.
 
Editorial Board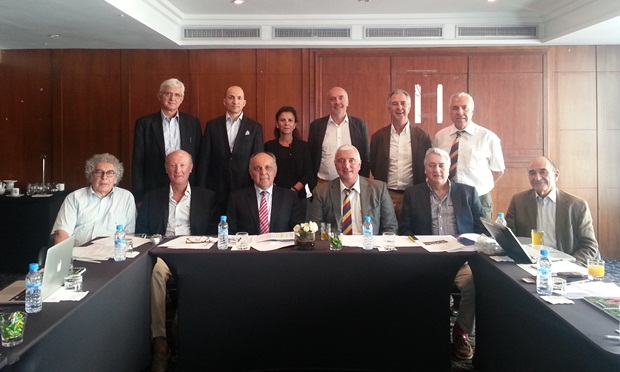 Editorial Board Meeting - 12 April 2014 in Casablanca, Morocco
Editor
Marko Pecina (Croatia)
 
 
Associate Editors

Jacques Caton (France)
Patricia Fucs (Brazil)
Andrew Quaile (United Kingdom)
Marius M. Scarlat (France)

 
 
Assistant Editors


Vane Antolic (Slovenia)
Syed Awais (Pakistan)
Thami Benzakour (Morocco)
Jean-Pierre Courpied (France)
Francesco Falez (Italy)
Maurice Hinsenkamp (Belgium)
Karl Knahr (Austria)
Luis Lopez-Duran Stern (Spain)
Cyril Mauffrey (United States)
Albert van Kampen (Netherlands)


 
 
Editorial Secretary
Hatem Said (Egypt)
 
 
Publications Committee Chairman

Jacques Caton (France)

 
 
Corresponding Members

Bartolome Allende (Argentina)
Rodrigo Alvarez Cambras (Cuba)
C. Bahrs (Germany)
L. Barnaart (Netherlands)
J. Bartonicek (Czech Republic)Â 
A.H. Chamseddine (Lebanon)
Peter K.Y. Chiu (Hong Kong)
D. Dejour (France)
Z. Fan (Canada)
A. Ferreira (France)
José Sérgio Franco (Brazil)
Grey Giddins (United Kingdom)
Felix Gil-Orbezo (Mexico)
John Samuel Gould (United States)
Gerhard Gross (Germany)
E. Guerado (Spain)
Anthony Hall (United Kingdom)
Moussa Hamadouche (France)
Miroslav Haspl (Croatia)
Vojtech Havlas (Czech Republic)
Huub J.L. van der Heide (Netherlands)
Philippe Hernigou (France)
A.K. Jain (India)
Ashok Johari (India)
Vikas Khanduja (United Kingdom)
G.S. Lausten (Denmark)
A. Leali (United States)
L.P.H. Leenen (Netherlands)
Ian J. Leslie (United Kingdom)Â 
Haisheng Li (Denmark)
C. van Loon (Netherlands)
Nicola Maffulli (United Kingdom)
Antero Makela (Finland)
Charles Pailthorpe (United Kingdom)Â 
Jong-Beom Park (Korea)
Rafael Iñigo Pavlovich (Mexico)
Dario Perugia (Italy)
Rocco Pitto (New Zealand)
André Planès (France)
P.M. Rommens (Germany)
Maximilian Rudert (Germany)
Galal Zaki Said (Egypt)
Hatem Galal Said (Egypt)Â 
T. Schepers (Netherlands)
Wolfgang Schneider (Austria)
Frédéric Schuind (Belgium)
Marek Synder (Poland)
Miklos Szendroi (Hungary)
Cyril Toma (United Arab Emirates)
Tomas Trc (Czech Republic)
A. van Noort (Netherlands)
Srinivasa Vidyadhara (India)
Gershon Volpin (Israel)
Slobodan Vukicevic (Croatia)
Philippe Wicart (France)
Reinhard Windhager (Austria)
Christian Wurnig (Austria)
V. Zdravkovic (Switzerland)
W. Zhang (China)
Jie Zhao (China)
Michael Zimlitski (Georgia)
Founded in 1977 by Robert Merle d'Aubigné during the presidency of Calogero Casuccio.