SICOT e-Newsletter
 Issue No. 21 - June 2010
---
SICOT Events

- Seventh SICOT/SIROT Annual International Conference - Gothenburg, Sweden 
SICOT News

- SICOT/WOC Seminar on Postgraduate Training in Orthopaedic Surgery and Traumatology

- Maurice Hinsenkamp elected Member of the Royal Academy of Science, Literature and Arts of Belgium

- SICOT International Travelling Fellowship Report 2010

- SICOT Administrative Meetings 2010

- SICOT General Assembly

- Online Payment of Membership Dues
Worldwide News

 

- Report on the 15th Pan Arab Orthopaedic Congress

- WHO's initiative towards improving surgical care in developing countries

- Achieving the Millennium Development Goals (MDG): A Surgical Perspective

- World Orthopaedic Concern Newsletters

- Professional Diploma in Limb Reconstructive Surgery and Correction of Deformity

- Orthopaedic surgeon needed in Haiti

- Orthopaedics in South Africa and Uganda

- French speaking orthopaedic surgeon needed in Burkina Faso
---
In Memoriam
Don Webb joined SICOT in 1977 and was SICOT Australian National Delegate from 1984 to 1993 and subsequently re-elected from 1996 to 2000 when he was replaced by Brett Courtenay. Don was First Vice President at the time of the wonderful 1999 Sydney Congress organised by Neal Thomson. At the General Assembly in San Diego in 2002 he was made a Distinguished Member of SICOT for his outstanding contribution to the international Society. Read more...
---
Editorial by Maurice Hinsenkamp
-Â Conference Scientific Advisory Committee Chairman & SICOT President Elect
Since their creation in 2001, the SICOT Annual International Conferences have year after year significantly expanded in size and in scientific representation and excellence. This year, the conference is organised jointly with the Swedish Orthopaedic Association (SOF). Japan is the Friendship Nation and our colleagues from the Japanese Orthopaedic Association are organising two symposia and one plenary lecture given by Shinichi Kikuchi on "International collaboration beyond the culture gap". Five other plenary speakers will also be presenting a lecture this year:
Mohit Bhandari: "Evidence-based orthopaedics: how far have we come?"
Stevin Garfin: "Spinal motion sparing: is it here to stay?"
Tommy Hansson: "Ways to improve outcome in orthopaedic surgery"

Ian Learmonth: "What will shape improvement in THA in the future – Technology, Technique or Training?
and our SICOT President, Cody Bünger, will deliver a lecture on "Global Challenges in Orthopaedics". Read more...
---
SICOT Events
Seventh SICOT/SIROT Annual International Conference
combined meeting with the Swedish Orthopaedic Association (SOF)
31 August-3 September 2010 - Gothenburg, Sweden
Please visit the SICOT website regularly for updated information about Gothenburg AIC 2010.
All participants residing outside Sweden are kindly requested to register on the SICOT website.
Presenting authors are asked to insert their abstract numbers in the relevant field on the registration form.

IMPORTANT NOTE: The presenting author must register and pay in full before 26 July 2010 or his/her abstract will not be included in the Final Programme. The Conference Secretariat will not check if co-authors have registered and paid. Please notify the Conference Secretariat of any changes to the presenting author as soon as possible to avoid disappointment. 

Svenska deltagare anmodas vänligen att registrera sig på www.ortopediveckan.se.

Don't miss out on this unique opportunity to promote your products and services to leading international orthopaedic surgeons, traumatologists and specialists in related fields.

If you are interested in sponsoring or exhibiting at this event, please contact Lina Salvati or Arnold Persson:

The Exhibition & Sponsorship Prospectus is available to download here.
Click here to find out more about the Opening Ceremony & Welcome Reception, Presidents' Dinner, and Fun Night to be held during the Conference.

These events are not included in the conference registration fee. Registration can be done via the conference registration form. If you have already registered for the Conference and wish to attend a social event, please contact the SICOT Conference Secretariat at congress@sicot.org.
Golf and tennis tournaments and a charity run are being organised before and during the Conference period. Read more...

The sporting events are not included in the conference registration fee. Registration can be done via the conference registration form. If you have already registered for the Conference and wish to attend a sporting event, please contact the SICOT Conference Secretariat at congress@sicot.org. The number of places available for the golf and tennis tournaments is limited and registered participants will be accepted on a 'first come, first served' basis.   
Discover here the various hotels available around the Conference venue, the Swedish Exhibition & Congress Centre in Gothenburg.

For any queries regarding accommodation, please contact Congrex Sweden AB:
Fax: +46 31 708 60 25
E-mail: sicot.hotels@congrex.com  
---
SICOT News
SICOT/WOC Seminar on Postgraduate Training in Orthopaedic Surgery and Traumatology
The SICOT Education Committee has been discussing for a long time how SICOT should increase its role in uplifting "Education and Training" in the world, especially in developing countries, and a basic survey was carried out by Syed Awais in 2007-08.
In May 2009, during a meeting between Syed Awais (Secretary General WOC) and Ger Olyhoek (President WOC) in Arnhem, Netherlands, it was decided that SICOT and WOC would make joint efforts to improve quality of orthopaedic care in developing countries by improving orthopaedic training. The proposal was discussed by Syed Awais with Maurice Hinsenkamp, SICOT President Elect, in Brussels, and it was further agreed to hold a SICOT Seminar in developing countries to start the work. Read more...
Maurice Hinsenkamp elected Member of the Royal Academy of Science, Literature and Arts of Belgium
Maurice Hinsenkamp, SICOT President Elect, was elected as a Member of the Royal Academy of Science, Literature and Arts of Belgium (photo on the right) on 27 March 2010. He was solemnly received by the Academy on 29 May.
SICOT International Travelling Fellowship Report 2010
After starting to work on adolescent and young adult hip problems and the introduction of the concept of Femoroacetabular Impingement (FAI) in our university hospital, I was dreaming of having part of my training at the Inselspital, Bern University Hospital, Switzerland, in which the cornerstone of these surgeries were first introduced by Prof Dr Reinhold Ganz followed by Prof Dr Klaus Siebenrock. I had the honour of being awarded the "SICOT International Travelling Fellowship" that made my dream come true. Read more...
SICOT Administrative Meetings 2010
This year the SICOT Administrative Meetings will take place at the Gothia Towers Hotel in Gothenburg, Sweden, from Sunday, 29 August to Tuesday, 31 August 2010. Please make a note of these dates and check the SICOT website (Members' Area) regularly for any additional information or possible changes.
The SICOT General Assembly is open to all SICOT members and will take place on Wednesday, 1 September, from 17:45 to 18:45, at the Swedish Exhibition & Congress Centre in Gothenburg. The minutes of the 2009 General Assembly, which took place on 30 October in Pattaya, Thailand, are available in the Members' Area of the SICOT website. 
Online Payment of Membership Dues - REMINDER
SICOT members are invited to pay their 2010 membership dues online. We remind members that according to the SICOT Bylaws, "Payment shall be made normally by March 31st of any given year".
Payment can be made via the Members' Area of the SICOT website, which can be accessed by entering your username (member ID number/e-mail address) and password in the top left-hand corner of the website and pressing the "Login" button. Then click on "Pay your dues online" in the Members' Area.
 
If you do not have your password, please click on the "Forgot your password?" link above the menu on the left-hand side of the website. You will be redirected to another page, where you will need to fill in your e-mail address. A message containing a link will then be sent to the e-mail address you entered. Clicking on this link will open a new window, where you will be able to choose a new password.
 
If you have any questions or any problems accessing the Members' Area, please contact the SICOT Head Office at hq@sicot.org.
---
SICOT Global Network for Electronic Learning - SIGNEL
External jig-aided intramedullary interlocking nailing of diaphyseal fractures: experience from a tropical developing centre
Ikpeme Ikpeme, Ngim Ngim, Anthony Udosen, Obiora Onuba, Okokon Enembe & Segun Bello
Intramedullary interlocking nailing for diaphyseal fractures is a standard treatment option in affluent societies. These procedures are often performed under image intensifier guidance. The cost of these gadgets precludes their common use in resource poor regions. External jig-aided intramedullary interlocking nailing is relatively cheap and offers the chance for performing these procedures in resource poor regions. The aim of this study was to document the advantages, challenges and outcome of this form of treatment in a resource poor setting. Read more...
Case of the Month - In Memory of Charles Sorbie, 1931-2010
A 53-year-old school teacher presented at an orthopaedic clinic with a complaint of worsening pain in the right knee which had developed over the previous two years. The pain was dull and imprecise in its location. There were no episodes of injury to the knee which would have drawn attention to a particular pathology in it. The patient had a past history of quiescent ulcerative colitis and mitral valve prolapse. He had no fever or other indications of generalized disease. Read more...
Femoral Neck Fractures Training
A SICOT online course on Femoral Neck Fractures is available at mySmartHealthcare.com for SICOT members.
If you are a SICOT member, please log in to the SICOT website with your username (member ID number/e-mail address) and password. Information about password renewal is available on the SICOT website.
Once you have logged in, you can register for the course here.
---
Worldwide News
Report on the 15th Pan Arab Orthopaedic Congress
The 15th Pan Arab Orthopaedic Congress was held in Marrakech, Morocco (19-22 May). About 650 orthopaedic surgeons from 35 countries attended the meeting. In addition to general orthopaedic and trauma sessions, several symposia were organised on: arthroplasties for hip fractures, mini invasive forefoot surgery, hallux valgus and osteoporosis. During the Opening Ceremony, three official agreements were signed. The main event was the signing of the "Memorandum of Understanding" between SICOT and PAOA.
Read report...
WHO's initiative towards improving surgical care in developing countries
Bickler SW, Spiegel D: World J Surg (2010) 34: 386-90
(Summary below by Nanjundappa Harshavardhana)
Surgical conditions/pathologies (esp. injuries/obstetric emergencies and congenital anomalies) are increasingly being recognised as important public health problems. Since WHO's mandate is "attainment of highest possible level of health by all", it is committed to reducing the disparity in healthcare provision and promote health globally.
One such programme established in 2004-2005 to foresee and set minimum standards in surgical care with respect to infrastructure, training and staffing is the Global Initiative for Emergency and Essential Surgical Care (GIEESC) targeted towards low and middle income countries (LMIC). It also calls for collaboration between the national ministries of health (MoH), governmental agencies, other non-governmental agencies (NGO), surgical societies and other stakeholders to strengthen the existing facilities and deliver quality surgical services.
The GIEESC is in operation in 30 countries as a pilot project (including the world's two most populous countries, i.e. China and India) delivering surgical services as a comprehensive primary healthcare initiative. This new approach is owing to growing concern that surgical management of few/selected pathologies could be a more efficacious and cost-effective solution at long-term.
WHO has also developed a basic surgical training programme and educational materials based on the "Integrated Management of Emergency and Essential Surgical Care toolkit" and "Surgery at district hospital" which is highly recommended for further reading. In addition, the emphasis is also on training healthcare workers, team working, organisation, planning, record keeping and resuscitation skills/anaesthetic techniques.
The other WHO initiatives towards providing a safe, quality and comprehensive primary surgical service include:
Safe Surgery Saves Lives campaign

Guidelines for essential trauma care – developed in collaboration with the department of violence and injury prevention

A surgical checklist to reduce mortality/morbidity

Commitment to provide uninterrupted water, electricity, working anaesthetic machine(s)
at all centres where surgeries are performed in LMIC. Read more...
Achieving the Millennium Development Goals (MDG): A Surgical Perspective
Kushner AL, Cherian MN, Spiegl D et al. Arch Surg (2010) 145(2): 154-59
(Summary below by Nanjundappa Harshavardhana)
Only 3.5% of all procedures performed worldwide annually are undertaken in countries with per-capita health expenditure of <$100. Strengthening the existing surgical services is mandatory towards achieving the millennium development goals 4-6, i.e.:
reduction of child mortality;

improvement of maternal health;

the combat of HIV/AIDS.
The GIEESC (Global Initiative for Essential and Emergency Surgical Care) programme of WHO has developed a toolkit and checklist for situational analysis and evaluation of surgical infrastructure and care provision. The results of assessment of this programme in 30 countries where the above toolkit was employed are discussed in the above article by Kushner AL et al. Compliance in adhering to set protocols and guidelines was very challenging as only 9 out of 30 countries met the inclusion criteria (defined as feedback/report from at least 5 centres from each country).
The key findings of the report from 9 countries are the following:
No country had 100% facility providing continuous uninterrupted supply of water, electricity and oxygen.

Only a third of them (i.e. 3 countries) had a functional anaesthetic machine.

Protective gear for healthcare workers existed in less than 50% of occasions (aprons: 44% & goggles/eyewear: 24%).

All centres reported <50% ability to perform lifesaving and disability preventive emergency surgical procedures except for burn care (which was surprisingly 73%).
The millennium developmental goal 6, i.e. combatting the spread of HIV, is most challenging given the existing infrastructure and WHO calls for making emergency contingency plans for exposure prone procedure (EPP) healthcare workers in case of accidental exposure to body fluids and needle stick injuries.
The authors also acknowledge that the key limitation of this article is evaluation of capacity to provide surgical care and that they have not assessed the quality of surgical care delivered. Read more...
World Orthopaedic Concern Newsletters
World Orthopaedic Concern (WOC) is dedicated to improving the standard of orthopaedic and reconstructive surgery in all developing countries - in the tropics, subtropics, and anywhere where there is a need. WOC regularly circulates an interesting and informative
Newsletter worldwide, providing news of orthopaedic activity mainly in the developing areas of the world. It is hoped that the Newsletters will also be distributed to those who have little or no access to the internet. The most recent issues can be downloaded via the
SICOT website
and the WOC websites:
www.worldortho.com
/
www.wocuk.org
/
www.worldorthopaedicconcern.org
Professional Diploma in Limb Reconstructive Surgery and Correction of Deformity
The Pan Arab Orthopaedic Association (PAOA), in association with the Arab Medical Union, Arab Institute for Continuing Professional Development (AICPD), is organising a Professional Diploma in Limb Reconstructive Surgery and Correction of Deformity (LRS), which is planned to start in June 2010. Trainees from all around the world are welcome. Read more...
Orthopaedic surgeon needed in Haiti
MSF-Belgium is looking for an orthopaedic surgeon to work in Haiti for a minimum period of three weeks, preferably in the summer months. A full job description can be found here. For more information and to apply, please contact Lynette Dominguez: lynette.dominguez@brussels.msf.org   
Orthopaedics in South Africa and Uganda
Health Volunteers Overseas (HVO) is currently advertising an opportunity in South Africa and in Kampala, Uganda, where orthopaedic surgeons are needed for one-month assignments in the summer and fall 2010. For more information contact the program department.
French speaking orthopaedic surgeon needed in Burkina Faso
The Morija Humanitarian Organization recently inaugurated a surgery unit inside its Centre for the Handicapped of Kaya (CHK), which has existed since 1993 in Kaya, Burkina Faso. This project currently operates with short-term missions of Swiss surgeons, in cooperation with Burkinabe medical staff on site. Morija is looking for a French speaking orthopaedic surgeon for a two-year term to supervise the work in the surgical unit. More information about this project can be found here and the job description is available to download here.
---
Industry News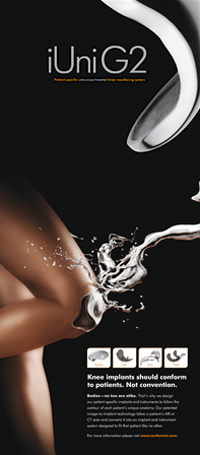 ORLive Broadcast
  
Next generation patient-specific knee resurfacing with the ConforMIS iUni® G2
On June 29th, 2010 at 17:00 CET the Orthopaedic clinic Koenig-Ludwig-Haus in Wuerzburg will present a live webcast of a partial knee replacement featuring the iUni® G2 patient-specific knee resurfacing system. The live procedure will be performed by Priv.-Doz. Dr. med. Ulrich Noeth from Orthopaedic clinic Koenig-Ludwig-Haus in Wuerzburg, Germany, and Dr. med. Wolfgang Fitz from Brigham and Women's Hospital, Harvard Medical School in Boston. It will be moderated by Prof. Dr. med. Maximillian Rudert, Head surgeon of the Orthopaedic department of the University of Wuerzburg and Clinical Director of the Orthopaedic clinic Koenig-Ludwig-Haus. The live broadcast will provide viewers with the chance to observe the patient-specific surgical technique and email questions to the surgeons.
A personalized Approach
The iUni® G2 Unicompartmental Knee Resurfacing System (ConforMIS, Inc.) is designed and manufactured using a proprietary patient-specific approach, enabling each patient to receive an implant that is made just for them. For certain patients, the customized fit enables a more bone preserving, resurfacing procedure that can help them maintain the natural kinematics of their knee. In addition, the iUni® G2 comes packaged together with disposable, patient-specific instrumentation called iJigs®, which are designed from the same scans as the implant. The iJig cutting and placement guides are designed to work with the implants to simplify the surgery and improve a quantum leap forward for knee replacement technology.
Learn more about "The Next Generation Patient-Specific Partial Knee Resurfacing with the ConforMIS iUni® G2", June 29th 5:00 p.m. CET on ORLive.
 
Arthroscopy Knee 
  
Improved version
Includes replacement parts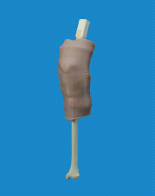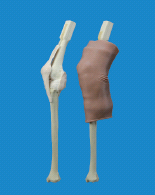 #1517-29-2
Replacement Skin #1517-32 and Replacement bone insert #1517-29-3
Semi-disposable knee simulator with: Normal Meniscus and clamp.
Realistic internal structures that allow full range of motion to 120 degrees.
Can be ordered with or without menisci tears. Can be ordered with or without the ACL and PCL.
Procedures that can be performed on the arthroscopy knee include:
- Meniscal repair
- Meniscetomy
- ACL/PCL repair
- Osteochondral resurfacing
- Total joint replacement
The model can be used with Sawbones allografts, bone and tendon grafts.
To read more news, please click here.
Sawbones Europe AB
Krossverksgatan 3
SE-216 16 Malmö
Sweden
Tel.: (+46) 40 650 70 00
Fax: (+46) 40 650 70 01
E-mail: info@sawbones.se  
Website: www.sawbones.com
---
Editorial Department
 
Editorial Secretary: Syed Awais
Assistant Editorial Secretary: Hatem Said
External Affairs: Linda Ridefjord
Special thanks to Anthony Hall
 
Rue Washington 40-b.9, 1050 Brussels, Belgium
Tel.: +32 2 648 68 23 | Fax: +32 2 649 86 01
E-mail: edsecr@sicot.org | Website: www.sicot.org 
---
Disclaimer: Some of the views and information expressed in this e-Newsletter include external contributors whose views are not necessarily those of SICOT. SICOT is not responsible for the content of any external internet sites.
---