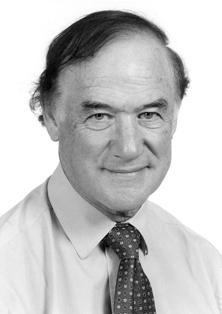 Prof Charles Sorbie
1931-2010
On 29 March 2010, with Janet by his side, Charles Sorbie was fatally injured in a skiing accident in British Columbia. Charlie was born in Hamilton, Scotland on 20 June 1931, the son of Charles Sorbie and Hannah Clark. He studied Medicine at Glasgow University, graduating in 1953. He trained in Surgery and obtained a Fellowship of the Royal College of Surgeons of Edinburgh. He spent two years in Boston as a Harvard Fellow in Orthopaedic Surgery and in 1965 he moved to Canada with his family to be appointed Professor and Head of Orthopaedic Surgery at Queen's University in Kingston, Ontario. Here he established a Bioengineering Unit, now known as the Human Mobility Centre where he and his colleagues designed and developed the Sorbie Questor elbow prosthesis.
He was Canadian National Delegate of SICOT from 1977 to 1987. In 1990 he was Congress President for the highly successful XVIII Congress in Montreal. The proceeds from this enabled him to establish the Canadian Scholarships which provided funds for a visiting professor to travel to an orthopaedic training establishment anywhere in the world to assess facilities and standards and provide a report. Often the report was used to encourage the university to provide improved facilities or demonstrate the need for change. It could be said that of all the guiding principles of the founding fathers of SICOT, Charlie was most concerned with Education. He introduced the SICOT Training Manual based on the Core Curriculum of the Canadian Orthopaedic Association and was heavily involved with the establishment of SICOT Training Centres around the world. He was co-examiner with Tony Hall from the inauguration of the SICOT Diploma Examination in 2003. He was responsible for the written paper each year. He was President of the Canadian Orthopaedic Research Society from 1975 to 1976, President of the Canadian Orthopaedic Association in 1986-87 and President of SICOT from 1996 to 1999. He was on the Editorial Boards of several Orthopaedic publications and wrote a monthly column in the American Journal of Orthopaedics for the past ten years.
A born raconteur, his skills would frequently be called upon for after dinner speeches and he was the natural choice to present a history of the first 70 years of the Society at the celebrations to mark the establishment of SICOT at hôtel Crillon in 2000. His talk charmingly linked the evolution of the Society with fashions in music, art and dress of the times. The material was later used to produce a book marking the 75th anniversary and dedicated to the "... surgeons, administrators, secretaries and partners whose untiring work has made this Society of colleagues and friends, one of the greatest global organisations caring for the injured and disabled".
Charlie married Dr Janet Wynne-Edwards in 1957 and their happy union continued for 53 years. His tragic loss will be keenly felt by Janet, their three daughters, Pamela, Alison and Valerie, and their eight grandchildren.