SICOT e-Newsletter
 Issue No. 17 - February 2010
---
---
Editorial by Prof Cody Bünger
SICOT President
Why subspecialty sections in SICOT?
SICOT is undergoing major changes in accordance with our Strategy Plan which was approved by the International Council in Bangkok during October 2009. We are trying to be more competitive in the orthopaedic world to meet the challenges it presents. Among the new activities we are embarking on is the creation of subspecialty sections within SICOT. They should attract the brightest and the best with contemporary knowledge to provide the best education and scientific programmes at our meetings. To succeed we will work in collaboration with our affiliated subspecialty societies such as IFPOS, ARTOF, and others. Read more...
---
SICOT Events
Seventh SICOT/SIROT Annual International Conference
combined meeting with the Swedish Orthopaedic Association (SOF)
31 August-3 September 2010 - Gothenburg, Sweden
Please visit the SICOT website regularly for updated information about Gothenburg AIC 2010.
All participants residing outside Sweden are kindly requested to register on the SICOT website.

Svenska deltagare anmodas vänligen att registrera sig på www.ortopediveckan.se.

Abstracts

: Submitted abstracts are currently being peer reviewed. Notification of acceptance or rejection will be sent by e-mail to the first author at the beginning of March.

Please note that abstracts will be withdrawn if the presenting author has not registered and paid the registration fee.

To avoid disappointment, please notify the Conference Secretariat at

congress@sicot.org

of any changes to the presenting author as soon as possible.

 

Instructional Courses

: Instructional courses for doctors will be given in English. All courses will be held in parallel on Tuesday, 31 August from 09:00 to 12:00. Course registration must be done in advance.
The Australian and Lester Lowe SICOT Awards are granted to young surgeons to help them attend the Conference. Candidates may not apply for more than one award for each Conference. Free conference registration is granted to award winners who must attend the Closing Ceremony on Friday, 3 September to receive their prize. Read more...

Application deadline for the Australian SICOT Awards is 28 February 2010!
SICOT Diploma Examination
The eighth SICOT Diploma Examination will take place in Gothenburg, Sweden, on Tuesday, 31 August. It will consist of a written part and an oral part. Online registration is now open on the SICOT website. Read more...
Discover here the different hotels available around the Conference venue, Göteborg Convention Centre.

For any queries regarding accommodation, please contact Congrex Sweden AB:
Fax: +46 31 708 60 25
E-mail: sicot.hotels@congrex.com  
If you are interested in sponsoring or exhibiting at this event, please contact Lina Salvati or Arnold Persson:

Don't miss out on this unique opportunity to promote your products and services to leading international orthopaedic surgeons, traumatologists and specialists in related fields.

The Exhibition & Sponsorship Prospectus is available to download here.
---
SICOT News
Prof Maurice Hinsenkamp elected Member of the French Academy of Surgery
Prof Maurice Hinsenkamp, SICOT President Elect, has been elected Member of the prestigious French Academy of Surgery founded in 1731 in Paris. He was admitted during an official ceremony on 20 January 2010.
| | |
| --- | --- |
| | Prof Hinsenkamp congratulated by the President of the Academy, Dr Jacques Poilleux |
SICOT booth at AAOS 2010 Annual Meeting
SICOT will be present at the AAOS 2010 Annual Meeting in New Orleans, Louisiana, from 9 to 13 March. We invite you to visit us at booth 5411 in Hall F to find out more about the Society and what it has to offer.
SICOT Travelling Fellowships
Congratulations to Dr Dharmendra Singh from India and Dr Ahmed Abdel-Azeem from Egypt who have been selected for the 2010 SICOT Danish Travelling Fellowship and International Travelling Fellowship, respectively.

Dr Singh will be spending three months at the Department of Orthopaedic Surgery at Aarhus University, Denmark, working under the tutorship of Prof Cody Bünger, SICOT President. Dr Abdel-Azeem will spend three months at the Orthopaedics and Trauma Surgery Department of the University Hospital of Bern in Switzerland, which is headed by Prof Dr Klaus Seibenrock.

The awardee of the German Travelling Fellowship will be announced in the next issue of the e-Newsletter. For more information about the SICOT Travelling Fellowships, please visit the SICOT website.
---
SICOT Global Network for Electronic Learning - SIGNEL
Arthroscopic-assisted Locking Compression Plate clavicular hook plate fixation for unstable fractures of the lateral end of the clavicle: a prospective study
Kwang Won Lee, Sang Ki Lee, Kap Jung Kim, Yong In Kim, Won Cho Kwon & Won Sik Choy
The aim of this prospective study was to assess the clinical outcomes of an unstable fracture of the lateral end of the clavicle treated with an arthroscopic-assisted locking compressive plate (LCP) clavicular hook plate. Read more... (accessible to SICOT members only)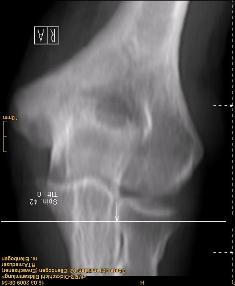 A 26-year-old young woman is presented to the orthopaedic department. She reports an operation of the right elbow with transfer of the ulnar nerve 4 years ago, but pain remained moderate to intense, increasing during the night. A medication with nonsteroidal anti-inflammatory drugs (NSAID) is used with good results.

At time of presentation the X-ray shows a small rounded to oval area of osteolysis, surrounded by a regular halo of bone sclerosis in the region of the ulnar suclus (Fig. 1).
Read more... (accessible to SICOT members only)
 
 
 
---
Worldwide News
Biomarkers help predict the effectiveness of TNF antagonist drugs in RA
Tumor Necrosis Factor (TNF) antagonist drugs have brought relief for many Rheumatoid Arthritis (RA) patients. Example drugs like Enbrel, Humira and Remicade may cost up to $16,000 per year, however 30-50% of patients do not benefit from them. Researches in the Hospital for Special Surgery found that patients with a high base level of Type I Interferon protein, especially IFN beta, were more likely to respond to these TNF antagonist drugs.

This potentially could save the cost of treatment in patients who are not expected to benefit from them.
Hospital for Special Surgery. "Biomarker Could Help Doctors Tailor Treatment for Rheumatoid Arthritis."
ScienceDaily 2 February 2010.
5 February 2010 www.sciencedaily.com­/releases/2010/01/100129111751.htm.
'Size Does Matter' in Metal on Metal bearing surfaces
A recent paper published in the January issue of the JBJS British reviewed 650 hip resurfacings and total hip arthroplasties through the course of a 7-year period. They compared the Birmingham Hip Resurfacing (BHR) to the Articular Surface Replacement (ASR). There was 4.4% failure in the ASR group but none in the BHR group.
The investigators found that the soft tissue reactions are typically due to increased wear of the bearing surfaces, and patients with smaller femoral heads may be particularly susceptible to these complications. Also the reduced arc of cover of the fourth-generation ASR cup has led to an increased failure rate secondary to the increased generation of metal debris.
Early failure of metal-on-metal bearings in hip resurfacing and large-diameter total hip replacement.
D.J. Langton, S.S. Jameson, T.J. Joyce, N.J. Hallab, S. Natu, A.V.F. Nargol.
Journal of Bone and Joint Surgery - British Volume, Vol 92-B, Issue 1, 38-46.
---
Industry News
Metha® Short Hip System
Evolving the State of Arthroplasty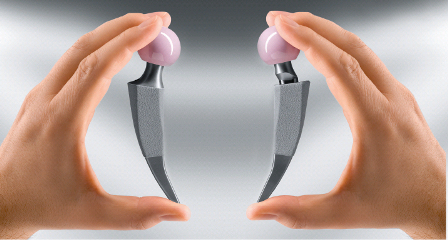 Short Hip for a Big Step.
The Hip Arthroplasty is defining new state of implants along with changing the anchoring philosophy of stems.
The design of the Metha® Short Hip Stem is based on a metaphyseal anchoring concept, that provides with his modularity an optimal reconstruction of the hip of your patient.
Preserving bone, being minimal invasive in soft tissue, best suitable for all approaches that are dedicated for less invasive surgery brings Metha®, the short stem, a step ahead and makes it to a real modern alternative!
Give your patient the freedom, that a hip can give.


Aesculap AG | Am Aesculap-Platz | 78532 Tuttlingen | Germany
Tel.: +49 (0) 74 61 95-0 | Fax: +49 (0) 74 61 95-26 00 | www.aesculap.de
---
Editorial Department

Editorial Secretary: Prof Dr Syed Awais
Assistant Editorial Secretary: Dr Hatem Said
External Affairs: Linda Ridefjord
Special thanks to Prof Charles Sorbie

Rue Washington 40-b.9, 1050 Brussels, Belgium
Tel.: +32 2 648 68 23 | Fax: +32 2 649 86 01
E-mail: edsecr@sicot.org | Website: www.sicot.org 
---
Disclaimer: Some of the views and information expressed in this e-Newsletter include external contributors whose views are not necessarily those of SICOT. SICOT is not responsible for the content of any external internet sites.
---