SICOT wishes you a Happy New Year!
---
SICOT e-Newsletter
 Issue No. 16 - January 2010
---
Gothenburg AIC 2010
Don't miss the deadline for submission of abstracts: 15 January 2010!
Only ONE week left!
---
---
Editorial by Prof Björn Rydevik
Conference President -Â Gothenburg AIC 2010
Dear colleagues and friends,
 
First of all, I wish you all a Happy New Year. I would also like to extend to you a warm welcome to Gothenburg, Sweden, for the SICOT/SIROT/SOF conference, 31 August - 3 September this year. The local organising committee in Gothenburg is inspired by the success of the SICOT/SIROT/RCOST conference in Pattaya, Thailand, in the autumn of 2009 and we are working hard, together with the executive committees and administrative offices of SICOT and SOF, to make the conference in Gothenburg an interesting and enjoyable educational event. The Annual International Conference in Gothenburg will be a combined meeting with SOF, i.e. the Swedish Orthopaedic Association, in the same way as the conference in Pattaya was a combined meeting with RCOST. Read more...
---
SICOT Events
Seventh SICOT/SIROT Annual International Conference
combined meeting with the Swedish Orthopaedic Association (SOF)
31 August-3 September 2010 - Gothenburg, Sweden
Please visit the SICOT website regularly for updated information about Gothenburg AIC 2010.
Please submit your abstracts in English via the SICOT website before 15 January 2010! Only ONE week left!

Topics: Arthroplasty, Biomaterials, Cartilage Repair, Evidence Based Orthopaedics, General Orthopaedics, Infection, Minimally Invasive Surgery, Navigation, Osteoporosis, Paediatrics, Smoking & Orthopaedics, Spine, Sports Medicine, Trauma, Tumours.
All participants residing outside Sweden are kindly requested to register on the SICOT website.

Svenska deltagare anmodas vänligen att registrera sig på www.ortopediveckan.se.

The Australian and Lester Lowe SICOT Awards are granted to young surgeons to help them attend the Conference. Click here to find out more. 
If you are interested in sponsoring or exhibiting at this event, please contact Lina Salvati or Arnold Persson:

Don't miss out on this unique opportunity to promote your products and services to leading international orthopaedic surgeons, traumatologists and specialists in related fields.

The Exhibition & Sponsorship Prospectus is available to download here.
---
SICOT News
SICOT booth at AAOS 2010 Annual Meeting
SICOT will be present at the AAOS 2010 Annual Meeting in New Orleans, Louisiana, from 9 to 13 March 2010. We invite you to visit us at booth 5411 in Hall F to find out more about the Society and what it has to offer.
---
SICOT Global Network for Electronic Learning - SIGNEL
Functional outcome of PFC Sigma fixed and rotating-platform total knee arthroplasty. A prospective randomised controlled trial
Birgit Hanusch & Lou Thai & Gary Warriner & Anthony Hui & Paul Gregg
The aim of this study was to determine whether there is a difference in functional outcome between the PFC Sigma fixed-bearing and rotating-platform total knee replacement systems. Read more... (accessible to SICOT members only)
A sixty-three-year-old man was seen at another institution in July 2009 because of pain in the right part of the groin after swimming. The patient was initially managed with no steroidal anti-inflammatory drugs. The patient continued to have increasing pain and limped.
Below you can see his AP pelvis radiograph (Fig. 1).
What is his problem?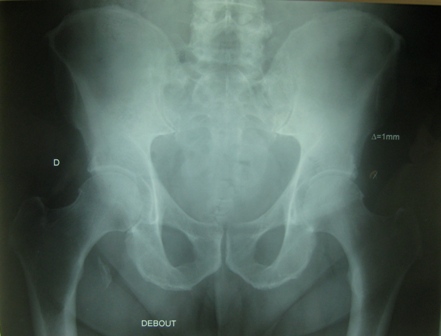 Fig. 1
Read more... (accessible to SICOT members only)
---
Worldwide News
Three options for Medial Compartment OA: UKA, HTO and TKA
Patients with medial osteoarthritis may have several surgical management options. These are unicompartmental knee arthroplasty (UKA), high tibial osteotomy (HTO) or total knee arthroplasty (TKA) and it is often difficult to decide which one is appropriate because there is considerable overlap in indications for all three options. Dalury DF. et al studied 23 patients with osteoarthritis who had a TKA on one side and a UKA on the other. Of the 23 patients, 11 expressed no preference between either knee and 12 preferred the unicompartmental knee; no patient preferred the total knee. Another study by Griffin T. et al, which aims to assess the safety and efficacy of UKA compared with TKA and HTO in unicompartmental osteoarthritis, shows that UKA is considered at least as safe and efficacious as TKA and HTO. In a study by W-Dahl A. et al, the revision rate was similar for HTO (17%) and for UKA (17%) in patients aged 30-64 years.
Links:
1- Unicompartmental knee arthroplasty compares favorably to total knee arthroplasty in the same patient.
Dalury DF, Fisher DA, Adams MJ, Gonzales RA. Orthopedics. 2009 Apr;32(4).
2- Unicompartmental knee arthroplasty for the treatment of unicompartmental osteoarthritis: a systematic study.
Griffin T, Rowden N, Morgan D, Atkinson R, Woodruff P, Maddern G. ANZ J Surg. 2007 Apr;77(4):214-21.
3- Surgery for knee osteoarthritis in younger patients.
W-Dahl A, Robertsson O, Lidgren L. Acta Orthop. 2009 Dec 8.
Unicondylar replacement in knee for young patients which have ACL deficiency with functional instability and osteoarthritis
A recent study published in the December issue of the J Orthop Surg Res. reviews severe symptomatic osteoarthritis in young and active patients with pre-existing deficiency of the anterior cruciate ligament and severe functionally instability. This is a difficult subgroup to manage. There is considerable debate regarding management of young patients with isolated uni compartment osteoarthritis and concomitant ACL deficiency. In this small series they have shown that instability can be corrected and pain relieved by this combined procedure.
ACL reconstruction with unicondylar replacement in knee with functional instability and osteoarthritis.
J Orthop Surg Res. 2009 Dec 17;4(1):43Â 
---
Industry News
Knee implants should conform to patients. Not convention.

Bodies - no two are alike. That's why we design our patient-specific implants and instruments to follow the contour of each patient's unique anatomy. Our patented image-to-implant technology takes a patient's MR or CT scan and converts it into an implant and instrument system designed to fit that patient like no other.

For more information please visit www.conformis.com.
---
Editorial Department

Editorial Secretary: Prof Dr Syed Awais
Assistant Editorial Secretary: Dr Hatem Said
External Affairs: Linda Ridefjord
Special thanks to Prof Charles Sorbie

Rue Washington 40-b.9, 1050 Brussels, Belgium
Tel.: +32 2 648 68 23 | Fax: +32 2 649 86 01
E-mail: edsecr@sicot.org | Website: www.sicot.org 
---
Disclaimer: Some of the views and information expressed in this e-Newsletter include external contributors whose views are not necessarily those of SICOT. SICOT is not responsible for the content of any external internet sites.
---