SICOT e-Newsletter
Issue No. 12 - September 2009
2009 German SICOT Fellowship Report
Dr Arungeethayan Rajniashokan
SICOT member, Scotland, United Kingdom
Dr Emal Wardak
SICOT member, Kabul, Afghanistan
There was exciting news for us inside an envelope after completing the SICOT Diploma Examination in Hong Kong in August 2008. Nothing could be more exciting than being granted a German SICOT Fellowship after securing the first two places in the Diploma Examination. The Fellowship is for four weeks to be spent at four centres of excellence in Berlin, Erlangen, Rummelsberg and Würzburg.
Anticipation grew in us as the days rolled by and it was time to fly to Berlin, our first stop. Many questions arose before the trip: Do we have to learn German? How will we be received at the Centres? Will we be able to participate actively in patient management? Will the people we meet be friendly? We found the answers to these questions when the fellowship started.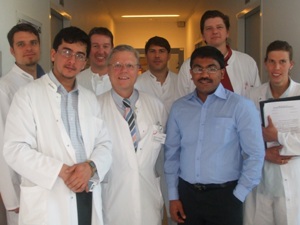 The two Fellows with Prof Keinapfel and his team
With some apprehension we landed in Berlin over a weekend to start the Fellowship on Monday, 3 May 2009. It was good to know that language would not be a problem after the person at the information desk in Berlin airport guided us with directions in English to the place where we were going to stay and also to Augusta Victoria Clinic. Berlin was very cosmopolitan and we settled into our apartment hotel in the heart of the city. We could not have asked for a more comfortable place to stay. It was the first day of the Fellowship and we met Prof Hino Keinapfel in his rooms. We got a very warm and friendly welcome, more than we ever imagined. We were made to feel at home. After a brief account of their work, we were escorted to the operating room. It was impressive to see people operating on elective patients as early as 8 a.m. The health system in Germany is different to that in the United Kingdom and waiting times seem to be less than what we had learned from our German colleagues. After three busy days in the operating theatre we were taken out by the Professor for dinner at an Italian restaurant. That was very generous and made us feel that the Fellowship was not just about seeing surgeries. It was giving us an opportunity to socialise and learn interesting facts about surgeons around the world. The next weekend was spent sightseeing in Berlin which has a huge history. The historical Brandenburg Gate, the Jewish memorial, the Reichstag, a cruise on the river Spree, the concentration camp in Oranienburg and the neglected bunker site of Adolf Hitler are some of the many sites worth mentioning.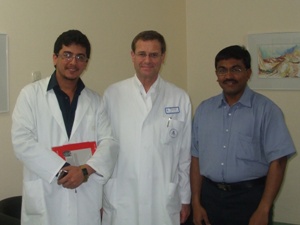 In Erlangen with Prof Forst
Our next destination was Erlangen, a small town in Bavaria. After a four-hour train journey from Berlin we reached Erlangen, the birthplace of Siemens. A stark change from Berlin's cosmopolitan look made us wonder what sort of hospital we would be visiting the next day. Is this place worth visiting? Are we going to get bored? But not at all. The Waldkrankenhaus was in an idyllic setting among woods and looked more like a resort. Perhaps the quiet and pollution free atmosphere contributes to the quick recovery of patients and to the strength and vigour of their surgeons who work tirelessly. Little did we realise initially that we were in a centre of excellence for neuromuscular disorders until we visited the clinics and saw patients coming from as far away as Hamburg and Italy. The team effort from the neuropaediatrician, orthopaedician, orthotist and physiotherapist in treating children is much to be applauded. The walking aids and orthotic appliances for children, despite looking simple, made a huge difference to their lives. Prof Raymond Forst, who has contributed much to the treatment of neuromuscular disorders, especially Duchenne's, was friendly, respectable and dedicated. It was a great privilege to work with him and it was generous of him to offer us his book on Duchenne's dystrophy. Scoliosis correction in a muscular dystrophy child was a privilege to watch. A trip to Bamberg, a small hillside town with gorgeous churches and a palace, completed our week.

In Rummelsberg with Dr Baur
  


The "joint factory" - theatre suite in Rummelsberg
 
We made our way to Rummelsberg, a small village on the outskirts of Nurnberg. The size of the towns diminished as we moved along, but not the amount or the quality of work done in these centres. It was Dr Wilhelm Baur, a down-to-earth person and a great academician, who gave us a lecture on high tibial osteotomy and short stems in hip replacements. We worked with him for a week. The hospital surroundings were even more serene than Erlangen. The operating room arrangement was impressive and mimicked a battlefield operating suite. We would not be mistaken in referring to the arthroplasty box as a "joint factory". Such was the amount of work going on, at a rapid pace and turnover. It was good to see the excellent results of high tibial osteotomy and short stem hip replacements. Visits to Nurnberg fulfilled the extracurricular aspects of this leg of the trip.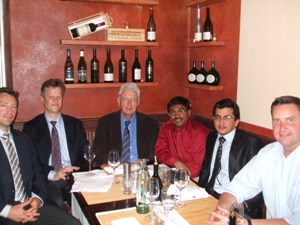 A night out in Würzburg with Dr Luedemann,
Prof Rudert, Prof Eulert, and Dr Noeth
The final stopover was at Würzburg with Prof Maximilian Rudert, SICOT National Delegate of Germany. A Franconian city, built from the ruins of World War II, amongst the vineyards, with the river Maine flowing through the centre and a castle atop a hill overlooking the city, are the highlights of this historical wine producing town. The hospital, an exclusive orthopaedic centre, situated among the suburbs reminded me of British hospitals in many ways. A total femoral replacement in an elderly person amongst others was a visual delight. An evening at the African festival venue was a nice way to complete the trip. Dinner with Prof Jochen Eulert and company in one of the finest hill-top restaurants of the city was very enjoyable.
Prof Eulert has a great vision for SICOT and has given us the idea of creating a forum for SICOT Fellows which could be a platform for sharing experiences and providing information to new Fellows.
Overall, the Fellowship was enjoyable, informative and a very pleasant experience. The surgeons were all friendly and down-to-earth and we were looked after, as if we were their own kith and kin, whether in the hospital or outside. This report would not be complete if we failed to appreciate the work of the secretaries in all the above places, without whose help it would have been difficult to schedule our journey and the Fellowship as a whole. We will always cherish the memories of those four weeks in Germany. It would be incomplete if we did not appreciate the country as a whole which is filled with hardworking people in every field of endeavour.