Education/Training
SICOT Travelling Fellowships
2009 International Travelling Fellowship Report
Dr Ghulam Shabbir (Pakistan)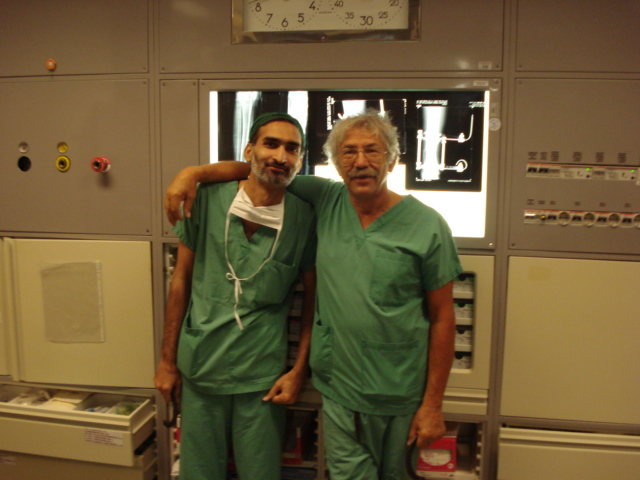 Dr Ghulam Shabbir and Prof Catagni
I was awarded the SICOT International Travelling Fellowship for three months to be spent with Prof M.A. Catagni at the Alessandro Manzoni Hospital in Lecco, Italy. This Fellowship has extended from the start of June till 31 August 2009. It is intended to improve orthopaedic knowledge and communication between developed and developing countries.
Lecco is a city surrounded by mountains on all sides. The weather at Lecco was perfect. I was able to enjoy snow in the mountains. The city is blessed with a natural setting of water and greenery beside a beautiful lake.
I arrived in Lecco on 4 June. Dr Wael Azzam, one of Prof Catagni's Fellows from Egypt, had arranged a lovely apartment for my stay in Lecco.
The Alessandro Manzoni Hospital where I worked has 450 beds. The Chief of the Orthopaedic & Ilizarov Department is Prof Catagni. He is one of the founders of ASAMI International and currently the President of ASAMI-Italy.
On my first day in the Hospital, Prof Catagni introduced me to his Ilizarov team and the other orthopaedic surgeons of his department. I scrubbed in many operations for hemimelia of the tibia, segment transport for bone loss from the humerus radius, tibia, femur and I saw bone lengthening in a case of achondroplasia. I also had the opportunity to learn about the Taylor Spatial Frame.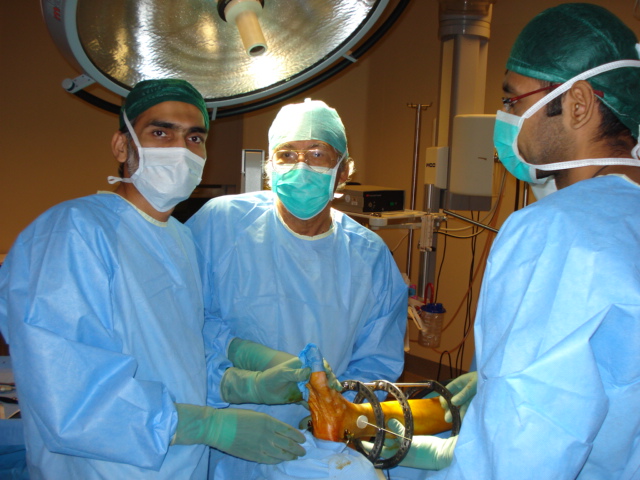 I gained much knowledge during this prestigious learning opportunity. I pay homage and great tribute to all from whom I received valuable experience and encouragement during my Fellowship, In particular, Prof Syed Awais (SICOT National Representative of Pakistan) who urged me to apply for the Fellowship and Ms Linda Ridefjord, Fellowship Coordinator, who remained helpful throughout the duration of the Fellowship.
I was very fortunate to be given this opportunity to travel to Italy as a SICOT Fellow. I was informed by previous Fellows of Prof Catagni that it would be a great experience and I strongly agree with them. I was able to see many cases and to learn from my hosts. I was touched by the warm and generous hospitality. Many thanks to Dr Catagni, Dr F. Guerreschi, Dr Lovisetti from the Ilizarov Unit at the Alessandro Manzoni Hospital for their warm hospitality (and for teaching me some Italian words!) despite their busy schedule.
I would like to thank SICOT for giving me this chance to represent my country, Pakistan, and again Prof Catagni for being such a wonderful host.