SICOT e-Newsletter
 Issue No. 12 - September 2009
SICOT Events


- Sixth SICOT/SIROT Annual International Conference - Pattaya, Thailand

- Seventh SICOT/SIROT Annual International Conference - Gothenburg, Sweden 
SICOT News


- SICOT General Assembly

- New SICOT Membership Application Form
Training & Education

- 2009Â German SICOT Fellowship Report

- Book Review: "Orthopedic Traumatology - A Resident's Guide"

- Case of the Month
---
Editorial by Prof Maurice Hinsenkamp
President Elect & Congress Scientific Advisory Committee (CSAC) Chairman
Less than two months remain before our next Scientific Meeting in Pattaya.
It is time for those who have not registered yet to do so, as it will have an exceptional scientific programme, in addition to the social and cultural events at a wonderful beach resort. The main topics in orthopaedic surgery and in bone trauma will be covered. Read more... 
---
SICOT Events
Sixth SICOT/SIROT Annual International Conference
combined meeting with the Royal College of Orthopaedic Surgeons of Thailand
29 October-1 November 2009 - Pattaya, Thailand
Final Programme: The Final Programme will be published on the SICOT website shortly. We invite you to check it and inform the Conference Secretariat of any changes. The Preliminary Scientific Programme is currently available on the SICOT website and is updated regularly.  

Oral Presentation Guidelines: Information about the equipment available for presentations and the Speaker Preview Room can be found here.

Poster Guidelines: The size, layout and set-up time for posters are detailed here.
Online conference registration is open until 15 September 2009! Only 2 days left!

Final reminder to authors of abstracts: At least one author of each abstract must register and pay the conference registration fee to have his/her abstract(s) included in the Final Programme and CD-ROM of Abstracts. We kindly ask all presenting authors to indicate their abstract number(s) on the registration form.
Presidents' Dinner: Commemorate SICOT's 80th Anniversary at the Presidents' Dinner in Pattaya on Saturday, 31 October! The celebratory event promises to be an entertaining, memorable and unforgettable evening for everyone. Don't miss it!
Keep fit and have some fun while running for a good cause! Take part in the 3-km charity run and help a young surgeon attend the next SICOT meeting in Gothenburg, Sweden. Read more...
SICOT warmly thanks Merck & Co., Inc. for supporting this event.
The Exhibition will be open on 30 and 31 October from 08:00 to 17:30, and on 1 November from 08:00 to 14:30. It will be located on Level 3 of the Pattaya Exhibition and Convention Hall (PEACH).

SICOT invites you to visit its booth (44G) to find out more about the Society and what it has to offer. Â 
Seventh SICOT/SIROT Annual International Conference
combined meeting with the Swedish Orthopaedic Association (SOF)
31 August-3 September 2010 - Gothenburg, Sweden
Updated information about Gothenburg AIC 2010 is now available on the SICOT website!
Message from the Conference President, Prof Björn Rydevik
It is a pleasure and an honour to invite you to the Seventh SICOT/SIROT Annual International Conference on 31 August - 3 September 2010 in Gothenburg, Sweden (Göteborg in Swedish). Gothenburg is located in the heart of Scandinavia on the west coast of Sweden, it is a leading European event venue and English is widely spoken in the city. Read more...
Abstract submission will be open from 1 October 2009 to 15 January 2010. Please submit your abstracts in English via the SICOT website.

Topics: Arthroplasty, Biomaterials, Cartilage Repair, Evidence Based Orthopaedics, Infection, Minimally Invasive Surgery, Navigation, Osteoporosis, Paediatrics, Smoking & Orthopaedics, Spine, Sports Medicine, Trauma, Tumours.
Conference registration opens on 1 October 2009! More information will be published online shortly.
Please visit the SICOT website regularly for updated information
about these two Conferences.
---
SICOT News
All SICOT members are invited to attend the SICOT General Assembly which will take place on Friday, 30 October 2009 from 17:30 to 18:30 in Pattaya 11 at the Pattaya Exhibition and Convention Hall (PEACH) in Pattaya, Thailand. The meeting agenda includes:
Opening remarks and approval of the minutes of the 26 August 2008 General Assembly
Report of the President
Report of the Secretary General
Report of the Treasurer
Any other business
The minutes of the General Assembly held on 26 August 2008 in Hong Kong can be downloaded via the Members' Area of the SICOT website.
The username and password needed to access the Members' Area can be requested from the SICOT Head Office at hq@sicot.org.
New SICOT Membership Application Form
Check out the new and improved SICOT Membership Application Form. Joining the International Orthopaedic Community has never been so simple! For more information about membership application, please send an e-mail to hq@sicot.org.
---
Training & Education
2009 German SICOT Fellowship Report
Click here to read the report of Dr Arungeethayan Rajniashokan and Dr Emal Wardak, who were offered the German SICOT Fellowship for 2009 and recently spent four weeks at four centres of excellence in Berlin, Erlangen, Rummelsberg and Würzburg.
Book Review: "Orthopedic Traumatology - A Resident's Guide"
Second Edition by David Ip
The handbook, Orthopedic Traumatology - A Resident's Guide, is intended to be a quick guide not only for trauma specialists but also for general orthopaedic surgeons, residents preparing for exams, physiotherapists, and other health care executives interested in orthopaedic traumatology. Accidents resulting in polytrauma are among the leading causes of death in the young (<40-year-olds) and can have major socioeconomic consequences. Poor management of trauma can worsen morbidity and increase mortality. Trauma care is among the most rapidly growing branches of surgery and, therefore, a sound knowledge of the state of the art in musculoskeletal traumatology is essential. It can be found in this guide, which integrates evidence-based knowledge with up-to-date literature. Read more...
Imagine the following scenario: a young colleague working in an outpatient clinic for trauma surgery confronts you with the following case. The patient is a 27-year-old woman with fast increasing pain in the area of the left hip with no recollection of trauma. Which radiological findings can you specify on these presented X-rays?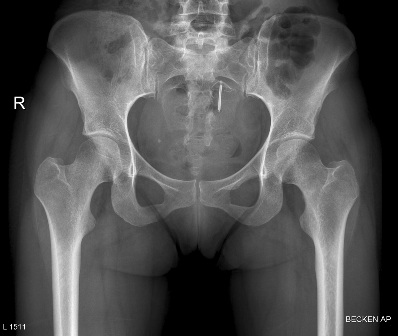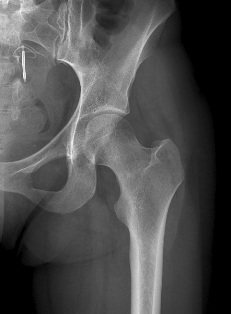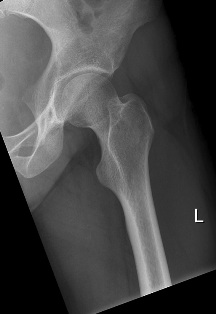 Possible answers:
no skeletal pathology and no signs of fracture

slight changes of the femoral head

slight changes in the femoral neck
Independently of your answer, which step would you take next? Read more...
---
Worldwide News
HVO Volunteer Opportunities
Health Volunteers Overseas (HVO) is currently advertising an opportunity for orthopaedists in Wenzhou, China. Orthopaedists are needed in 2010 to provide subspecialty training to local physicians at the Second Affiliated Hospital of Wenzhou Medical School. Assignments are for 3 to 4 weeks. Contact the program department for more information.
---
Industry News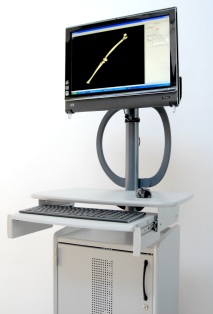 Emovi introduces KneeKG™, the first orthopedic joint analysis device of its kind. KneeKG offers dynamic tri-planar analysis of the knee in motion for pre and post surgical procedures. This innovative approach to knee assessment enhances traditional x-ray and MRI diagnostics by providing precise and quantifiable knee joint condition in easy to read reports. The ability to identify and quantify ligament instabilities, muscular imbalances, abnormalities associated with OA and other diseases, along with residual deficiencies post surgery and rehabilitation progress improves the surgeon's ability to provide a total knee assessment. KneeKG assists orthopedic surgeons in tailoring and optimizing treatment plans for patients for a faster and full functional recovery.
Emovi Inc.
180 Peel Street / Suite 300
Montreal, QC
Canada H3C 2G7

www.emovi.ca  
Tel.: +1 514 227 7740
E-mail: info@emovi.ca  
Information leaflet (pdf)
---
Editorial Department

Editorial Secretary: Prof Dr Syed Awais
Assistant Editorial Secretary: Dr Hatem Said
External Affairs: Linda Ridefjord
Special thanks to Prof Charles Sorbie

Rue Washington 40-b.9, 1050 Brussels, Belgium
Tel.: +32 2 648 68 23 | Fax: +32 2 649 86 01
E-mail: edsecr@sicot.org | Website: www.sicot.org 
---
Disclaimer: Some of the views and information expressed in this e-Newsletter include external contributors whose views are not necessarily those of SICOT. SICOT is not responsible for the content of any external internet sites.
---