SICOT e-Newsletter 
Issue No. 11 - August 2009
Editorial

- Welcome to the SICOT Friendship Nations
SICOT Events


- Sixth SICOT/SIROT Annual International Conference - Pattaya, Thailand

- Seventh SICOT/SIROT Annual International Conference - Gothenburg, Sweden 
SICOT News


- SICOT Administrative Meetings

- New SICOT Membership Application Form
Training & Education

- SICOT Travelling Fellowships 2010

- Book Review: "Spinal Disorders: Fundamentals of Diagnosis and Treatment"

- Case of the Month
Worldwide News

 

-Â Atraumatic Femoral shaft fractures in long-term Bisphosphonate use
Industry News

- The Smartpulse™ from Orthopaedic Innovation Limited
---
Editorial by Prof Dr Jochen Eulert, Secretary General
Welcome to the SICOT Friendship Nations
Although SICOT is a global Society with an individual membership, we see an absolute need for a closer relationship with National Orthopaedic Societies on the one hand and International Subspecialty Societies on the other. For the latter, we want to establish cooperation as easily as possible to encourage common projects and to support joint meetings. Read more...
---
SICOT Events
Sixth SICOT/SIROT Annual International Conference
combined meeting with the Royal College of Orthopaedic Surgeons of Thailand
29 October-1 November 2009 - Pattaya, Thailand
Preliminary Scientific Programme: The Preliminary Scientific Programme is available on the SICOT website and is updated regularly.  
Online conference registration is open until 15 September 2009 only! The Conference promises to be an educational experience and an ideal opportunity to connect with fellow colleagues from around the world. 

Reminder to authors of abstracts: At least one author of each abstract must register and pay the conference registration fee to have his/her abstract(s) included in the Final Programme and CD-ROM of Abstracts. We kindly ask all presenting authors to indicate their abstract number(s) on the registration form.

Keep fit and have some fun while running for a good cause! Take part in the 3-km charity run and help a young surgeon attend the next SICOT meeting in Gothenburg, Sweden.
Read more...
SICOT warmly thanks
Merck & Co., Inc.
for supporting this event.
The Exhibition will be open from 08:00 to 17:30 on 30 and 31 October, and from 08:00 to 14:30 on 1 November. It will be located on Level 3 of the Pattaya Exhibition and Convention Hall.

SICOT invites you to visit its booth (44G) to find out more about the Society and what it has to offer. Â 
Seventh SICOT/SIROT Annual International Conference
combined meeting with the Swedish Orthopaedic Association (SOF)
31Â August-3Â September 2010 - Gothenburg, Sweden
Abstract submission will be open from 1 September 2009 to 15 January 2010.
Please submit your abstracts in English via the SICOT website.

Topics: Arthroplasty, Biomaterials, Cartilage Repair, Evidence Based Orthopaedics, Infection, Minimally Invasive Surgery, Navigation, Osteoporosis, Paediatrics, Spine, Sports Medicine, Trauma, Tumours.
Online conference registration opens on 1 September 2009! 
Please visit the SICOT website regularly for updated information about these two Conferences.
---
SICOT News
SICOT Administrative Meetings
The programme of the SICOT Administrative Meetings which will be held in Bangkok, Thailand, from Monday, 26 October to Wednesday, 28 October 2009 is available in the Members' Area of the SICOT website. National Representatives are kindly requested to visit the website regularly to check for updates.
To prepare for the administrative meetings, Committee members are strongly encouraged to use the Forums which are open to each Committee on the SICOT website. Read more...
The username and password needed to access the Members' Area can be requested from the SICOT Head Office at hq@sicot.org.
New SICOT Membership Application Form
Check out the new and improved SICOT Membership Application Form. Joining the International Orthopaedic Community has never been so simple! For more information about membership application, please send an email to hq@sicot.org.
---
Training & Education
SICOT Travelling Fellowships 2010
Every year, SICOT offers three young surgeons three-month fellowships to visit an international medical centre. The aim is to attend and learn at a renowned education centre to improve knowledge and surgical skills. The value of each fellowship is EUR 4,000, which includes travel and accommodation.
The call for applications for the SICOT Travelling Fellowships in 2010 is now open. Read more...
Book Review: "Spinal Disorders: Fundamentals of Diagnosis and Treatment"
Edited by Norbert Boos and Max Aebi - Springer Verlag, Berlin – Heidelberg – New York, 2008
The textbook, Spinal Disorders: Fundamentals of Diagnosis and Treatment, is intended as a reference guide not only for spine specialists but also for general orthopaedic surgeons, scientists, physiotherapists and other health care executives interested in the spine. Spinal disorders are among the most common medical conditions with enormous socioeconomic consequences. In addition, spinal surgery is still one of the most rapidly growing areas in clinical medicine. Therefore, a basic knowledge of the state of the art of diagnosis and treatment of spinal disorders is required and is presented in this comprehensive textbook, which integrates evidence-based knowledge in the up-to-date literature and decade-long personal experience of the editors. Read more...

A 30-year-old man was presented in the orthopaedic department. He complained of lateral knee pain during walking. Previous surgery consisted of an ACL-reconstruction with autologous bone-patellar tendon-bone graft two years ago. Clinical examination showed a valgus leg alignment, a normal ROM and a stable right knee. The valgus deformity is contract and a slight swelling can be found.
The full leg weight bearing X-ray (Figure 1) shows lateral osteoarthritis with osteophytes and narrowing of the joint space and the Mikulicz-line (weight-bearing line) running outside the lateral compartment.
What would your therapy be?
Nonoperative treatment

Arthroscopy

Osteotomy

Unilateral arthroplasty

Total arthroplasty
 
Fig. 1
---
Worldwide News
Atraumatic Femoral shaft fractures in long-term Bisphosphonate use¹
A recent study published in Orthopedics Today, reported a case of atraumatic femoral shaft fracture in a 67-year-old lady with 16 years of bisphosphonate use. This is supported by Neviaser et al² who also found an association between low energy femoral shaft fractures (simple, transverse with cortical hypertrophy) and alendronate use.
It is believed that bisphosphonates inhibit the normal bone remodelling cycle, thus limiting native repair and leading to the accumulation of microfractures, which places a patient at an increased risk for long-bone fractures.
Odvina et al³, took bone biopsies from patients under 3-8 years of bisphosphonate use and found histologically a decrease in the osteoclastic and osteoblastic surfaces and identified a reduction or lack of tetracycline labelling, indicating diminished mineralized bone.
Ott⁴ recommended that treatment with bisphosphonates be stopped after 5 years. This is to allow adequate time for fracture prevention while minimising the risks of severe suppression of bone turnover.
¹ Maria S. Goddard, MD; Kristoff R. Reid, MD; James C. Johnston, MD; Harpal S. Khanuja, MD. Atraumatic Bilateral Femur Fracture in Long-Term Bisphosphonate Use. Orthopedics 2009; 32:607 
² Neviaser AS, Lane JM, Lenart BA, Edobor-Osula F, Lorich DG. Low-energy femoral shaft fractures associated with alendronate use. J Orthop Trauma. 2008 May-Jun; 22(5):346-50 
³ Odvina CV, Zerwekh JE, Rao DS, Maalouf N, Gottschalk FA, Pak CYC. Severely suppressed bone turnover: a potential complication of alendronate therapy. J Clin Endocrinol Metab. 2005; 90(3):1294-1301
⁴  Ott SM. Editorial: long-term safety of bisphosphonates. J Clin Endocrinol Metab. 2005; 90(3):1897-1899
---
Industry News
The Smartpulse™ from Orthopaedic Innovation Limited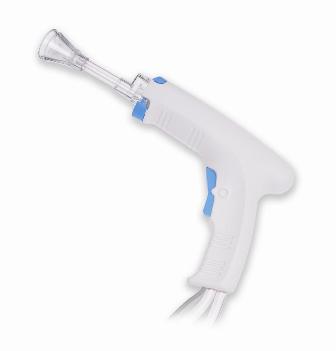 The fully disposable single use Smartpulse™ is the latest addition to the range of specialists products offered by Orthopaedic Innovation and provides smooth and efficient wound debridement. The single use system is supplied in a double sterile pack and includes a handpiece and two tips, combining convenience and power during total joint procedures, cemented, press-fit or revisions. The easy set up system is battery powered and features trigger controlled pressure settings to deliver either a powerful cleaning action or a gentle lavage for soft tissue.
Orthopaedic Innovation
Tel.: +44 (0)1909 550869
E-mail: jonathan@medsmart-solutions.com  
www.orthopaedicinnovation.com 
---
Editorial Department

Editorial Secretary: Prof Dr Awais Syed
Assistant Editorial Secretary: Dr Hatem Said
External Affairs: Linda Ridefjord
Special thanks to Prof Charles Sorbie

Rue Washington 40-b.9, 1050 Brussels, Belgium
Tel.: +32 2 648 68 23 | Fax: +32 2 649 86 01
E-mail: edsecr@sicot.org | Website: http://www.sicot.org 
---
Disclaimer: Some of the views and information expressed in this e-Newsletter include external contributors whose views are not necessarily those of SICOT. SICOT is not responsible for the content of any external internet sites.
---