SICOT e-Newsletter
Issue No. 10 - July 2009
Editorial

- The Planning, Organisation, Management and Quality Assurance of National Education Systems
SICOT Events

- Sixth SICOT/SIROT Annual International Conference - Pattaya, Thailand
SICOT News

- Strategy Plan

- SICOT Forum

- SICOT Administrative Meetings
Worldwide News

 

-Â Nano-assassins to combat infection in Total Knee Replacement

- Surgery better than non-operative treatment for Lumbar Degenerative Spondylolisthesis with Spinal Canal Stenosis
 
---
Editorial by Prof Dr Awais Syed, Editorial Secretary
The Planning, Organisation, Management and Quality Assurance of National Education Systems
Education is characterised by the "Teaching and Training of the Mind and Character". Wisdom is created by the combination of the "Knowledge and Character". Education in all disciplines, including medicine, is best planned, organised and managed in the light of the "Common National Education Systems". Read more...
---
SICOT Events
Sixth SICOT/SIROT Annual International Conference
combined meeting with the Royal College of Orthopaedic Surgeons of Thailand (RCOST)
29 October-1 November 2009 - Pattaya, Thailand
Preliminary Scientific Programme: The Preliminary Scientific Programme is now available on the SICOT website and is updated regularly.

Abstracts: At least one author of each abstract must register and pay the conference registration fee to have his/her abstract(s) included in the Final Programme and CD-ROM of Abstracts.

Pre-Conference Course: The Pre-Conference Course on Thursday, 29 October 2009 is included in the conference registration fee and will feature topics such as total knee arthroplasty and anaesthesia, among many others. The outline of the Course can be found in the Preliminary Scientific Programme.
Online conference registration is open here. Don't miss this exciting educational experience and the opportunity to meet with world-class lecturers in colourful Thailand!
Main Sponsors: SICOT would like to thank Merck & Co., Inc., Platinum sponsor, and Synthes, Gold sponsor, for their invaluable support.
Opening Ceremony: We are pleased to announce that Mr Mechai Viravaidya, Founder of the Population and Community Development Association (PDA), will be delivering the keynote lecture at the Opening Ceremony on Thursday, 29 October 2009. Read more...
Get fit and have some fun while running for a good cause! Take part in the 3-km charity run and help a young surgeon attend the next SICOT meeting in Gothenburg, Sweden.
Read more...
SICOT warmly thanks
Merck & Co., Inc.
for supporting this event.
Please visit the SICOT website regularly for updated information about the Conference.
---
SICOT News
The SICOT Strategy Plan developed by the SICOT President, Prof Cody Bünger, can be downloaded via the Members' Area of the SICOT website. Prof Bünger would appreciate SICOT members' feedback on the Plan and is looking forward to receiving any comments and ideas at hq@sicot.org.
The SICOT Forum provides a means for discussion among members. All SICOT members have access to the Forum via the Members' Area on the SICOT website. Once logged in, the "Forum access" link will appear at the bottom of the menu on the left-hand side of the screen.
The Forum also enables Committee members to prepare the administrative meetings held before every SICOT Conference or Congress each year and to discuss topics of importance. Each Committee has its own Forum and Committee members are strongly encouraged to use this online discussion site. Compared to e-mail, the Forum offers a faster and more private way of corresponding directly with other members. Read more...
SICOT Administrative Meetings
The programme of the SICOT Administrative Meetings which will be held in Bangkok, Thailand, from Monday, 26 October to Wednesday, 28 October 2009 is available in the Members' Area of the SICOT website. National Representatives are kindly requested to visit the website regularly to check for updates.
The username and password needed to access the Members' Area can be requested from the SICOT Head Office at hq@sicot.org.


---
Training & Education
An 82-year-old lady was admitted in the middle of the night because of severe right hip pain and inability to walk after a fall. She suffered from senile dementia and had a history of cementless right total hip replacement done 16 years ago. Before this admission, she walked well with a stick and there was no report of pain. X-ray showed posterior dislocation of right total hip replacement (Figures 1a and 1b).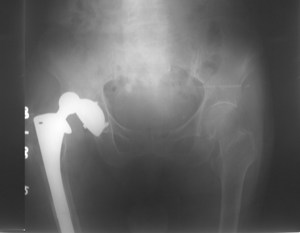 Fig. 1a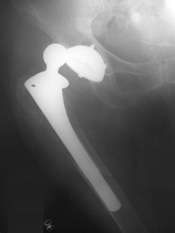 Fig. 1b
Closed reduction of the hip under sedation was successful using the Allis maneuver. However, you noticed 2cm telescoping after reduction of the hip. The hip was dislocatable when it was flexed to 90 degrees and internally rotated to 30 degrees. The patient was immobilized with an abduction pillow. Repeated X-rays were taken.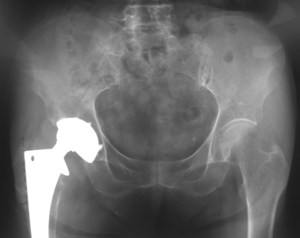 Fig. 2a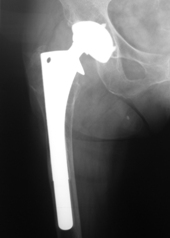 Fig. 2b
Question:
What are the findings in the post-reduction X-rays?
---
Worldwide News
Nano-assassins to combat infection in Total Knee Replacement
A recent article in the International Journal of Nanomedicine has shown that researchers at Brown University have been able to eradicate infection with Staph. epidermidis in total knee replacement by injecting iron based nano-particles. Staph. epidermidis forms a slimy layer on the surface of implants that protects the bacteria from destruction with antibiotics. The Nano-assassins penetrate the defense wall and kill the bacteria. The eradication was successful after 3 injections over six days. Traditionally, the only way to get rid of the infection was by a two-staged revision surgery. One wonders how soon researchers will find a cure for osteoarthritis and promotion of fracture healing with a single injection! Read more...
Surgery better than non-operative treatment for Lumbar Degenerative Spondylolisthesis with Spinal Canal Stenosis
Researchers recently published an article in the JBJS Am comparing surgical and non-operative treatment for patients with degenerative lumbar spondylolisthesis and spinal canal stenosis. The operative group showed and maintained a substantial greater pain relief and improvement in function for four years. They performed 2 studies, one randomized cohort and one observational cohort on 607 patients. They found that in patients who were planned for non-operative management, 54% in the former and 33% in the latter ended up receiving surgery by four years. Read more...
---
Industry News

Sawbones has the capability to manufacture many types of models for product display, hands on training and patient education. Sawbones can also manufacture plastic replicas of implants, plates, and other products suitable for marketing or educational purposes. Please call for more information regarding any custom model requirements you may have.
NEW Sawbones models:
| | |
| --- | --- |
| | #1600-3: Designed as a permanent holder for Sawbones knee models. Can be put in various ranges of motion. Total joint replacement can be utilized and then range of motion tests may be performed. |
| #1517-29-2 | #1509-31 |
Two new arthroscopy models from Sawbones.
For further information please contact us.
www.sawbones.com  
Did you know?
Sawbones workshop models are the most widely used teaching products in orthopaedics.
---
Editorial Department

Editorial Secretary: Prof Dr Awais Syed
Assistant Editorial Secretary: Dr Hatem Said
External Affairs: Linda Ridefjord
Special thanks to Prof Charles Sorbie

Rue Washington 40-b.9, 1050 Brussels, Belgium
Tel.: +32 2 648 68 23 | Fax: +32 2 649 86 01
E-mail: edsecr@sicot.org | Website: www.sicot.org 
---
Disclaimer: Some of the views and information expressed in this e-Newsletter include external contributors whose views are not necessarily those of SICOT. SICOT is not responsible for the content of any external internet sites.
---