Pattaya AIC 2009
Plenary Speakers
Prof Shoichi Kokubun
"Spine surgeries in the aging society"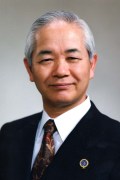 Professor Shoichi Kokubun is Director of the Research Center for Spine & Spinal Cord Disorders at NHO Nishitaga Hospital in Sendai, Japan. He was Professor and Chairman of the Department of Orthopaedic Surgery, Tohoku University School of Medicine in Sendai from 1995 to 2006. He stayed at the University of Hong Kong in 1974 and at the University of Oxford in 1992.
His major research and clinical activities are spine and spinal cord diseases such as spinal deformities and injuries and radiculopathy and myelopathy due to degenerative pathologies. At home, as Congress President, he held the JOA Annual Congress in 2004. Internationally, he was National Delegate of SICOT (1999-2005), Chief National Delegate of the Asia-Pacific Orthopaedic Association (APOA) (2001-2006), and Chairman of the Spine Section, APOA (2005-2008). The 2nd Triennial Congress of the International Federation of Paediatric Orthopaedic Societies (IFPOS) was a great success under his presidency in Sendai in 2001. He is actively participating in the Bone and Joint Decade as a member of its International Steering Committee since 2003.
He has been making every effort to improve orthopaedic surgery, especially spinal surgery, in many Asian countries by visiting them or by accepting fellows to his university department and research center for their training. Due to his achievements, he has been granted an honorary professorship from Jilin University in Changchun, China, the Ho-Chi-Minh City Medal from Ho-Chi-Minh City, Vietnam, and an honorary membership from the Royal College of Orthopaedic Surgeons of Thailand (RCOST).