SICOT e-Newsletter
Issue No. 8 - May 2009
SICOT Events
- Sixth SICOT/SIROT Annual International Conference - Pattaya, Thailand
SICOT News

-Â A booth to boost SICOT: a key success factor to enhance relationships with the national association and to promote SICOTÂ Â 
Training & Education
- SICOT German Travelling Fellowship
- SICOT Danish Travelling Fellowship Report
- Case of the Month
Worldwide News 
-Â Fabricated medical results in the redesigned orthopaedic pain management protocols
- Single HA injection equal to Placebo in Hip Osteoarthritis
---
Editorial by Dr Hatem Said & Dr Peter Yau - Young Surgeons Committee
The ISAKOS (International Society of Arthroscopy, Knee Surgery and Orthopaedic Sports Medicine) meeting is one of the largest for arthroscopists and knee surgeons. This year it was held in Osaka, Japan. The timing was chosen correctly as the weather was excellent and it was the Cherry Blossom Season, which only occurs for 1 to 2 weeks a year. Osaka was an ideal location for the meeting and it is close to Nara and Kyoto, which are famous tourist places. It was a wonderful opportunity to get introduced to Japanese culture, with its great precision, meticulousness and courtesy. Read more...
---
In Memoriam
Prof Dr Živojan Bumbaširević
It is with deep regret that we announce that Prof Dr Živojan Bumbaširević has passed away. Prof Dr Bumbaširević, Distinguished Member of SICOT, was one of the pioneers of modern orthopaedic surgery in Serbia. Read more...
---
SICOT Events
Sixth SICOT/SIROT Annual International Conference
29 October-1 November 2009 - Pattaya, Thailand
combined meeting with the Royal College of Orthopaedic Surgeons of Thailand (RCOST)Â 
Please click here to read the official statement on the recent political situation in Thailand issued by the Thailand Convention and Exhibition Bureau (TCEB).

The current political situation in Thailand is receiving our full attention and we are in permanent contact with those in charge of organising the conference. They inform us that the meeting and the participants will not be in danger. Nevertheless, we would not put anyone at risk and would cancel the meeting if the conditions on site are considered unsafe. Should this occur, your registration fee would be refunded, except a small amount of bank charges (about 5%). All participants will be continuously informed of the latest developments in the situation in Thailand.
Abstracts: All abstracts have now been peer reviewed and notifications of abstract acceptance/rejection (except Paediatrics) have been sent by e-mail to the first authors. Please contact the Conference Secretariat at congress@sicot.org if you have not received a notification.
SICOT warmly thanks all peer-reviewers for kindly donating their time to review the abstracts.
Reminder: At least one author of each abstract must register and pay the conference registration fee to have his/her abstract(s) included in the Final Programme and Abstract CD-ROM.

Plenary Speakers: SICOT is pleased to announce that Dr George Thompson, Professor of Orthopaedic Surgery and Pediatrics at Case Western Reserve University in Ohio, United States, will be delivering a plenary lecture entitled "PEDIATRIC PELVIC OSTEOTOMIES: INDICATIONS, CONTRAINDICATIONS AND TECHNIQUES". Read more...

Programme at a glance: The preliminary programme at a glance is now available on the SICOT website!

Faculty: To find out who the members of the Faculty are, please click here. 
Discounted registration rates are being offered until 15 May 2009. Just a few days left! Register now and take advantage of this offer. Only EUR 200 for SICOT members! 
NON-MEMBERS: Apply for SICOT membership before 15 May 2009 and save money on your conference registration fee!
We congratulate the following award winners on their achievements.
Australian SICOT Awards
: Fernando Claros Pizarro (Bolivia) & Ndubuisi O.C. Onyemaechi (Nigeria)
Lester Lowe SICOT Awards
: N.S. Harshavardhana (United Kingdom) & Devdatta Suhas Neogi (India)
Prof Cody Bünger, SICOT President, will present all award winners with their certificates during the Closing Ceremony in Pattaya. Award winners will be granted free conference registration and must attend the Closing Ceremony on Sunday, 1 November 2009 to receive their prize.

Presidents' Dinner: Celebrate SICOT's 80th anniversary at the Presidents' Dinner on Saturday, 31 October 2009. It promises to be an entertaining and unforgettable evening for everyone! Click here for more information.
Make the most of your stay in Thailand and check out the tours available before and after the Conference.

Please visit the SICOT website regularly for updated information about the Conference.
---
SICOT News
A booth to boost SICOT: a key success factor to enhance relationships with the national association and to promote SICOT
Dr Thami Benzakour reports on the SICOT booth at the annual Congress of the Moroccan Society of Orthopaedic Surgery and Traumatology (SMACOT) held in Casablanca on 16 and 17 April 2009. Read more...
---
Training & Education
SICOT German Travelling Fellowship
Congratulations to Dr Cosmas O. Ihezie from Nigeria who has been selected for the 2009 SICOT German Travelling Fellowship. Dr Ihezie will be spending three months at the Orthopaedics Department of the University of Würzburg, Germany, working under the tutorship of Prof Dr Maximilian Rudert.
For more information about the SICOT Travelling Fellowships, please visit the SICOT website.
SICOT Danish Travelling Fellowship Report
Click here to read the report of Dr Yu Wang, who was offered the SICOT Danish Travelling Fellowship for 2009 and recently completed three months of orthopaedic technique training headed by Prof Cody Bünger at Aarhus University Hospital.
(Case #1)

A 50-year-old woman presented after an ankle sprain with pain and swelling of the left foot. Radiographs of the foot in 3 planes were taken and the lateral view showed a rare but typical lesion (Fig. 1).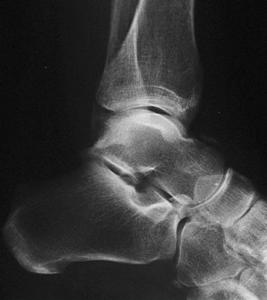 Fig. 1
What is your diagnosis?
Fracture of the anterior process of the calcaneus?

Calcaneus secundarius?       
Read more...     
---
Worldwide News
Fabricated medical results in the redesigned orthopaedic pain management protocols
The Scientific American Journal has recently published an article about an anesthetist in Springfield, Massachusetts, who admitted fabricating 21 published clinical trials in the last 12 years. Dr Scott Reuben has been in the forefront of redesigning pain management protocols. He advocated the use of the new Cox 2 inhibitors like Celebrex and Vioxx in conjunction with anticonvulants; Neurontin (gabapentin) and Lyrica (pregabalin), during the perioperative period for pain management, thus decreasing the need for opioid like analgesics. Dr Reuben received several research grants from Pfizer. The Springfield medical center has stripped Dr Reuben of his research and educational duties. Read more (Scientific American)... - Read more (New York Times)...
Single HA injection equal to Placebo in Hip Osteoarthritis
A recent French article, published in Arthritis and Rheumatism, compared a single Hyaluronic acid (HA) injection to placebo in symptomatic OA of the hip. They followed the patients for 3 months, and the scores were equal in both groups in regards to pain reduction. However, since most HA injection companies recommend 3-5 injections, one must wonder about the clinical usefulness of this study, especially with the short follow-up. (Abstract) Read more... 
---
Industry News
The Epoca Shoulder Arthroplasty System consists of solutions for treatment of arthritis of the shoulder joint, proximal humerus fracture and rotator cuff arthropathy. The design of the components has been defined through in-depth study of the anatomy of the shoulder joint. Restoring the bony structures of the joint with an implant which reflects its original shape enables optimal conditions to restore normal function. Comprehensive and straightforward instrumentation further simplify the surgical intervention.      
       
Synthes GmbH
Eimattstrasse 3
4436 Oberdorf, Switzerland
http://www.synthes.com
       
     

---
Editorial Department

Editorial Secretary: Prof Dr Syed Awais
Assistant Editorial Secretary: Dr Hatem Said
External Affairs: Linda Ridefjord
Special thanks to Prof Charles Sorbie

Rue Washington 40-b.9, 1050 Brussels, Belgium
Tel.: +32 2 648 68 23 | Fax: +32 2 649 86 01
E-mail: edsecr@sicot.org | Website: http://www.sicot.org 
---
Disclaimer: Some of the views and information expressed in this e-Newsletter include external contributors whose views are not necessarily those of SICOT. SICOT is not responsible for the content of any external internet sites.
---